28% Agree This Is The Best Breakfast Item At Cracker Barrel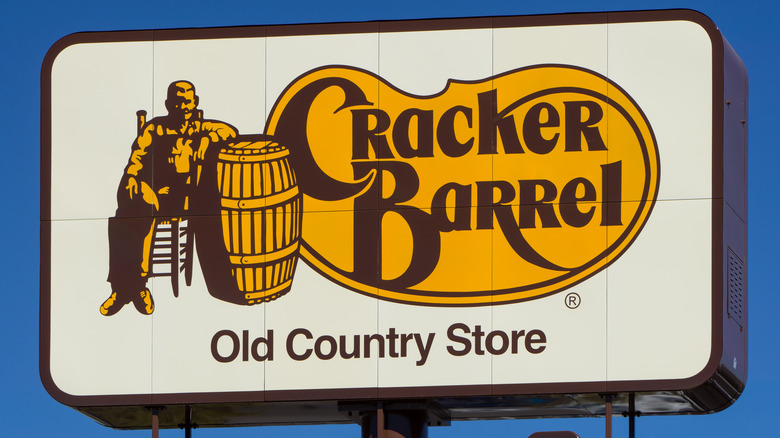 Shutterstock
Most people have the proper ingredients on hand to whip up at least one of the classic breakfast staples like waffles, eggs, or French toast at home, but not everybody wants to head straight into the kitchen after their alarm clock blares. Fortunately, restaurants like Cracker Barrel are around to take over the duty of providing a delicious morning meal (which, by the way, you can order at any time of the day here). 
The homestyle eatery lists several hearty platters on their all-day breakfast menu (per the official website), but if you're really looking to start your day off right, there is one dish that's apparently the way to go. A recent survey conducted by Mashed asked 594 Cracker Barrel fans in the United States what the restaurant's best early morning item was from their array of breakfast offerings — choices included French Toast, Biscuits n' Gravy, Blueberry Pancakes, Hashbrown Casserole, Fried Apples, and Loaded Hashbrown Casserole Tots — and 28% pinpointed this particular dish as their preferred order.
Biscuits n' Gravy is the staple breakfast meal to order
Cracker Barrel's Biscuits n' Gravy reigned supreme in the survey with 28.02% of respondents picking it as their favorite breakfast item. The concept of this meal might be confusing if you're not versed in Southern cuisine, but rest assured, we're not talking about a plate of biscuits doused in the same gravy that you ladle over Thanksgiving turkey. In the breakfast world, gravy is a thick and creamy sauce that is often made with sausage drippings, packing it with flavor. At Cracker Barrel, this delicacy is served with three fluffy, hand-rolled buttermilk biscuits to create the most popular platter — though a few other options weren't too far behind in the survey.
There was nearly a near three-way tie for the dishes that fell in between Cracker Barrel's best and worst breakfast items. Between the chain's French Toast, Hashbrown Casserole, and Blueberry Pancakes, it was the latter that triumphed over the other two with 18.96% of the vote from 113 people. While the fruit-filled flapjacks earned second place in the survey, French Toast followed closely behind with 18.12% of the vote, and Cracker Barrel's legendary Hashbrown Casserole ended up just four votes behind, taking 17.45% of the votes and fourth place in the survey overall. 
The dish faring the worst was the Fried Apples, which received a mere 8.39% of the share of votes to earn the lowest spot in the poll. Cracker Barrel's Loaded Hashbrown Casserole Tots didn't rate great either. One of several new additions to the menu introduced in April 2021 (via PR Newswire), these bite-sized treats ranked only slightly higher than the fruity side dish, chosen by 9.06% of survey participants.
It seems an oldie dish like Biscuits n' Gravy is still a goodie here.