Why You Can't Trust The Reviews For Salt Bae's Newest Restaurant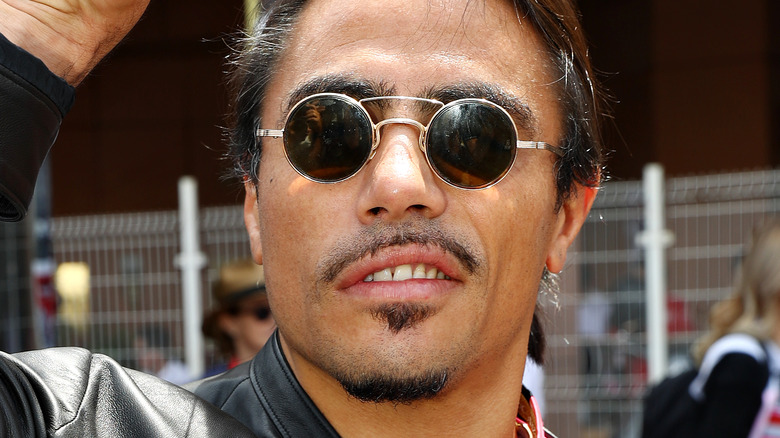 Mark Thompson/Getty Images
The reviews are in for the London branch of Salt Bae's international steakhouse chain Nusr-Et. There's just one catch. Salt Bae, real name Nusret Gökçe, has yet to open his London restaurant, even though reports had strongly suggested the eatery at the Park Tower Knightsbridge Hotel was to start service on May 17 (via Eater London). Apparently, internet reviewers were tired of waiting for the Turkish butcher whose restaurants somehow became some of the hottest steakhouse destinations in the world — all thanks to a single viral Instagram video from 2017 (via Eater Dallas).
Commenters on Google Reviews had a strong love-or-hate reaction to the yet-to-open Nusr-Et London. A flurry of five- and one-star reviews landed Nusr-Et at 3.6 stars overall, so far. "Overpriced below average steaks, great for Instagram but that's where it ends," said one reviewer who gave Nusr-Et one star. A five-star reviewer was clearly a Gökçe fan: "Haven't even been to the one in London but I already know it's gonna be the best restaurant in Knightsbridge. Nusret u legend." Yet another reviewer wrote, "It's not open yet, how come I see all this reviews?" Then they gave Nusr-Et five stars.
As a separate Eater London article suggested, the 38 Google reviews posted so far about Nusr-Et London make sense for a restaurant personality whose identity as an internet meme is more substantial than his status as a real-world chef.
Reviewers of Salt Bae's London restaurant seemed eager to be the first to weigh in
It's unclear when Gökçe will eventually show up in London to christen his newest restaurant. His all-important Instagram account with its nearly 37 million followers shows him currently having a great time in Mykonos, getting in some workouts and entertaining the patrons of his restaurant there. When and if the U.K. location opens, well-heeled Londoners and curious tourists will undoubtedly line up for Nusr-Et's £700 Wagyu steak wrapped in gold foil (via GQ). And the Yelpers will most definitely arrive in large numbers to drop their hot takes on the new restaurant. So it's understandable that some amateur reviewers were itching to be first.
Gökçe opened a Beverly Hills location this spring. According to Eater Los Angeles, L.A. celebrities mostly didn't take the bait, but Yelp reviewers pounced and lavished the restaurant with dubious praise. Dubious because professional restaurant critics almost universally panned the Manhattan Nusr-Et shortly after it opened a few years ago, according to Complex. The steaks were rubbery and even the water failed to be thirst-quenching. The only redeeming feature was Gökçe's willingness to come to diners' tables and recreate that viral meme by showering rock salt on their steaks. And if you have a few hundred bucks to invest in your own Salt Bae Instagram moment, then you definitely understand the concept of disposable income.