Authentic Hawaiian Haupia Recipe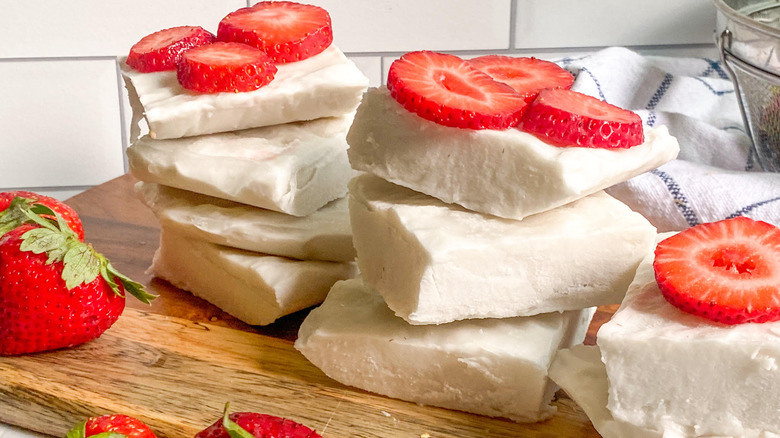 Miriam Hahn/Mashed
Are you looking for a different dessert to add to your routine? While chocolate chip cookies and cupcakes are great, they've been done so many times before. This recipe for Hawaiian haupia is something that is outside the box for your typical dessert, and believe us when we tell you that it tastes absolutely incredible. Wild Wild Whisk shares that Hawaiian Haupia is a coconut pudding that achieves its thick consistency from cornstarch or arrowroot powder. It's refreshing and tasty and there are so many good things about it. The dessert requires just a few ingredients and only 5 minutes of prep time, making it a win for all parties involved.
Recipe developer Miriam Hahn of YouCare.SelfCare is the brains behind this tasty dessert that is sure to knock your socks off. She tells us that she loves "this recipe as a different type of summer treat." She explains, "It is a nice change from things you see everyday and you can enjoy it a couple of different ways. If you keep it in the freezer, it is almost like a popsicle square. Or you can keep it in the fridge and it is like a pudding square. I love that you can eat it plain or doll it up with some fresh fruit or even just lemon or lime zest." Sounds great to us! 
Keep scrolling to learn how to make this authentic recipe that's sure to be a fave.
Gather the ingredients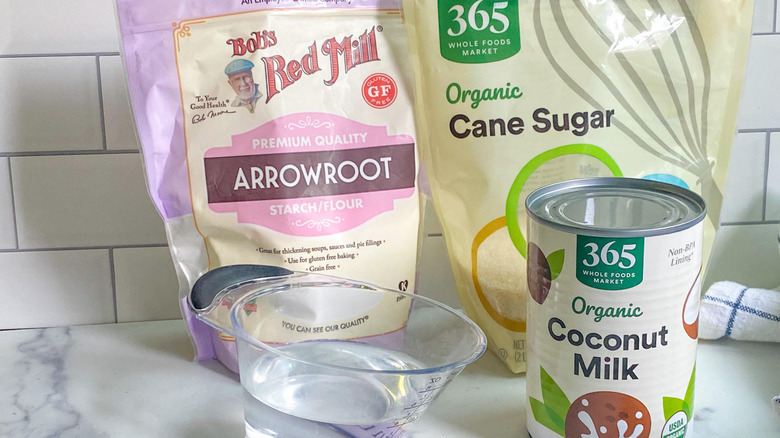 Miriam Hahn/Mashed
The first step in the process is to gather all of the ingredients necessary to put together this tasty dessert. Luckily, it's not a lot. First, you will need some arrowroot powder. If you can't find any at the store, you can get cornstarch instead. "I like using arrowroot powder over cornstarch because it is a little bit healthier (most corn products are GMO)," Hahn shares. "You could even use coconut sugar but that will alter the color a bit." 
You will also need a cup of water, which you have at home already. In addition, grab coconut milk but be sure it's the full fat type. Last but not least, you'll need a few tablespoons of sugar. Now, let's begin!
Mix the arrowroot powder and water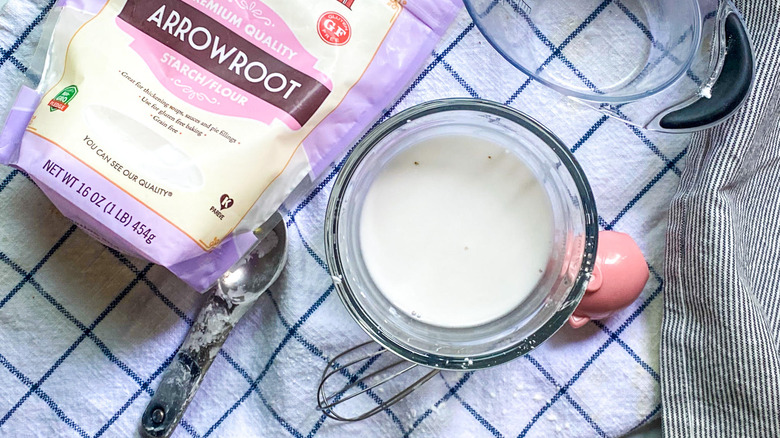 Miriam Hahn/Mashed
Take out a mixing bowl or any sort of small dish and mix the arrowroot powder (or cornstarch if you chose to use that instead) and water. Who knew two simple ingredients could help make something so tasty? Use a small whisk and stir until there are no lumps.
Next, grab a small saucepan to put on the stovetop and add the coconut milk and the sugar together to the pan. Continue to whisk the mixture until it starts to boil. Don't worry, it shouldn't take long at all. Once you've got a good boil going, then you can move onto the next step.
Pour the arrowroot mix into a saucepan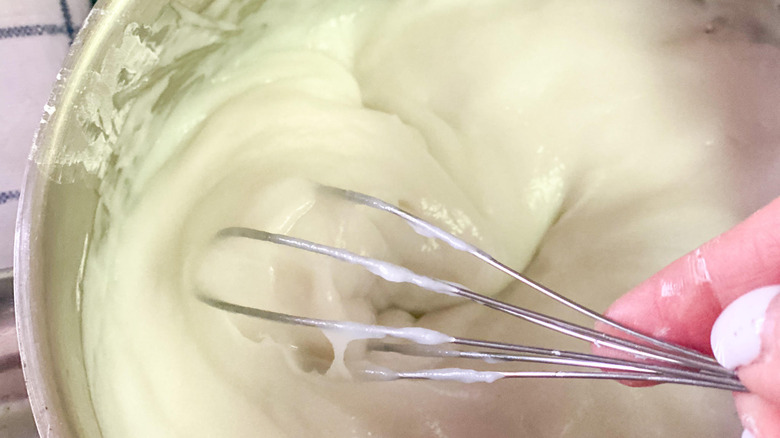 Miriam Hahn/Mashed
Once the milk mixture is boiling, pour in the arrowroot mix. Turn the heat to low for 10 to 15 minutes. Continue to stir the mixture constantly so everything blends together well. Once the mixture is finished, it should achieve a very thick consistency that is similar to glue or thick, stretchy, sticky pudding. 
Pour the mixture into a baking dish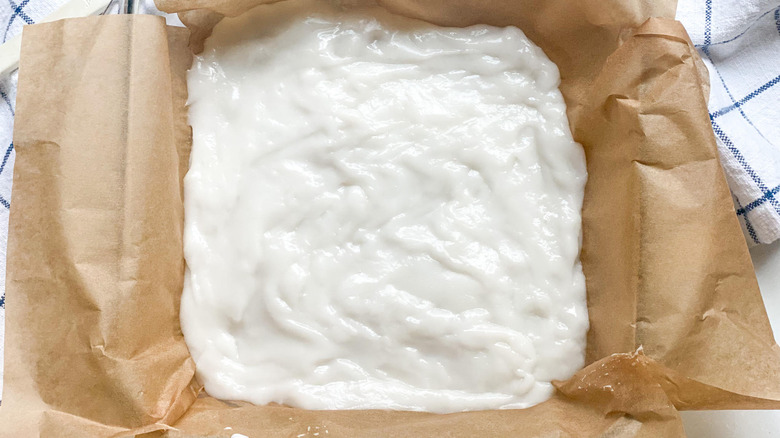 Miriam Hahn/Mashed
Now that you've finished the mix, take out a 9x9-inch baking dish and line it with parchment paper. Pour the mixture in, and then place the baking dish in the freezer for a few hours to set. "I like to put it in the freezer to set so it will be really firm and you can pick it up and eat it like a brownie," Hahn shares. "You can [also] let it set up in the fridge and then you would eat it with a fork." Is your mouth watering yet? 
Take it out of the freezer and serve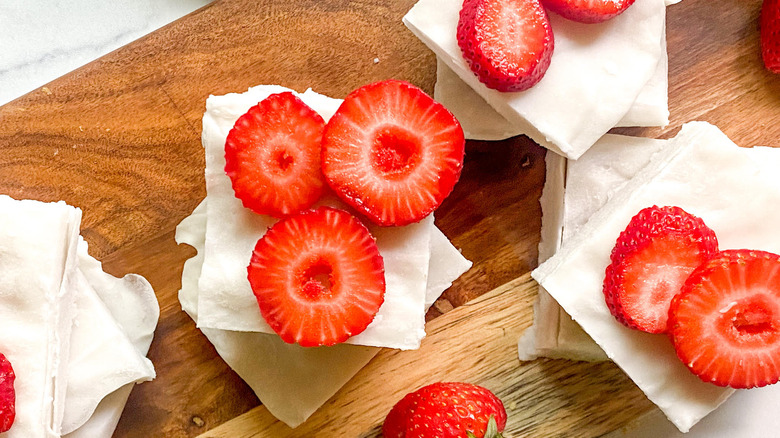 Miriam Hahn/Mashed
After a few hours, take the Hawaiian haupia out of the freezer. Let it sit and thaw for a few minutes until it's soft enough to be able to insert a knife. Cut the haupia into nine squares, each the perfect size for dessert. You can either serve it as is or top it with fresh fruit. Hahn also shares that strawberry ice cream would be a great addition to pair this with, but really any ice cream would go well. Be sure that you don't let the dessert sit out for too long before serving it to guests.
Leftovers can be stored in the fridge or freezer for up to a week. 
Authentic Hawaiian Haupia Recipe
Need an easy dessert that's sure to impress your friends? This Hawaiian coconut pudding is an authentic, versatile, delicious dish that will please everyone!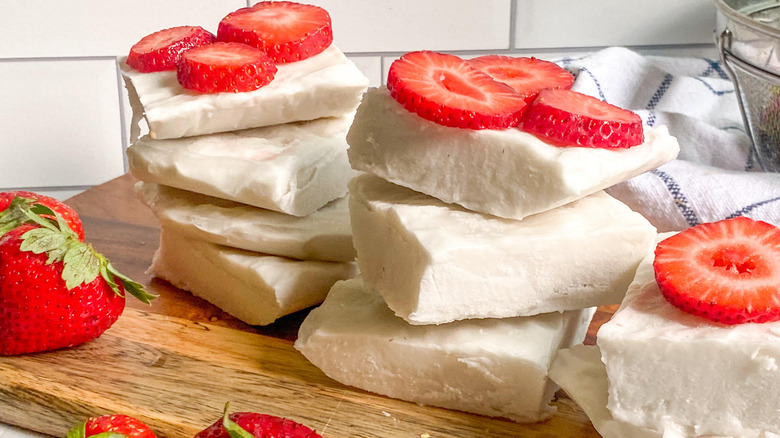 Ingredients
6 tablespoons arrowroot powder or cornstarch
½ cup water
1 can full-fat coconut milk
4 tablespoons sugar
Directions
Mix the arrowroot powder and water with a small whisk until there are no lumps.
Add the coconut milk and sugar to a small saucepan and bring to a boil, whisking constantly.
Pour the arrowroot mixture into the saucepan and cook on low heat for 10 to 15 minutes, stirring constantly until thick and glue-like.
Pour the mixture into a parchment-lined 9x9-inch baking dish. Put in the freezer for a few hours to set.
Take out of the freezer and thaw for a few minutes until you can insert a knife. Cut into 9 squares.
Serve as is, or top with fruit.
Nutrition
| | |
| --- | --- |
| Calories per Serving | 133 |
| Total Fat | 10.0 g |
| Saturated Fat | 8.9 g |
| Trans Fat | 0.0 |
| Cholesterol | 0.0 mg |
| | |
| --- | --- |
| Total Carbohydrates | 11.6 g |
| Dietary Fiber | 0.2 g |
| Total Sugars | 5.5 g |
| Sodium | 6.8 mg |
| Protein | 1.0 g |