Easy Pan Fried Pacific Rockfish Recipe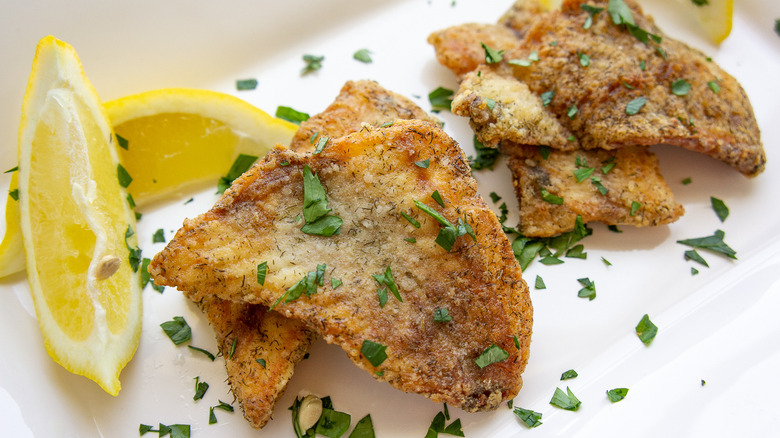 Mikayla Marin/Mashed
Fish is one of those lovely proteins that generally cooks up pretty quickly. It's a great choice for dinner when you need a fast and easy recipe that tastes delicious. But what about when you're craving the crisp crunch of fried fish? Mixing batters and heating up a lot of oil is too much work most days. Thankfully, we have a solid alternative. This easy pan fried Pacific rockfish recipe is so simple all around. It takes less than 10 minutes to make, and delivers on the crisp, fried fish flavor.
By using a simple dry dredge and a hot pan, recipe developer Mikayla Marin from The Flour Handprint created a recipe that will work literally any night of the week. With just seven ingredients and a few minutes of your time, you can have a hot platter of crispy, pan fried Pacific rockfish ready to serve to your family or guests. So skip out on the heavy beer batters, ditch the multiple breading bowls, and discover how delicious and quick a rockfish filet can be to enjoy with this scrumptious recipe.
Gather the ingredients to prepare this easy pan fried rockfish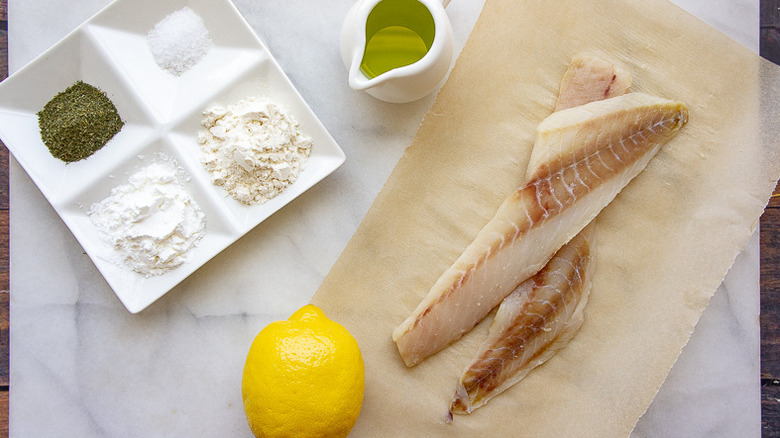 Mikayla Marin/Mashed
On those hurried nights when you just don't have time, there's nothing more welcoming than a short ingredient list — are we right? The great news is that this easy pan fried rockfish recipe has just a short, seven-ingredient list, and that's only if you count salt!
It starts with a few filets of rockfish, and those are dipped into a flour and cornstarch dredge that gets seasoned with just some dried dill. Dill is a fairly unique flavor that's hard to replace, but not impossible. So, if you're reading this and cursing the empty jar in your spice cupboard, don't panic quite yet. It will change the flavor, but your crispy fish will taste delicious if you substitute dried thyme or rosemary instead.
All that's left to round up? Just salt, oil, and some lemon. That's literally it! We'll let you in on a little secret: The lemon is even optional (although we highly recommend it).
What exactly is rockfish anyway?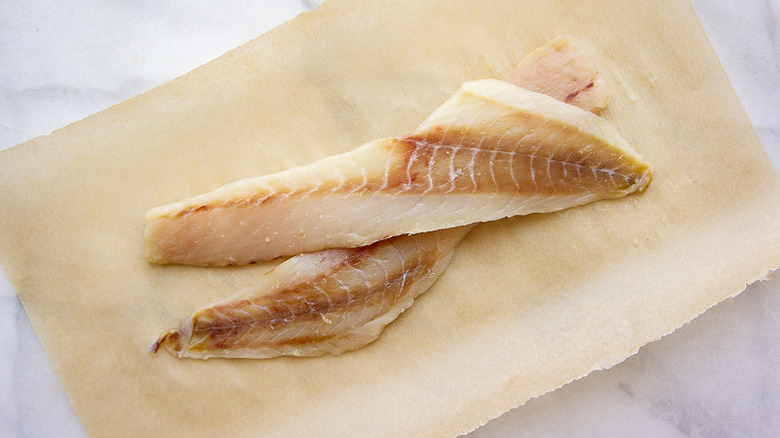 Mikayla Marin/Mashed
Before we send you scratching your head to the fish section, let's chat about rockfish. It's helpful to know that there are many, many varieties of rockfish out there, and they may go by a different name.
We're using a Pacific rockfish for this recipe today, which you may also recognize as Pacific snapper or rock cod (via The Spruce Eats). The most important detail is of course, that it's a firm white fleshed fish with a mild flavor. The filets are generally pretty thin, and the fish cooks up flaky.
Once you know that, you can easily look for rockfish (or understand what you can use as a substitute). Our best recommendations are cod, sea bass, or perch, though you'll need to adjust cooking times based on the thickness of those filets.
Mix together your quick dredge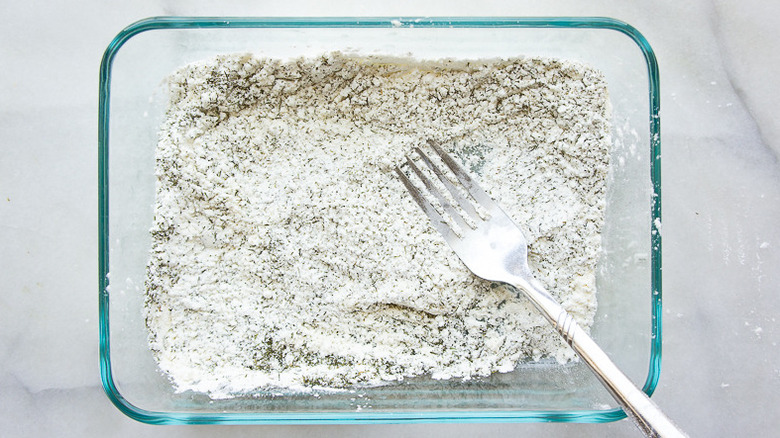 Mikayla Marin/Mashed
Since this is such a quick and easy recipe, we recommend getting a non-stick pan onto a burner over medium heat right away. Using a quick dredge like this one allows you to simply dip in the fish, and drop it right into the pan. We're happily skipping the multiple bowl affair — you'll need just one shallow bowl to mix and dip in.
It really couldn't be easier. Simply combine the flour, cornstarch, and dried dill to a bowl, and stir with a fork until the mixture is combined well. You can set that aside for a few moments while you prep the fish.
Season your rockfish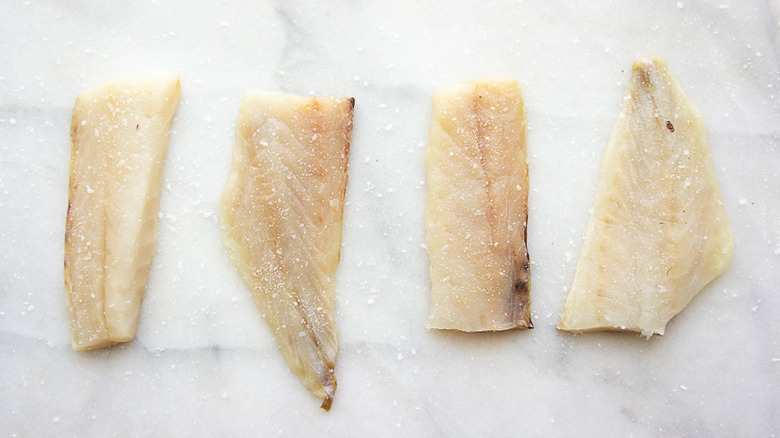 Mikayla Marin/Mashed
In all of the tests, pan fried rockfish simply has better flavor when the salt is added directly to the fish filets rather than the dry dredge mixture. Depending on the size of the rockfish filets you have, it can be difficult to fit an entire one into a pan or the dredge bowl.
We recommend just cutting each of the typically long filets in half to create two shorter ones. Not only are they easier to handle, but they'll also fit neatly into your non-stick pan during cooking. After that, it's really very easy. Just pinch some salt, and sprinkle it over each filet on both sides. For us, about ⅛ teaspoon was about right for each piece.
Dredge the fish with flour and cornstarch for the perfect crunch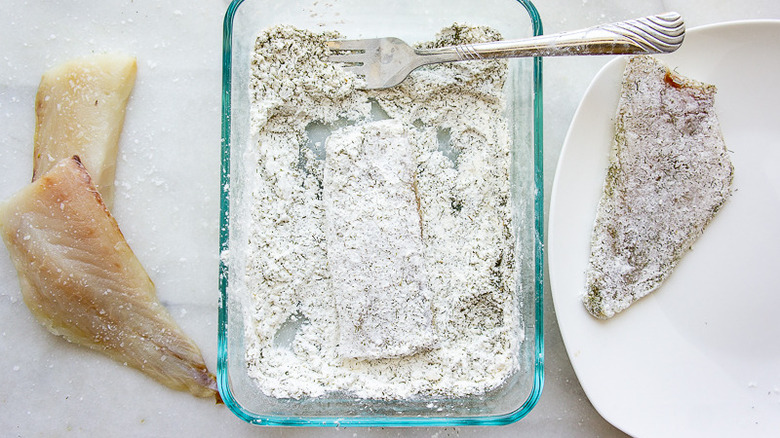 Mikayla Marin/Mashed
When you're ready to cook, pour the oil into the pan while you get your first filets dredged. We do not recommend doing this in advance. The flour and cornstarch are the secret combo to quickly crispy fish, but it will become gummy on the fish filets if left to sit out for more than a few minutes.
Instead, we recommend dipping them into the dredge, and then putting them directly in the hot pan. The best way to dredge rockfish is to place the filet into the flour mixture, and press gently down onto it. Then, flip and repeat. Once both sides are coated, gently tap the side of the filet to knock off any excess flour, and put it directly in the pan.
Pan fry the rockfish to crispy perfection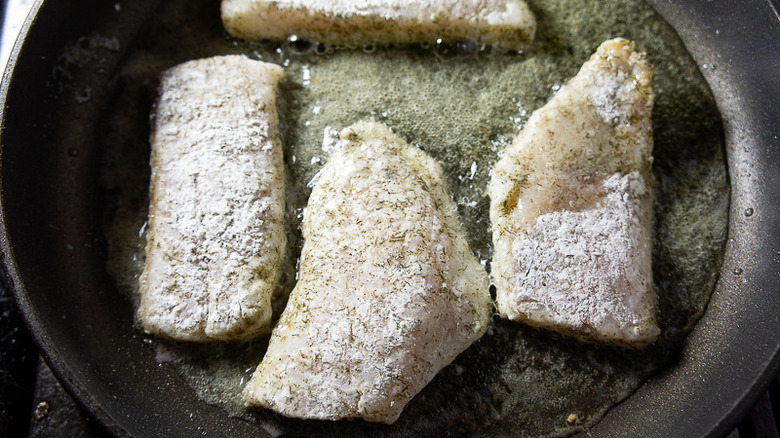 Mikayla Marin/Mashed
Thin rockfish filets don't take long to cook perfectly. With your preheated nonstick pan ready to go, it should only take two to three minutes per side for the rockfish to reach the ideal internal temperature of 145 F. This is really easy to do. Simply place the filets into the hot oil, and let them cook, unmoving for two minutes. Then, flip and repeat.
If you notice that the filets are a bit blond for your liking, you can increase the burner heat to encourage more color on the outside, but be wary — nobody likes dried, overcooked fish!
Season, and serve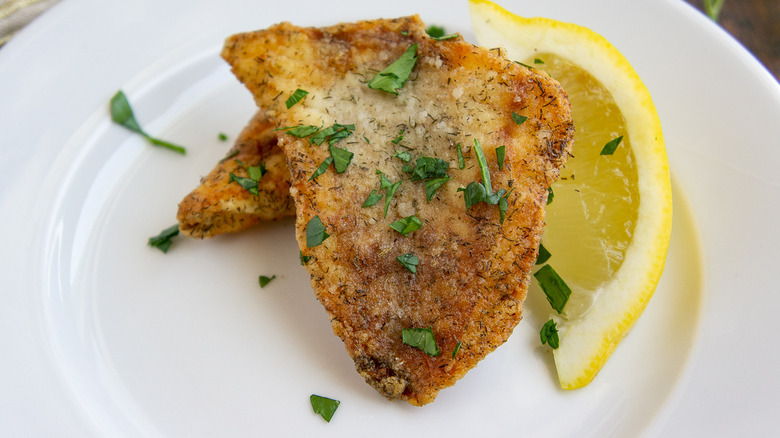 Mikayla Marin/Mashed
With this easy pan fried Pacific rockfish recipe, it should have taken only nine minutes or so to reach this step. It takes just a few minutes to season and make the dredge, and then another four or so to cook them. Could it get much easier?
When serving, we highly recommend a sprinkling of fresh, chopped parsley and a squeeze of lemon juice. It's also delicious with a homemade tartar sauce or your favorite pre-bought brand.
Serve up your rockfish with a light summer salad, a rice side dish, or gorgeous veggies, and dinner will be undeniably delicious. It's pretty hard to beat the light crispness of fried rockfish, making it a great alternative when you're craving fried fish, but don't have a lot of time.
Easy Pan Fried Pacific Rockfish Recipe
With just seven ingredients and a bit of your time, you can have a hot platter of crispy, pan fried Pacific rockfish ready to serve to your family or guests.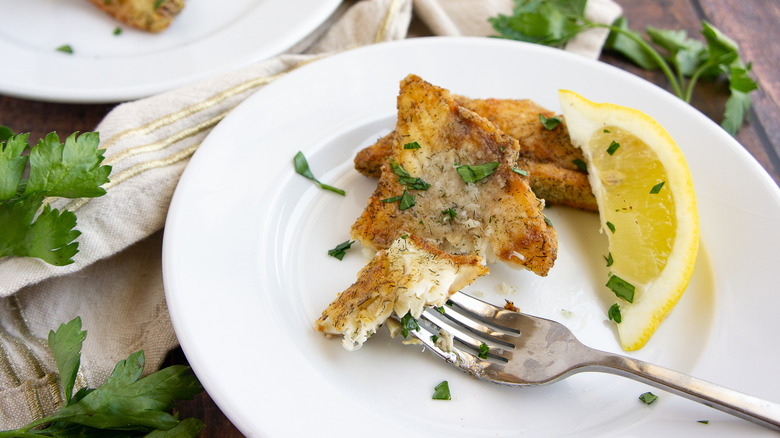 Ingredients
2 tablespoons flour
2 tablespoons cornstarch
1 ½ teaspoons dill, dried
¼ cup oil
2 filets of rockfish
½ teaspoon salt
Optional Ingredients
lemon wedges, for serving
Directions
Combine the flour, cornstarch, and dried dill in a shallow bowl.
Heat the oil in a large sauté pan over medium heat.
Season the filets with salt, then dredge them in the flour-cornstarch mixture. Gently tap off excess.
Place the filets immediately in the hot oil, and cool for 2 to 3 minutes on each side.
Serve with a squeeze of fresh lemon juice.
Nutrition
| | |
| --- | --- |
| Calories per Serving | 472 |
| Total Fat | 29.9 g |
| Saturated Fat | 2.7 g |
| Trans Fat | 0.1 g |
| Cholesterol | 95.5 mg |
| | |
| --- | --- |
| Total Carbohydrates | 13.4 g |
| Dietary Fiber | 0.3 g |
| Total Sugars | 0.0 g |
| Sodium | 548.5 mg |
| Protein | 36.0 g |