Healthy Coffee Oatmeal Recipe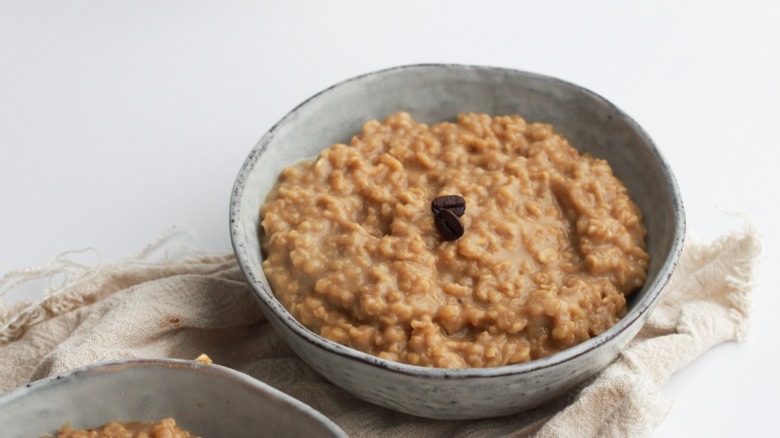 Susan Olayinka/Mashed
If you're like many of us, you know full well how important it is to start your day with a good, healthy breakfast. But somehow, every day, you wind up breakfasting on the same old thing: a cup of coffee washed down by yet another cup of coffee. Well, what if there were a way to combine the two? To have your healthy breakfast and your coffee too, all combined in a single dish?
Crazy as it seems, Susan Olayinka of The Flexible Fridge has found a way to combine coffee with oatmeal into a surprisingly delicious dish. While the amount of caffeine in this dish won't knock you on your rear, it could provide a little extra pick-me-up, as each serving contains about half a cup of coffee. It will also provide all the vitamins, minerals, protein, and fiber that you'd get from a plain bowl of oatmeal, but it's way more fun to eat. Olayinka says this  unusual yet enjoyable dish tastes "like coffee-infused oats — it's so good!" She goes on to say, "I love the taste of coffee and love oats, so this recipe is a winner."
Gather the ingredients to make this healthy oatmeal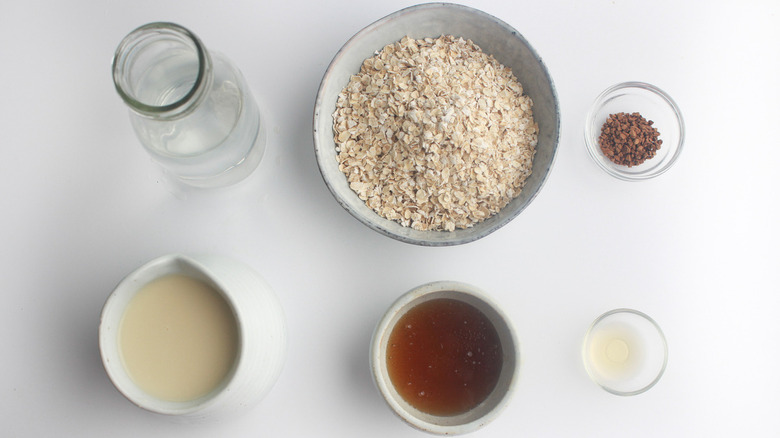 Susan Olayinka/Mashed
You won't need too many ingredients to make this healthy coffee oatmeal, and everything required is something you probably already have on hand. In fact, all you're going to need are five ingredients in addition to some water: instant coffee, something Olayinka says is "more convenient to use ... [than brewed coffee] in this recipe," plus milk, honey, vanilla extract, and old-fashioned rolled oats.
As there's hardly any prep involved, you also won't need to dirty up too many utensils. Just the usual measuring cups and spoons are all you'll really need, plus a small to medium saucepan for cooking, a spoon for stirring, and bowls for serving. If you're really in a hurry, you could always skip the bowls and just eat this oatmeal straight from the pan, but you'll still need to let it cool for a minute so it won't burn your mouth.
These ingredient swaps could work for this coffee oatmeal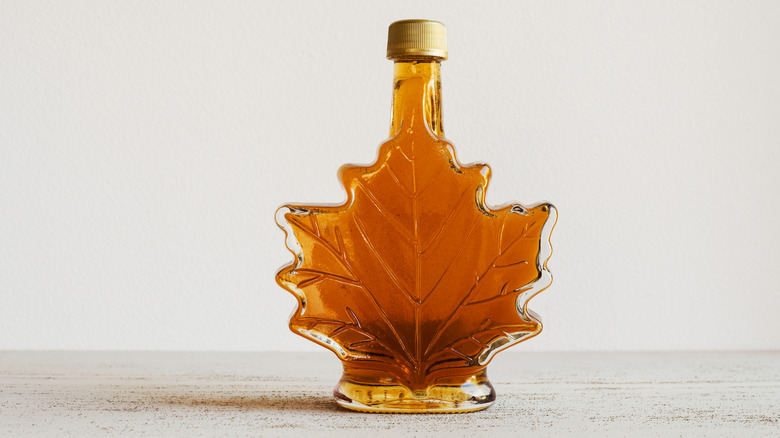 Shutterstock
As this is such a simple recipe, it also lends itself well to a few easy ingredient swaps. If you don't have instant coffee, just substitute a cup of brewed coffee for the instant coffee granules and the water. You can also use any type of milk you like, including cow's milk or plant milks such as almond milk, coconut milk, or oat milk. You can use quick-cooking oats in place of the old-fashioned kind, though in that case, your oatmeal might not need to be cooked for quite as long. Steel-cut oats can also be used, although those will take additional time to cook.
If honey's not your thing, Olayinka tells us that "the sweetener alternative could be brown sugar, coconut sugar, or agave nectar," or you could also use white sugar or maple syrup. If you're counting calories or carbs, try a sugar substitute such as stevia. The vanilla can be swapped out for half a teaspoon of almond extract, or you could replace or supplement the vanilla flavoring with a pinch of ground cinnamon.
Start by making sweet, milky coffee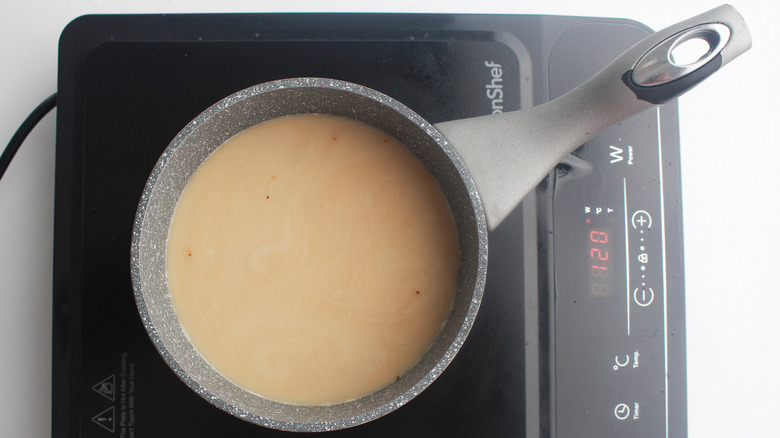 Susan Olayinka/Mashed
Pour the water into a saucepan and add the instant coffee granules. Heat the pan on medium-high for 30 seconds or until the coffee granules have all dissolved. You should now have a pan full of plain black coffee. Now add the milk, the honey, and the vanilla, and heat the mixture for another 30 seconds, stirring to combine all of the ingredients thoroughly. If you sneak a little taste at this point, you might want to just drink this milky, honey-flavored coffee as is, but keep going — you haven't got to the good part yet!
Add the oats and cook 'til it's done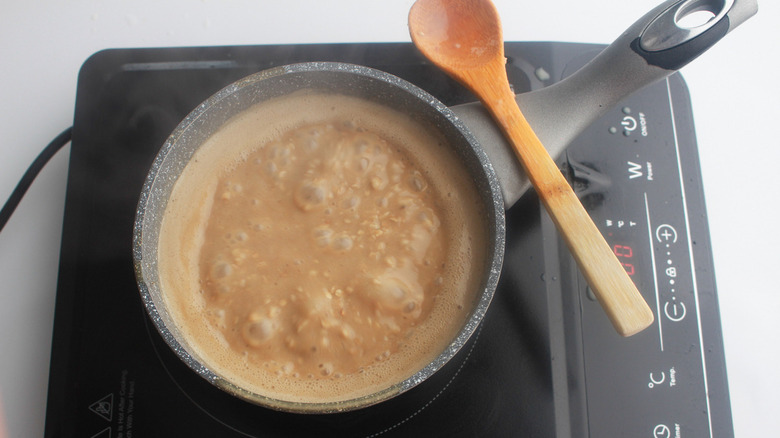 Susan Olayinka/Mashed
Stir the oats into the coffee/milk mixture, then stop stirring and watch for little bubbles to start forming around the edges of the pot. Once you see the bubbles, turn the heat down to low and resume stirring. Cook and stir for three to four minutes longer, or until the liquid is absorbed into the oats and your oatmeal looks like oatmeal. At this point, turn off the heat and give the pot one more stir. That's it!
Serve this dish with your favorite oatmeal (or coffee) toppings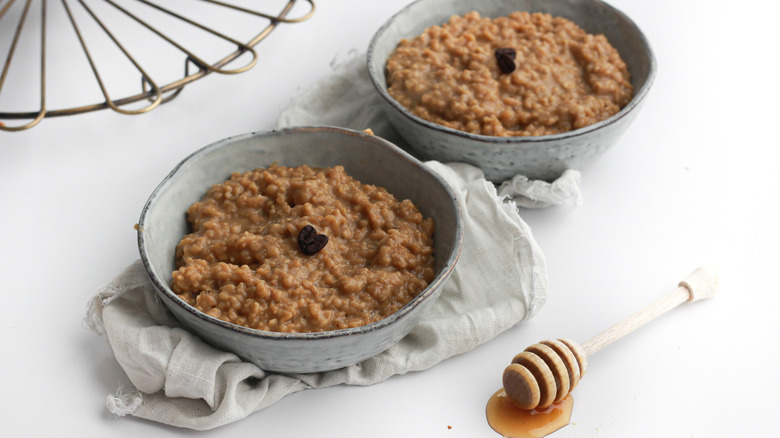 Susan Olayinka/Mashed
Olayinka says this dish makes two servings, so you can divide it between two bowls and top them off with additional sweetener, flavoring, or cream. Olayinka says she likes to eat her coffee oatmeal drizzled with honey but also says, "I was actually thinking of putting chopped nuts on top, like hazelnuts, walnuts, etc., or even a sliced banana." A sprinkle of cinnamon would also be good, or you could even use cocoa powder to make it into mocha oatmeal. If you're feeling really decadent, you could even stir in a tiny splash of whiskey and top your oatmeal with a squirt of whipped cream. Voilà! You now have yourself a bowl of Irish coffee oatmeal.
Healthy Coffee Oatmeal Recipe
We found a way to combine coffee with oatmeal into a surprisingly delicious dish. If you love both coffee and oatmeal, this dish is a winner.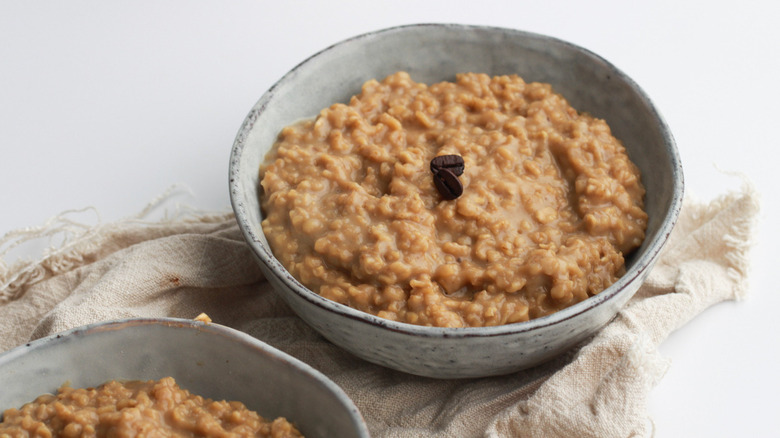 Ingredients
1 cup water
2 teaspoons instant coffee granules
1 ½ cup milk
¼ cup honey
1 teaspoon vanilla extract
1 cup old-fashioned rolled oats
Directions
Pour 1 cup water into a saucepan and add the and coffee granules.
Heat the water and coffee granules for 30 seconds on medium-high until the coffee dissolves.
Add the milk, honey, and vanilla extract and heat, stirring, for 30 seconds.
Add the oats and mix well.
Turn the heat down to low when small bubbles start to form around the edge of the pot.
Cook, stirring, for 3 to 4 minutes until the oatmeal has thickened.
Divide the oatmeal between two serving bowls and serve with your choice of toppings.
Nutrition
| | |
| --- | --- |
| Calories per Serving | 398 |
| Total Fat | 8.7 g |
| Saturated Fat | 3.9 g |
| Trans Fat | 0.0 |
| Cholesterol | 18.3 mg |
| | |
| --- | --- |
| Total Carbohydrates | 72.0 g |
| Dietary Fiber | 3.8 g |
| Total Sugars | 44.9 g |
| Sodium | 86.9 mg |
| Protein | 11.5 g |