The Surprising Way This Rum Brand Is Highlighting Ocean Waste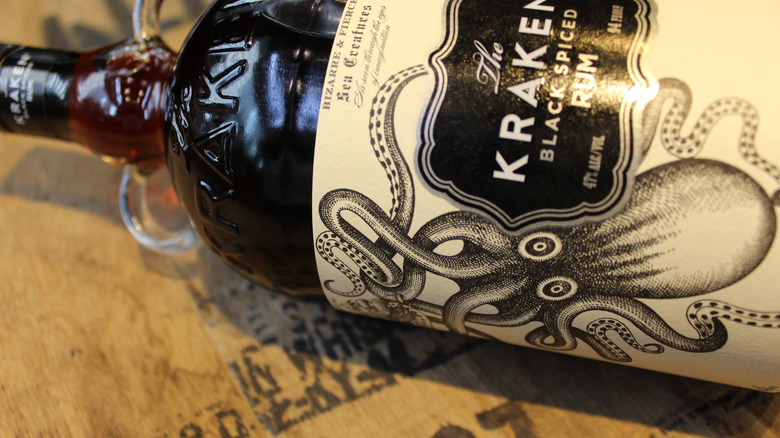 Shutterstock
Are you a fan of dirt cake, with its cookie-crumb soil, chocolate pudding mud, and gummy worms? Well, in that case, you'd probably love the new "Ice Clean" dessert. This ice cream treat is the brainchild of Kraken Rum, whose Freaky Tiki pop-up bars have been serving up black ice cream infused with their signature booze in the British Isles for the past few years (via The Taste). In its latest incarnation, though, Kraken's black ice cream comes adorned with edible garbage. These cute little cans, plastic bags, cans, bottles, and boxes were created on a 3-D printer out of some type of edible substance.
The ice cream isn't going to be available in stores, though, as it's a super-limited release. The good news is, it's priced pretty cheaply — LADbible says it will cost just £1 for a cup (equivalent to $1.39 at current exchange rates, via XE). The bad news, as the currency implies, is that it's only going to be available in the U.K. at selected events and venues throughout the month of August. If you don't already have your passport already lined up, it looks like you're going to be out of luck when it comes to getting a taste. What you can do, however, is to learn more about the very good reason why Kraken will be serving up this tasty trash.
Kraken Rum wants to remind us to pick up our beach trash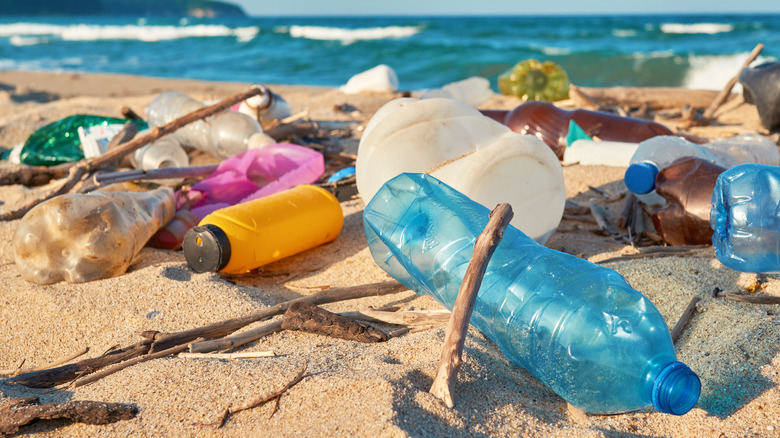 Shutterstock
Kraken, a rum brand named for a legendary sea monster, has chosen ocean conservation as a cause to stand behind. According to LADbible, their latest venture involves a partnership with the PADI AWARE Foundation meant to promote awareness of ocean waste. The foundation, whose website says they have offices in the U.S. and Australia as well as in the U.K., is on a mission to reduce the amount of pollution in the oceans by half over the next decade. Kraken is doing their part by giving people a sweet reminder to pick up their trash when they're visiting the beach.
This reminder to "give a hoot, don't pollute," as the non-aquatic eco warrior Woodsy Owl would say, is particularly important at a time when the pandemic has more people staycationing than ever before. This means that U.K. beaches are as crowded as they've ever been, but if each British beach-goer not only remembers to pick up their trash, but also purchases an "Ice Clean" dessert, then they might be doing the environment some real good. All of the money from these treats will go towards ocean cleanup efforts, and Kraken also plans to double the donation by matching all of the sales proceeds with a donation of its own