How Bell Peppers Led To Major Traffic Delays In New York City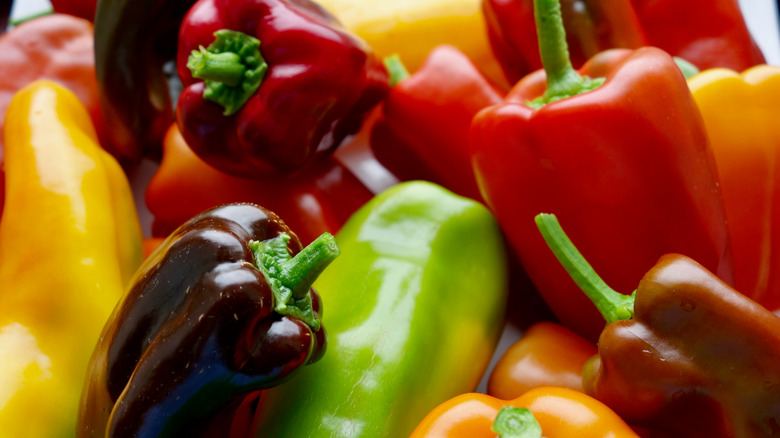 Shutterstock
Commuters on New York's Brooklyn-Queens Expressway this week got more than the recommended daily amount of fresh vegetables when traffic came to a halt at the scene of an overturned truck loaded with produce, including what appeared to be crates of hundreds of bell peppers. According to The Takeout, no one was seriously injured in the mash-up that caused extensive traffic delays through mid-morning. 
The roll-over happened at about 7:15 a.m. in Brooklyn in the eastbound lane near Exit 30. Yahoo shared aerial footage of the scene, showing the overturned truck surrounded by crates of produce and firefighters at the site. The great vegetable spill took up three of the four traffic lanes, and the traffic was backed up for at least a few hours after the incident. This week's crash was the second at BQE Exit 30 in three months, as reported by Brooklyn Paper.
Tractor-trailer rollovers cause many food spills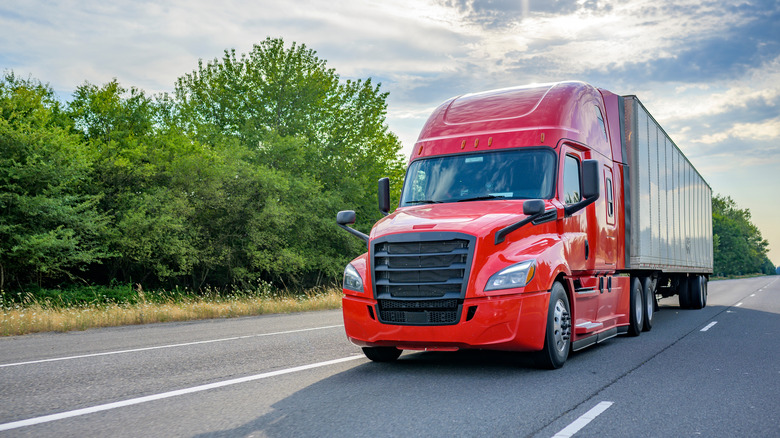 Shutterstock
According to the National Institutes for Health, tractor-trailer rollovers occur when centrifugal force affects a truck traveling on through a curve in the road. Because of their height, tractor-trailers are particularly susceptible to rollovers. Incidents involving trucks carrying food items, like the bell pepper incident, aren't all that uncommon. Emergency crews this week responded to an overturned tractor-trailer on Route 222 in Wyomissing, Pennsylvania. The rig was carrying a load of canned mushrooms. 
In June, the Observer-Reporter reported an overturned tractor-trailer transporting 70,000 pounds of groceries rolled over on I-79 in South Strabane Township, Pennsylvania. In 2017, the Citizen-Times said no injuries were reported in a truck overturn that spilled 45,000 pounds of dog food onto the highway in Asheville, North Carolina and, as reported by SYR.com in May, drivers in German Flatts, New York, near Utica, had to navigate a field of individually wrapped food products, including hummus, when a truck overturned on the New York State Thruway (I-90). According to TruckInfo, nearly 3.5 million truck drivers work in the U.S. trucking industry. They transport nearly 70% of all freight 一 $671 billion worth of manufactured and retail goods 一 in the United States.