Sonic's New Shake Flavor Is Inspired By This Classic Banana Dessert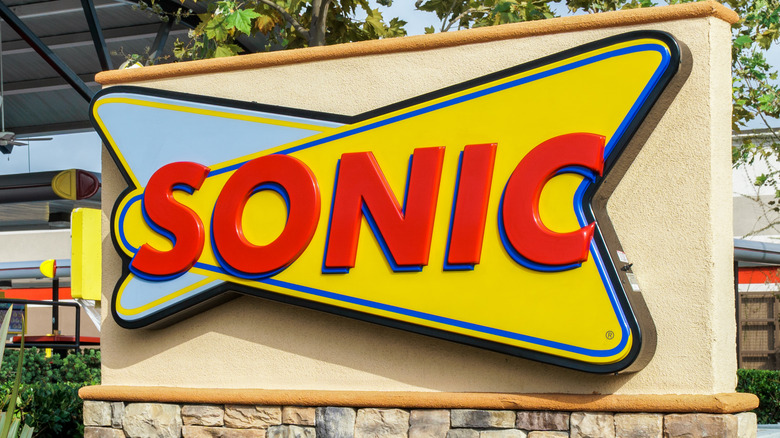 Shutterstock
It's time to put down the red, white, and blue slush because Sonic has a new shake flavor that is inspired by one truly delicious and traditional American dessert. According to Chew Boom, the chain has added a new Banana Pudding Shake to the menu. The website describes it as "the brand's real ice cream blended with fresh banana and Nilla wafers ... finished with a whipped topping, crumbled Nilla wafers, and a cherry." FastFoodPost.com states that the offering will be available from August 2 through August 29, 2021, so you'll want to hurry to get yours while it lasts!
In a recent YouTube review by RodrickEats, the food blogger describes the Banana Pudding Shake as the chain's classic (and popular) banana shake with some Nilla wafers mixed in for a taste of the classic Southern dessert. And while this review says that the shake tastes good, he also adds it doesn't necessarily taste like real banana pudding (more just like the regular banana shake with some cookies added in). He also did offer a word of caution about getting the pieces of Nilla wafers through the straw — drink it slow!
Although this limited-time shake will have many people excited, it appears that a similar offering was on the menu back in 2008 (according to Fast Food News) so it's not totally new. If you can't get enough of the Banana Pudding Shake after it leaves the menu, though, you can always buy Sonic's classic banana shake and add your own Nilla wafers to the mix.
Sonic sells Banana Shake Instant Pudding in stores, too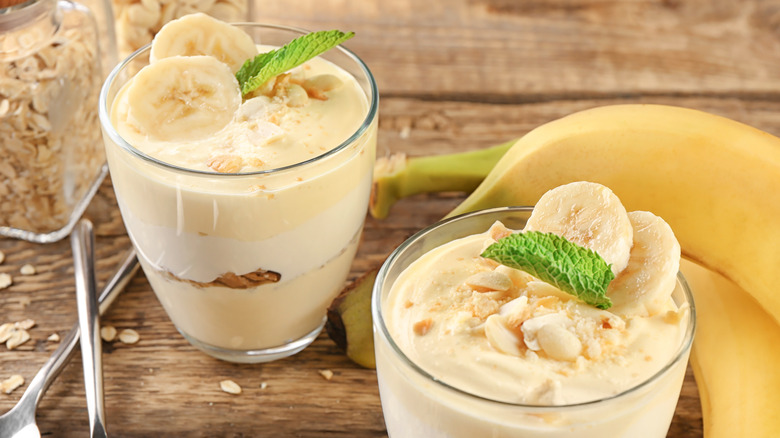 Shutterstock
While many people cannot resist the delicious shakes and slushes from Sonic, there are other ways to enjoy those classic flavors without heading to the nearest drive-thru. In 2019, Sonic released a line of instant, make-at-home puddings and gelatins based on some of their popular menu items (per Best Products). Created in partnership with the brand Jel Sert, there are a wide array of offerings to choose from, including Cherry Limeade Gelatin, Strawberry Shake Instant Pudding, and, yes, even Banana Shake Instant Pudding.
Each packet makes four servings (so you can share it with others too!) and needs just 30 minutes of refrigerator time to set. All you'd need to do is combine cold milk and the pudding mix, and you'll have a delicious dessert in no time. But, to recreate the new shake flavor at Sonic, you will need to add in your own Nilla Wafer toppings. The Sonic Banana Shake Instant Pudding mix is available at various retailers, including Amazon and Walmart, and will last longer than the new shake, which departs Sonic drive-thru locations on August 29.