Bojangles Just Joined The Chicken Sandwich Wars With This Spicy Menu Item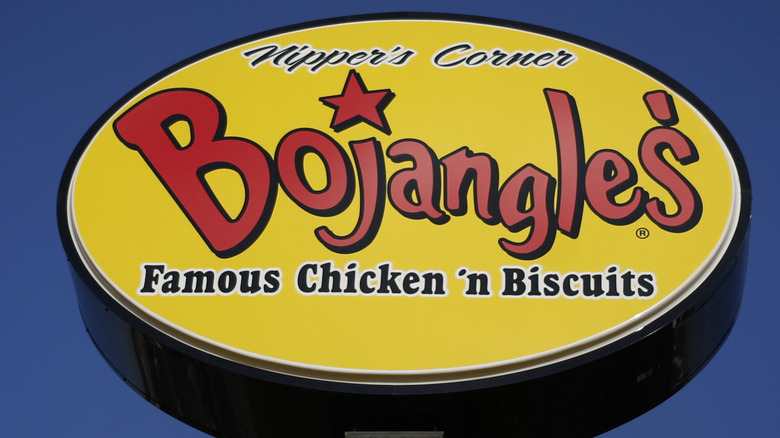 Bloomberg/Getty Images
Remember when Burger King finally entered the chicken sandwich wars after a nearly two-year delay? Well, apparently it's still not too late to join in the battle for chicken sandwich dominance. Mere days from the two-year anniversary of Popeyes having declared that the battle was on, Bojangles has thrown its hat into the ring — or, rather, its hand-breaded chicken sandwich, according to an announcement from the company on Facebook in which Bojangles VP of Menu and Culinary Innovation, Marshall Scarborough, holds a press conference where he says nothing more than "It's so cluckin' good." Presumably, for fans of Bojangles, the Charlotte, North Carolina-based fried chicken and biscuits fast food purveyor, that's enough information. 
Seriously, even the company's "official" press release was oddly succinct, adding only that the statement by Scarborough ("It's so cluckin' good") was made "in response to rumors about the Southern chain's new hand-breaded, crispy, craveable chicken sandwich available in all restaurants soon." And while Bojangles clearly just joined the chicken sandwich wars with this crunchy, savory, spicy menu item, that's not exactly how Bojangles is playing it. 
Bojangles would prefer if we not look at its new spicy menu item as its declaration of war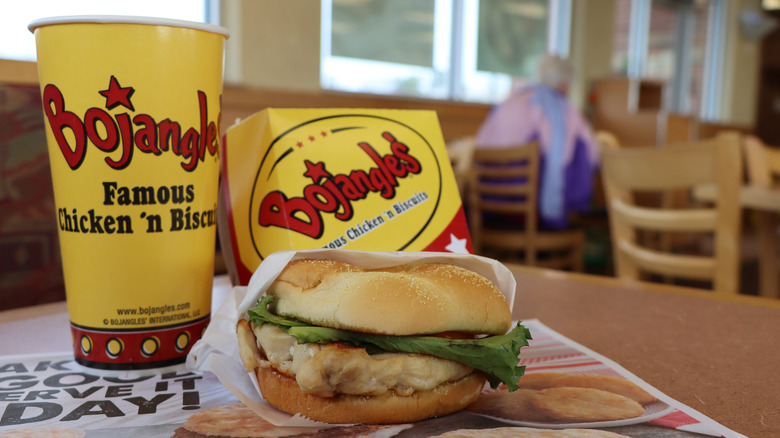 Shutterstock
When Bojangles announced that it had plans to debut a brand new, crispy, spicy chicken sandwich with the arguably hyperbolic claim that it's "not just craveable but also the best on market" (via WFXRTV), it would have appeared that the fried chicken and biscuits chain had finally — after two years — marked itself present and accounted for in the ongoing so-called "fast food chicken wars." But apparently, that's not really how Bojangles would like us to see it. 
"It's never been about a war for Bojangles," insists Scarborough, via WFXRTV. "It's just a chicken sandwich done right. And by done right we mean done the best." Alrighty then. So, we feel you, Bojangles. You're a lover, not a fighter. Your soon-to-be-unleashed spicy, hand-breaded chicken sandwich is not ammo, but rather, well, a peace offering. So, let's agree not to come right out and say that Bojangles just joined the chicken sandwich wars with its announcement of a particular upcoming spicy menu item. Except, didn't they?