Vegan Chicago-Style Hot Dog Recipe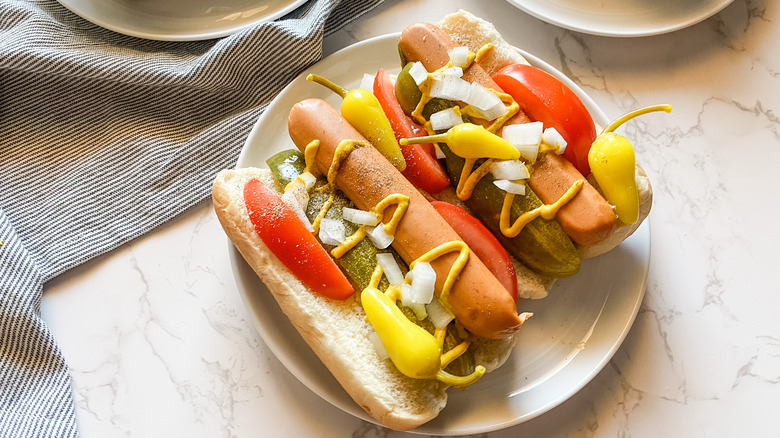 Kristen Carli/Mashed
The Chicago-style hot dog is one of the most popular dogs out there. If you're from the Windy City, then you have most likely had the pleasure of trying one. If you're not, you may have ordered one off of a menu, as they're popular at many restaurants. According to Block Club Chicago, the Chicago-style hot dog originated in Chicago during the Great Depression. "Before, during, and after the Depression, hot dogs were the food of working people," English professor and hot dog historian Bill Savage said (via Block Club Chicago). But this tasty meal was "really a product of the Great Depression ... A [nickel] could get you a hot dog with all these condiments on it that made it something approaching a full meal." Of course, the one no-no when it comes to this dish is ketchup, which is basically a sin in Chicago. Trust us on this one!
While the recipe is traditionally made with a real beef frank, it's not fair for vegans to be left out of the fun. So, recipe developer and private practice registered dietician Kristen Carli came up with this delightful vegan spin, which is sure to please. "I don't eat a lot of meat, so this option is great for me and for those [who] want the flavor but not the meat," she says. Keep reading to find out how to make this wonderful recipe. 
Gather the ingredients to prepare this vegan Chicago-style hot dog recipe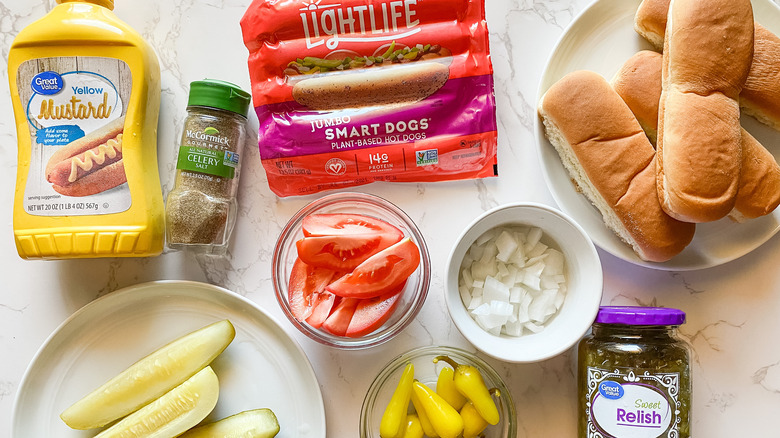 Kristen Carli/Mashed
The good news is that you won't need a lot of items to prepare this delicious hot dog recipe. For starters, you will need to get some vegan hot dogs (such as Lightlife). In addition, you need to pick up some dill pickle spears, which are a staple for the Chicago dog. Of course, the recipe also calls for a few hot dog buns.
Now, let's talk toppings. You will need yellow mustard, sweet relish, and chopped white onion. Add a Roma tomato and a few sport peppers to your list as well. Last but not least is a few dashes of celery salt. Once you have all of your ingredients gathered and ready to go, it's time to get to work!
Boil the hot dogs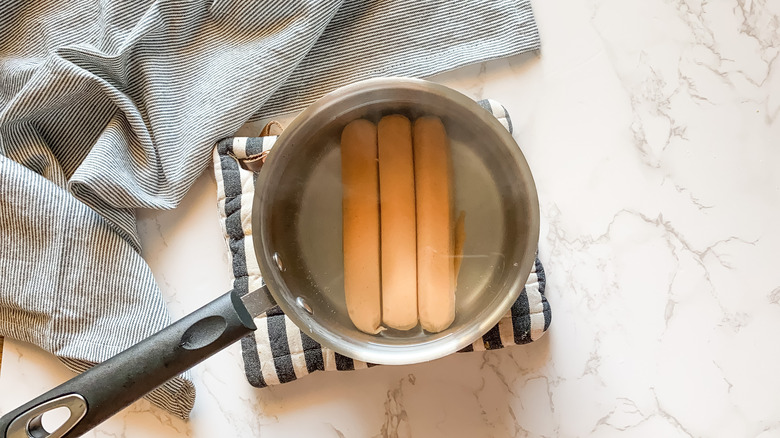 Kristen Carli/Mashed
For the first step, take out a small pot, and fill it with water. You will just need one that is big enough to fit four vegan hot dogs. Then, put the pot on the stove, and bring the water to a boil. Once the water starts to bubble, toss in the hot dogs, and set your timer for about two minutes. As you can see, it's a speedy and easy process.
Once your timer dings, remove the hot dog from the heat, and drain the excess water. Keep scrolling for more details on what goes on next.
Put together the hot dog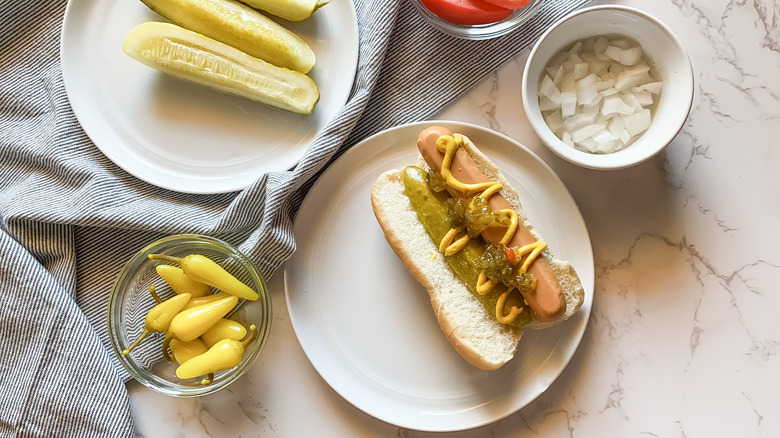 Kristen Carli/Mashed
After you cook your dogs, it's time to take out the buns. Get out a plate or a cutting board so that you have a flat surface to put together the hot dog. Open the bun, and add the pickle and the hot dog right in the center. Then, repeat the steps with each of the remaining hot dogs. Next, top each hot dog with 1 tablespoon of yellow mustard, followed by relish, and then 1 tablespoon of onions. Now hot-diggity-dog, this fun meal is starting to come together! Only a few more things to add before you can enjoy.
Add the tomatoes and sport peppers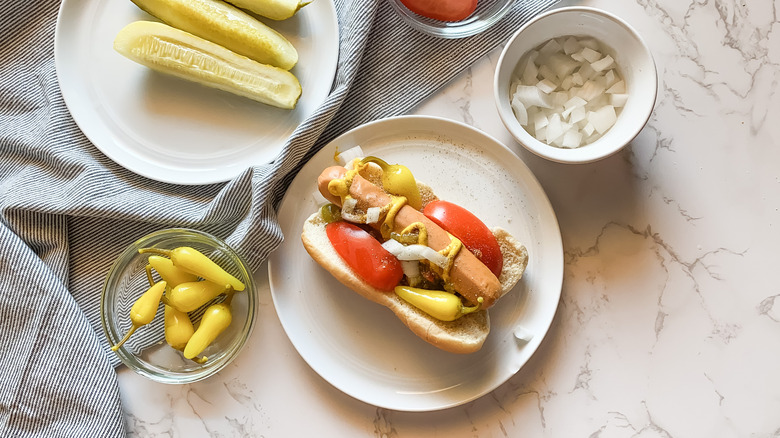 Kristen Carli/Mashed
You only have a few more items left to add before you finish this masterpiece. Next, place two wedges of tomatoes between each top of the bun and hot dog. Then, add two sport peppers to the top of the dog to finish off the delicious variety of veggies. Your hot dog is pretty full of ingredients by now, but trust us when we tell you that you will have a great variety in each and every bite. Last but not least, you can sprinkle some celery salt over the top. Now, it's truly a Chicago-style dog creation.
Enjoy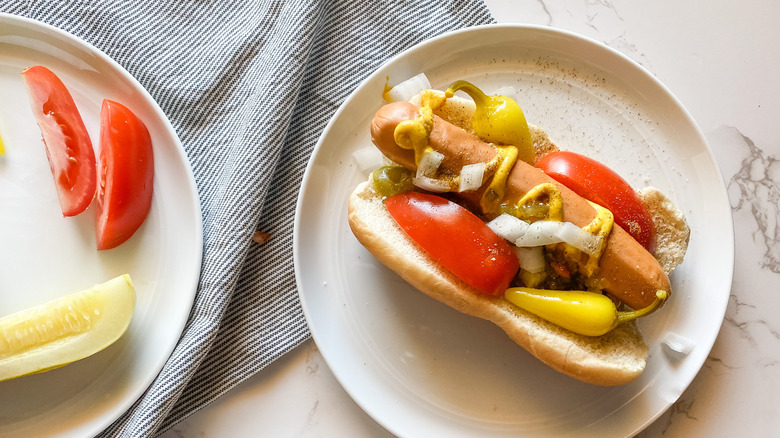 Kristen Carli/Mashed
Here is the best part of the entire recipe — getting to enjoy the final product! While this recipe wasn't the most difficult to make, it's still required a little bit of time and effort, and it always feels nice to enjoy your hard work. This would go well with plenty of sides, but Carli notes, "This would be great served with fries or chips!" We also suggest pairing it with a salad or something else a little lighter if you're not super hungry.
We hope you love this recipe as much as we do. It's a true treat — especially in the summer months. Now, it's time to eat.
Vegan Chicago-Style Hot Dog Recipe
This vegan Chicago-style hot dog recipe is sure to be a crowdpleaser at your next summertime gathering.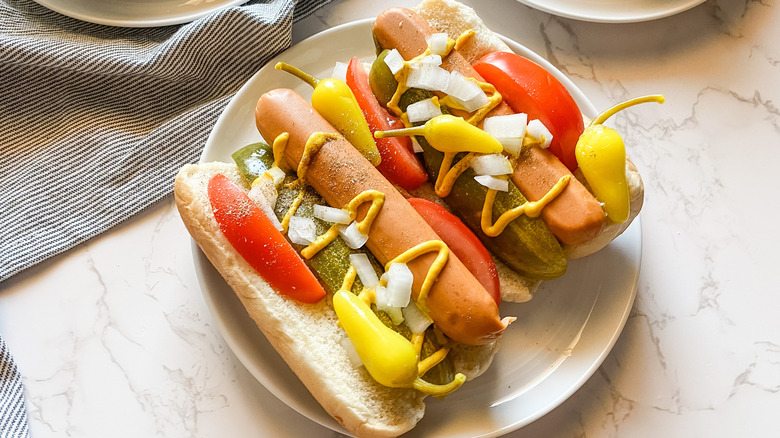 Ingredients
4 vegan hot dogs
4 hot dog buns
4 dill pickle spears
4 tablespoons yellow mustard
4 teaspoons sweet relish
4 tablespoons chopped white onion
1 Roma tomato, cut into 8 wedges
8 sport peppers
4 dashes celery salt
Directions
Bring a small pot of water to a boil. Add the hot dogs, and cook for 2 minutes. Remove from heat, and drain.
Open the hot dog buns, and add a pickle spear and hot dog to the center of the buns.
Top each with 1 tablespoon of yellow mustard, 1 teaspoon of sweet relish, and 1 tablespoon of onions.
Place two wedges of tomatoes between each top of the bun and hot dog. Add 2 sport peppers on top of each hot dog.
Sprinkle each hot dog with a dash of celery salt.
Nutrition
| | |
| --- | --- |
| Calories per Serving | 328 |
| Total Fat | 15.1 g |
| Saturated Fat | 5.4 g |
| Trans Fat | 0.0 g |
| Cholesterol | 22.5 mg |
| | |
| --- | --- |
| Total Carbohydrates | 37.8 g |
| Dietary Fiber | 6.2 g |
| Total Sugars | 11.1 g |
| Sodium | 1,083.1 mg |
| Protein | 12.4 g |