Duff Goldman's Baby Girl Makes Adorable Appearance During Zoom Cooking Class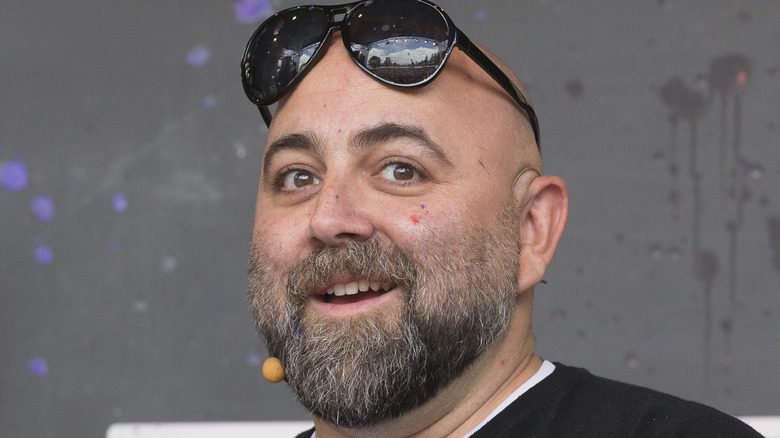 Shutterstock
During a Zoom class, Duff Goldman brought in a special guest: his daughter Josephine. In a video he later shared on Instagram, Goldman carries his daughter into frame saying "Here she is." Josephine stares as he tries to direct her attention to the image of her on the screen, then cries. "And yes she will love cake," the text of the post reassures, "she's just tired."
Everyone found it really cute and commented so with "She is just cutest," "Nap time dad," and other gushings.
This is just the latest example of Duff Goldman being absolutely adorable with his two-year-old daughter. Earlier this month, he uploaded another post in which he took her to the original location of Charm City Cakes, the business that made his name. It, too, received universal coos. Considering Goldman's job of judging how children bake, we can only assume that the adorableness will extend beyond the easy first years and into videos of them baking together. If she's not crying, that is.
A golden moment courtesy of Goldbelly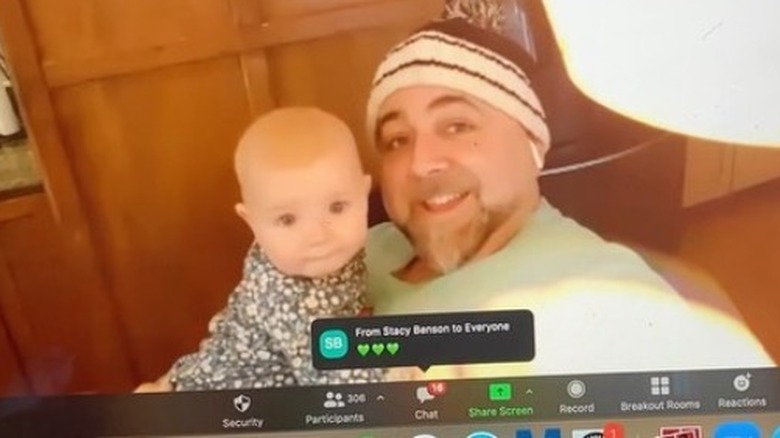 Instagram
The lesson in which Josephine briefly featured was on how to decorate an ocean-themed cake with a kit sent by Goldbelly. This detail is worth mentioning because even though Goldbelly, which has no familial relation to Duff Goldman, has existed since 2013, it has exploded during the pandemic, helping to make this icing-sweet daddy-daughter moment possible. 
In 2015, Goldbelly appeared in an Esquire article that describes it as a cross-country delivery service for "local delicacies." In 2020, however, CNN noted that it expanded its service to include restaurants and celebrity chefs. Baking Magazine, for example, reported that Duff Goldman had partnered with the service in October 2020 to sell four types of cake. Even though demand for delivery may drop as eating in restaurants becomes viable, Goldbelly might still retain a consumer base who wants to see Josephine and the entirety of the internet congregate. Adorableness delivers every time.