This Is What Emeril Lagasse's 'Emeril's Essence' Is Made Of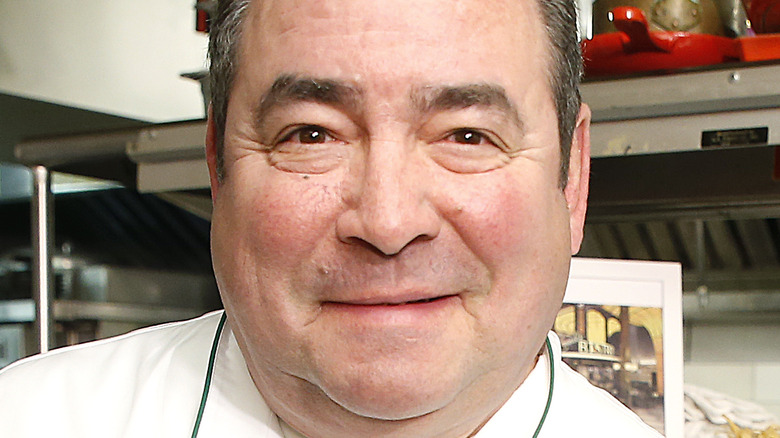 John Lamparski/Getty Images
We may receive a commission on purchases made from links.
Before Giada De Laurentiis and Rachael Ray, Guy Fieri and Bobby Flay, there was Emeril Lagasse. One of the OGs of the emerging field of 1990s food television, the importance of Lagasse in American food and television history cannot be understated. Boston-born Lagasse became a chef superstar in adopted hometown of New Orleans, succeeding Paul Prudhomme as executive chef of the city's famed Commander's Palace restaurant in 1981.
In the '90s, Lagasse opened his own restaurants, Emeril's and NOLA, earning him additional fame and a host of awards. Cookbooks and national television appearances followed, as did his own shows on The Food Network — "The Essence of Emeril" (1996-2008) and "Emeril Live" (2001-2010). These programs gave Americans what they didn't know they were craving: bold, new food flavors and a taste of Creole cooking. His loud delivery, engaging personality, and catchphrases like "Bam!" and "Kick it up a notch!" cemented his spot as a food TV icon (via Britannica).
As Lagasse's fame rose, so did his business opportunities. The media star soon opened restaurants in tourist destinations, like Las Vegas and Orlando, and launched his own food line, which included the spice blend "Emeril's Essence." People enthralled with Lagasse's andouille-crusted redfish and chicken gumbo eagerly bought his Essence. You (or your parents) might have a jar of the celebrity chef Emeril Lagasse's Emeril's Essence in your spice cabinet or pantry. But just what is in this famous spice blend? The answer isn't as easy as just looking at the ingredient label.
The best guesses at Emeril's secret spices
Emeril's Essence's ingredient label says, "Salt, Paprika, Spices, Dried Garlic, Dried Onion, Black Pepper, Calcium Carbonate, Soybean Oil, Natural Flavor." (According to Spice Specialist, calcium carbonate is an anti-caking agent.) Salt, paprika, dried onion, and dried garlic are pretty easy to pick out by tasting Emeril's Essence. The mystery lies in the "spices" and "natural flavors." Of course, Emeril Lagasse didn't want to give away more secrets than demanded by FDA regulations, leaving us to wonder what else is in this blend.
So, many have guessed at the components. The website The Nourishing Home, which offers its own recipe for making "homemade" Essence, thinks they nailed it with the addition oregano, thyme, and a generous helping of cayenne pepper. They recommend using it on meats, poultry and seafood, and vegetables. The website Top Secret Recipes goes a step further, adding all of the spices mentioned by The Nourishing Home to its copycat Essence, as well as Schilling poultry seasoning. (For the record, Schilling is no longer in business, but we suspect other poultry seasonings might do the trick as well.)
Mashed checked Instacart and found that you can find Emeril's Essence in most supermarkets. Also, Original Essence, as well as Southwest and Italian versions of Essence can be found on Lagasse's Amazon page, along with several other spice blends including those for burgers, steak, and chicken, and a blackening spice mix. If you're ready to kick it up a notch, now you know how to do it like Lagasse.