People Are Losing It Over This Photo Of Dan Levy And Paul Rudd Eating Dinner Together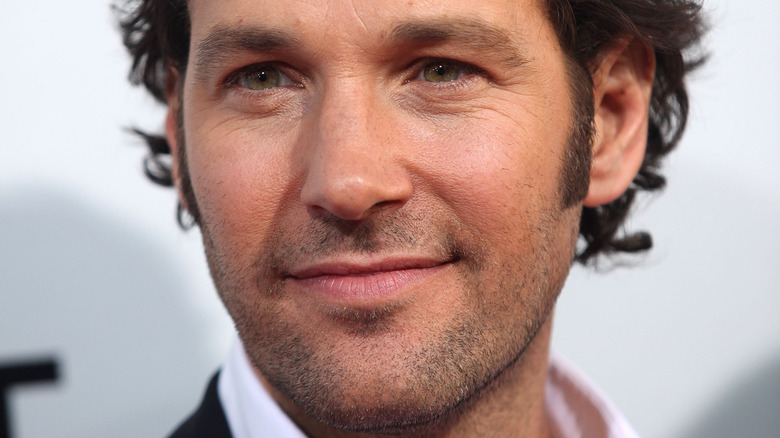 Shutterstock
If you never thought you'd see Dan Levy and Paul Rudd eating Indian food together, join the rest of the internet. Much to the delight of basically everyone, the two actors were spotted out for dinner at Darjeeling Express, a local Indian restaurant in the Covent Garden district of London (via People). In a photo that has since gone viral on both Twitter and Instagram, Levy and Rudd are pictured with owner and chef Asma Khan at a table full of delicious-looking food. But the internet was busier feasting its eyes on the stars. As one Instagram user joked, "Um. Did someone just create my ultimate fantasy dinner? The food looks delicious too!"
Since June, Rudd has been in London filming the latest installment of Marvel's "Ant-Man" movies (via Digital Spy), but it wasn't exploring the city that led him and Levy to the discovery of Darjeeling Express. Rather, it was the Netflix docuseries, "Chef's Table," which featured the restaurant's head chef. Much to chef Khan's surprise, Rudd had actually seen her episode prior to making his reservation. "He was so wonderful — he was kind and generous in his comments about the food and my documentary," the chef shared in another Instagram post.
Paul Rudd brought Dan Levy to this Indian Restaurant
The food at Darjeeling Express may have turned Paul Rudd into something of a regular because, in addition to bringing Dan Levy to the place, he's already brought his family there. "I was so impressed by his kids who were really down to earth and sweet," Darjeeling Express' chef commented on Instagram.
Judging by Levy's post-dinner selfie on the Darjeeling Express Instagram account, the actor may be a returning customer too, and next time, he will apparently be served biryani. Fans are likely hoping he'll return there with Rudd. "I want a 7-part miniseries about Paul Rudd and Dan Levy going out for dinner," Twitter user @RachMeetsWorld wrote. "Finding out that Paul Rudd and Dan Levy are friends made my long weekend," @AndrewHoran77 added in another tweet.
As others speculated, if Levy suggested that he'd come back for the biryani at Darjeeling Express, it must mean he'll be in London for an extended period. "If Dan Levy is in the new Ant-Man movie I will LOSE IT," @CatherinePowell wrote. Whether it's food or filming that brought Rudd and Levy together, one thing's for sure: Biryani is always best when shared.