Classic Pico De Gallo Recipe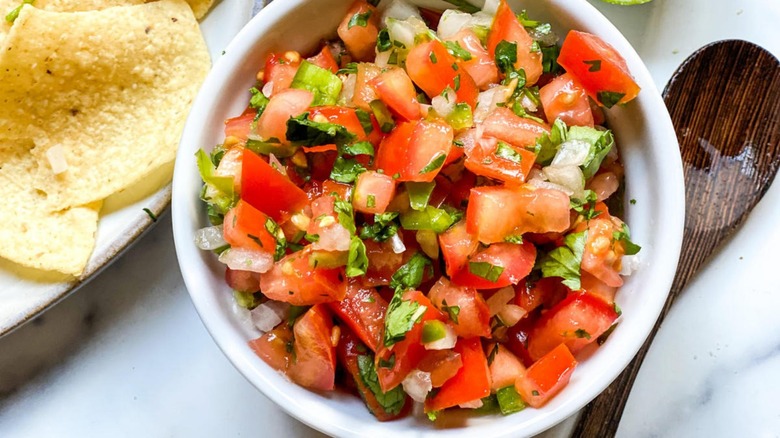 Miriam Hahn/Mashed
What would you do if you were at a party and your host asked "Would you like to try some rooster's beak?" Chances are you wouldn't hesitate to turn them down. But what if your host said "Would you like to try some pico de gallo?" You'd probably give them an enthusiastic "yes," thinking of that delightfully chunky salsa that goes perfectly with tortilla chips. But here's the funny part. "Pico de gallo" is Spanish for "beak of the rooster." 
Now, before you become concerned that you ate bird beaks and didn't realize it, no parts of chickens are used in this classic dish. As wellness coach and recipe developer Miriam Hahn explains, "It actually means 'rooster's beak' because originally people ate it by pinching pieces between the thumb and forefinger." In other words, that pinching action mimics a rooster pecking at food. And with Hahn's recipe, you only need 10 minutes of prep to make mouthwatering pico de gallo that your guests will do more than just peck at during your next get together. 
Gather your ingredients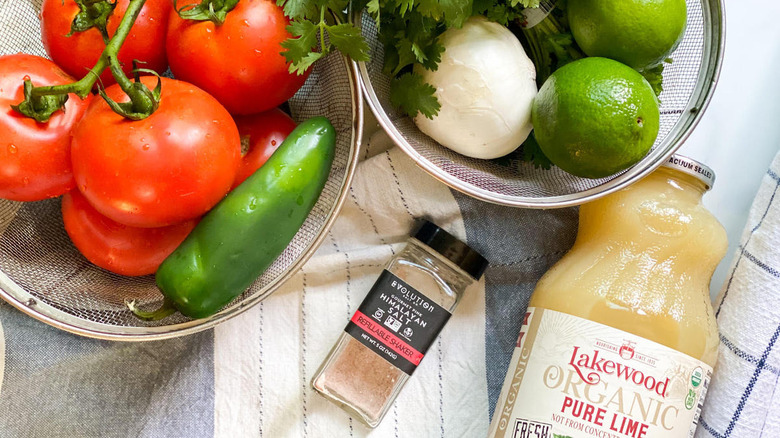 Miriam Hahn/Mashed
To make your pico de gallo, you'll need six medium-sized tomatoes, chopped cilantro, lime juice, and salt. You'll also need to dice one white onion, and to give your salsa a nice kick, you'll need to dice one jalapeño pepper (and don't forget to remove the seeds). 
But wait? Aren't there a number of hot peppers that could add spice to your pico de gallo? Yes, but, as Hahn explains, "I like using jalapeño because they are more mild than serrano and MUCH milder than habaneros."  However, she did say that you can swap the jalapeño for something spicier if you want your pico to pack a little more heat.
Not all tomatoes are the same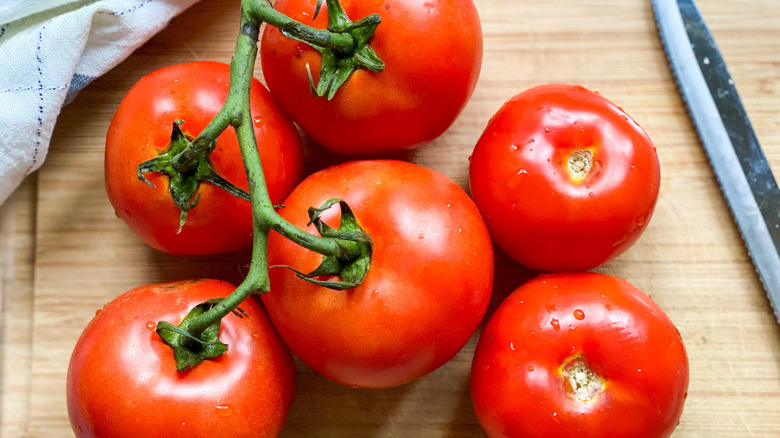 Miriam Hahn/Mashed
Before we dive into this recipe, a quick word about that popular yet often confusing ingredient: the tomato. Why confusing? Well, ask yourself this: Is it a fruit or a vegetable? According to Healthline, it's technically a fruit that's used more like a vegetable in dishes like soups or sauces. And just as there are a wide variety of apples (some of which are now extinct), the tomato family spans the tiny yet juicy cherry tomatoes that you might find on a kebab to the large beefsteak tomatoes that might be crowning off the toppings on your hamburger. So, choosing just the right tomato is crucial for any recipe. 
Prepare your tomatoes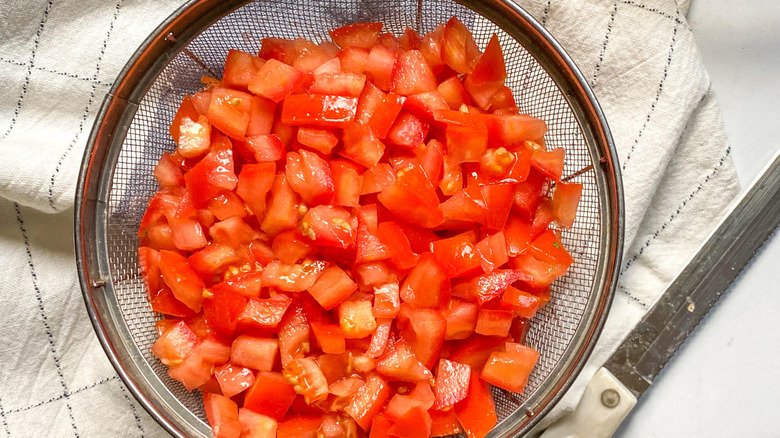 Miriam Hahn/Mashed
So, which tomato should you use to make pico de gallo? Hahn has a few suggestions.
"I like using tomatoes on the vine because I feel they tend to be the freshest and firmest," she says, adding, "But Roma or hothouse work well too." 
Whatever type of tomato you choose, Hahn recommends opting for something organic. "I always buy organic tomatoes so that is the most important thing for me. So, out of the organic choices, I choose the ones that look the freshest and feel the firmest."
So, once you've chosen your tomatoes, dice them up and put them in a colander for about 10 minutes to drain. You'll want to shake the colander to help release the extra water.
All about white onions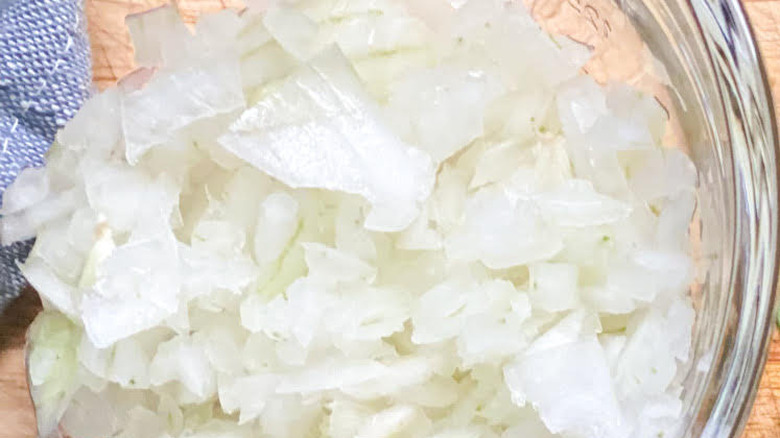 Miriam Hahn/Mashed
Just like tomatoes, there are a variety of onions on the market. There's the sharp yellow onions that you might find in French onion soup. Then there's the thin, green scallions that garnish salads and sauces alike. And who can forget the often pickled red onion? However, it's no accident that Hahn chose white onions for her pico de gallo recipe.
"Traditionally white onions are used for pico de gallo because they tend to be sharper and more pungent," she explains. So, are white onions your only option for this salsa? Actually, no. Hahn said that she has "also used red onion and that offers good flavor too."
Combine your tomatoes with your other ingredients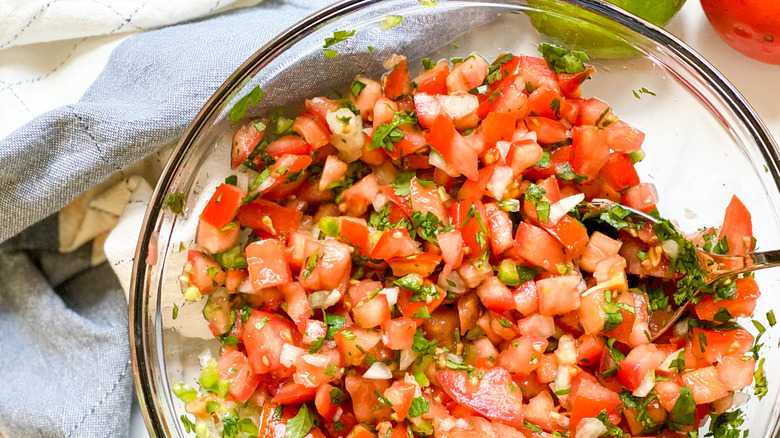 Miriam Hahn/Mashed
Once you've diced and drained your tomatoes, combine them with the diced white onion, diced jalapeño, chopped cilantro, lime juice, and salt in a medium bowl.
One thing you'll notice about your pico de gallo is the contrasting flavors. After all, spicy peppers are on the opposite end of the flavor spectrum from tart lime juice. However, as Hahn notes, there's a very good reason for the wide variety of flavors in this dish.
"I think the lime juice and the salt really bring this recipe to life," she tells us. "The mild and spicy flavors are so delicious when combined."
Serving your pico de gallo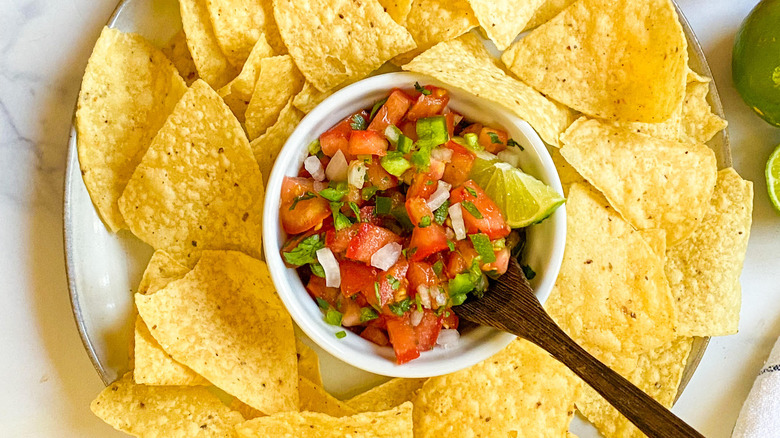 Miriam Hahn/Mashed
To make sure your guests get the full impact of all the flavors in your pico de gallo, make sure to thoroughly stir all your ingredients. Although you can serve this salsa right away, you can also chill it — however, Hahn says it's best to use it within 48 hours.
"The tomatoes can get soggy after 48 hours, so I like to eat it in that window of time for the best texture," she explains.
Besides tortilla chips, Hahn says pico de gallo can work with a number of dishes like tacos (especially jackfruit tacos), burritos, and fajitas, but "it is fabulous on a tofu or egg scramble."
Classic Pico De Gallo Recipe
This versatile, delicious pico de gallo is full of color, flavor, and crunch. Plus, it's ready in just 10 minutes -- no food processor or blender required!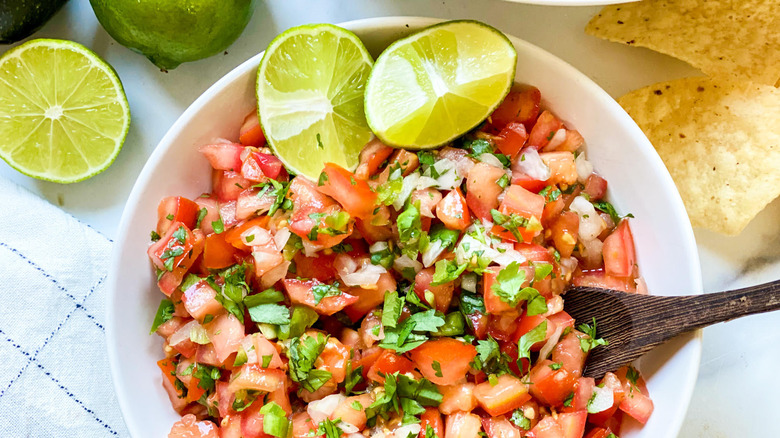 Ingredients
6 medium tomatoes
¾ cup white onion
½-1 jalapeño, seeds removed
1 bunch of fresh cilantro
3 tablespoons lime juice
1 teaspoon salt
Directions
Dice the tomatoes and put them in a colander for about 10 minutes to drain. Shake the colander to help release the extra water.
Dice the onion and jalapeño and chop the cilantro.
Combine the tomatoes, onion, jalapeno, cilantro, lime juice, and salt in a medium bowl.
Stir well and serve with corn chips or as a topping on tacos, burritos, or fajitas.