The Adorable Way Gordon Ramsay's Wife Tana Celebrated Their Anniversary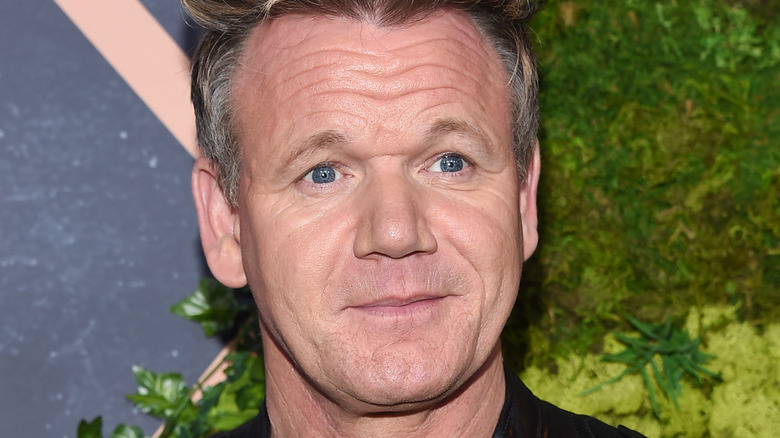 Shutterstock
In a scene straight out of a feel-good romantic movie, Tana Ramsay swirled, twirled, and giggled in her wedding dress — almost 25 years after her wedding day.
In a video posted to Instagram, Tana, who wed Gordon Ramsay on December 21, 1996 (via Hollywood Life), said she stumbled upon the dress while decluttering. "Clearing out our home and unearthed my wedding dress — 25 years and 5 pregnancies later and happy to say it still fits," she wrote in the post. Her husband was among the first to comment, "Omfg," he wrote with a flame emoji. The video garnered almost 130,000 views within three days of the post.
Almost any bride would be thrilled to fit into their wedding dress to celebrate their silver anniversary. It's a whole different kind of awesome when the classic style they wore a quarter-century ago would still look good coming down the aisle years later. Tana Ramsay's dress — ivory satin, short-sleeve, A-line with a fitted drop bodice — checks that box (via MetroUK).
Tana and Gordon Ramsay have endured a lot during 25 years of marriage
Gordon and Tana Ramsay have endured their share of media-documented ups and downs — allegations of infidelity, family drama, a miscarriage — since they married in 1996, per Delish. Based solely on Gordon's public persona as a curse-word-loving kitchen bully who occasionally shows a heart of gold, it's tough to imagine how the partnership works. Tana Ramsay shed some light on that very point during an interview with The Telegraph, "Gordon just loves winding people up. Absolutely loves it. You have to understand him to know what he's like, and I understand him absolutely." The Ramsays have five children: Megan, twins Jack and Holly, Matilda, and Oscar (via Insider).
The author of several cookbooks including "Tana Ramsay's Real Family Food" and "I Love to Bake," Tana Ramsay is also the proprietor of a salon, All About That Girl (via The Netline). She has appeared on the British cooking show, "Market Kitchen" and on the U.S. television show, "MasterChef" starring her husband.