Top Chef's Hosea Rosenberg Gives An Update On His Daughter's Health Condition - Exclusive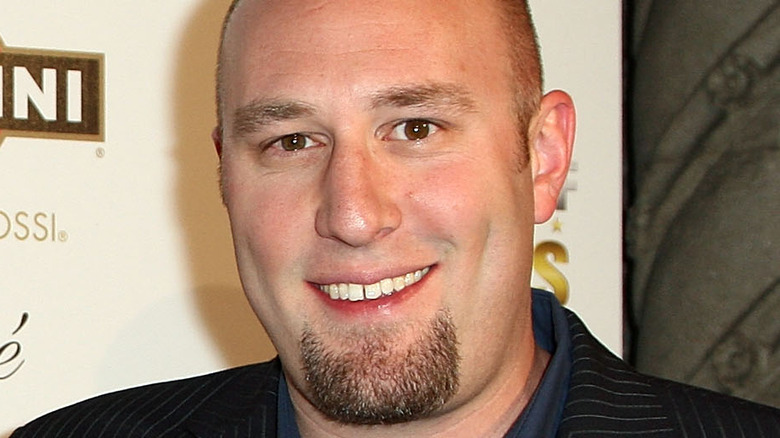 Alberto E. Rodriguez/Getty Images
The last year and a half have been a whirlwind for Colorado-based chef Hosea Rosenberg. Not just because the former "Top Chef" champion is a two-time restaurant owner who had to navigate his businesses through a global pandemic. He's also the dad of a bright-eyed and energetic four-year-old daughter named Sophie. And since the spring of 2020, Rosenberg has not only been fighting for his restaurants and the community but also fighting for the health of his daughter, who was diagnosed with an extremely rare genetic disorder.
In an exclusive interview with Mashed, Rosenberg shared how his daughter is living her best life despite the realities of her medical condition and what it means for her future. Rosenberg also talked parenting, and how he and his wife, Lauren, are getting through it all. And he opened up about the communities that have come together to show support for Sophie, despite the toll of COVID-19.
Hosea Rosenberg on his daughter's battle with MCTO
When we first asked Rosenberg how his four-year-old daughter, Sophie, was doing, his eyes lit up. "She's doing great ... she's a sweet little girl. She's very funny, she's got a great sense of humor." Rosenberg continued, "She's dealing with an incredibly rare disorder. It's called MCTO [Multicentric carpotarsal osteolysis]. It's a genetic disorder that only 30 people in the world have ever been diagnosed with. And because of this, there is no cure, no treatment for what she has."
The National Institutes of Health describes MCTO as the "progressive loss of some of the bones of the hand and feet." Rosenberg said they are already seeing the effects in Sophie. "It's already happened quite strong in her wrists and ankles," he explained, adding that, "She has to wear braces on her legs. And she sleeps in braces on her hands at night. Her hands are weak and she has trouble walking."
Because of the current lack of treatment options for MCTO, Sophie's symptoms will likely only get worse. Rosenberg explained, "Unfortunately, most of the kids that we've met that are older than her, that have this are in wheelchairs, they can't really use their arms or legs." But despite the odds, the chef said that Sophie remains a determined, spirited kid. "She can't run, she can't jump, she can't ride a bike. .. but she finds other ways to have fun. And she's still upright. She's still on her feet, but she's just a little wobbly."
Hosea Rosenberg on the mission of the Sophie's Neighborhood foundation
Hosea Rosenberg, his family, and their community remain optimistic and committed to doing everything they can for Sophie. That includes the foundation they started in her name, Sophie's Neighborhood, which seeks to raise money for research and treatment options for those dealing with MCTO. Rosenberg said, "We've got this amazing scientific advisory panel. And we've got these researchers that are doing work right now in the lab, studying the genetics of this, but this is a hard thing to figure out."
The news about Sophie came at a particularly trying time. "It was effectively the same week that we found out we were going to have to shut both of our restaurants down," Rosenberg shared. He said that, in the moment, "We didn't expect much from the restaurant community because we were all suffering from the effects of COVID." But his expectations were blown away. "A lot of other chefs and restaurant owners jumped in," including "Top Chef" stars Padma Lakshmi and Gail Simmons.
Since then, Rosenberg said they've hit the ground running for Sophie's Neighborhood. "We've done a lot of fundraising. And my wife, Lauren, has been the main driver of that." The Rosenbergs still shoulder the challenges and sadness of dealing with Sophie's disease, but they remain determined and hopeful. "She's happy and she's not in a lot of pain. And so we just live day to day," he said.
"As parents... it's on us," Rosenberg explained. "We're just raising money for our own child's future, which is not something we ever expected to do."
You can find more information and donate to Sophie's Neighborhood here.