Firehouse Subs Is Giving Away Free Sandwiches, But There's One Small Catch
Nothing satisfies a lunchtime craving like a hearty sub sandwich loaded up with meat, cheese, veggies, and all the perfect toppings. Firehouse Subs has just the sandwich to meet your taste and fill you up with delicious steamed meats and cheeses and signature sub rolls. With over 1,180 locations, the chain is growing and serving more happy customers than ever before, per the brand.
The sandwich shop chain was started by former firefighters and brothers Chris and Robin Sorensen and the company has always prioritized giving back to their communities, especially to first responders. The company uses some of its profits to fund the Firehouse Subs Public Safety Foundation, which provides life-saving equipment, training, and support to first responder organizations around the country.
Now, they are running another initiative to support the communities their restaurants are a part of, all while giving you a chance to take part and snag a free sub sandwich.
The free sub giveaway for a cause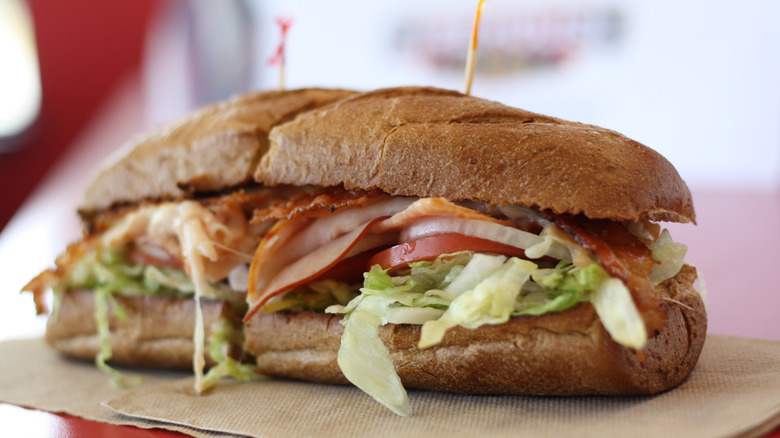 Shutterstock
The sub giveaway is a part of an annual bottled water collection drive run by Firehouse Subs. The drive is known as H2O for Heroes and has been run for the past nine years. The water is donated to local fire and police departments, senior and community centers, emergency victims, and other people in need of hydration and cooling during the hottest months of the year (via Chew Boom).
How can you get a free sub? Simply bring an unopened 24-pack of bottled water to your local Firehouse Subs restaurant on Saturday, August 7, donate it to the cause, and claim your free sub. You will be eligible to receive a free medium sub sandwich of your choice. The deal is limited to one medium sub per case of water, per customer.
The H2O for Heroes drive has donated over 4.1 million water bottles to people across the United States over the past nine years. You can be a part of the cause and get a delicious Firehouse Sub for free, too.