If You Ever Wanted To Stay In A KFC Themed Hotel, Now's Your Chance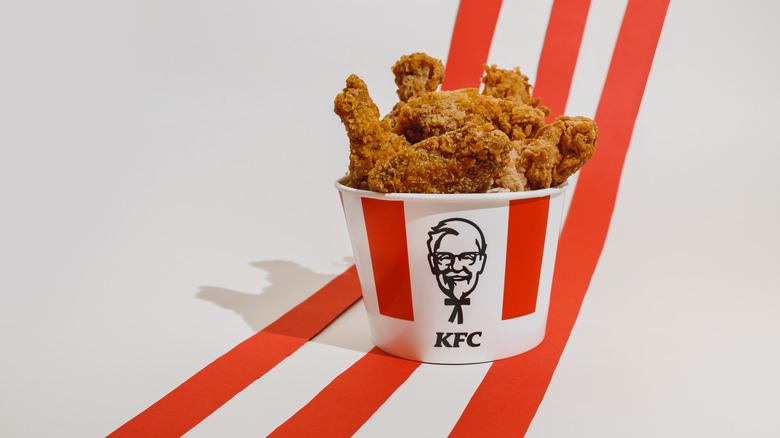 Shutterstock
KFC knows its fans are tired of sitting at home, not traveling or seeing the world. That's why, per a recent press release, the fast food chain is offering its U.K. fans a chance to "chick-in" to the "spiciest stay of the summer." That's right — KFC has created a pop-up hotel in London called the House of Harland and it's offering fans the opportunity to book an exclusive one-night stay. Sounds tasty, right?
The press release goes on to share that each room has a private cinema room, a "Finger Lickin' 'Press For Chicken' button" so you can eat as much of their fried chicken goodness as your heart desires, and a Hot Winger Arcade Machine. Move over hotel pool, because there are new amenities in town. House of Harland will only be open for 11 nights between August 18 and 29, so you may want to book your room sooner rather than later. You can visit Hotels.com to secure your £111 per night room. 
You can also feel good about your stay, because 100% of the proceeds are going towards the KFC Foundation, which provides financial and educational assistance to students and KFC employees. But what exactly can guests expect from a hotel dedicated to fried chicken?
You will be treated like KFC royalty
This KFC hotel pop-up is determined to make you feel like deep-fried royalty. KFC's press release explains that your House of Harland experience begins with getting chauffeured in a private, tricked-out "Colonelmobile," which is technically a black Cadillac, but that's less fun to say. Upon your arrival, you will be greeted by your very own "'Chick-In' Clerk" who will be at your peck and call.
What is there to do at this fried chicken haven? KFC suggests indulging in "complimentary botanical infused self-care essentials," or watching "one of the chick-flicks playing in the cinema room." No expense has been spared when it comes to details: the bedding, the wallpaper, the Arcade Machine, and even the towels were designed to immerse you in the fried chicken you know and love.
We wonder if they will be pumping the scent of chicken into your room to, as they say in "So I Married an Axe Murderer," "make you crave it fortnightly" (via IMDB). In a way, the answer is yes, thanks to that trusty chicken button. One press, and a chicken concierge service will be serving you up your favorite pieces of crisp, succulent meat. This definitely sounds like a vacation worthy of writing home about — just be careful not to leave too many grease smudges on the postcard.