Sam Adams Is Giving Away 5 Trips To Oktoberfest With Its Willy Wonka-Inspired Promo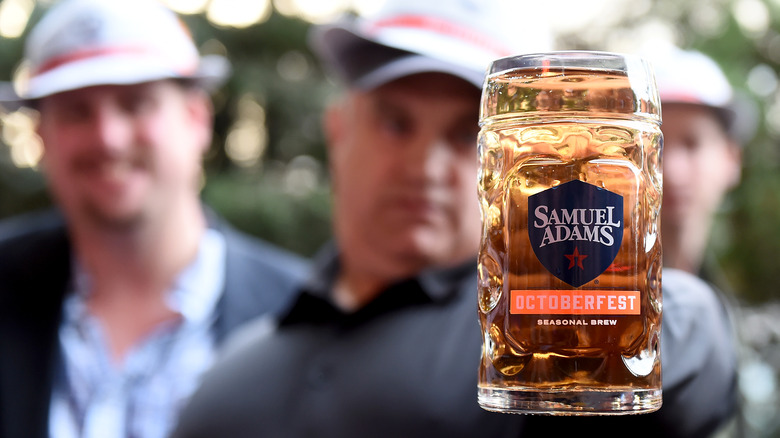 Daniel Zuchnik/Getty Images
In a page straight out of Roald Dahl's 1964 children's classic, "Charlie and the Chocolate Factory," Sam Adams Brewery is getting in the Willy Wonka spirit by announcing they will be giving away five golden "tickets" for a trip to Germany's famous Oktoberfest in 2022. According to Eat This, Not That!, the winning "tickets" are actually five specially-marked golden bottles of Sam Adams signature fall brew, OctoberFest, that are secretly tucked into 12-packs of the beer. Any time you buy a pack could be a chance to win a trip for four to the international event.
Fans of the Willy Wonka book and movie (starring Gene Wilder) will recall the similar plot line in which the eccentric candyman released five golden tickets in five separate chocolate bars around the world, allowing children who found them the chance to tour the magical candy factory. The new Sam Adams giveaway is a nod to a special connection between the brewery and Willy Wonka. Jim Koch, who co-founded Sam Adams in 1984, said during a tour of the brewery, "I feel like Willy Wonka. This is the chocolate factory," according to WBUR. The idea stuck.
Autumn brings Sam Adams Oktoberfest and other seasonal brews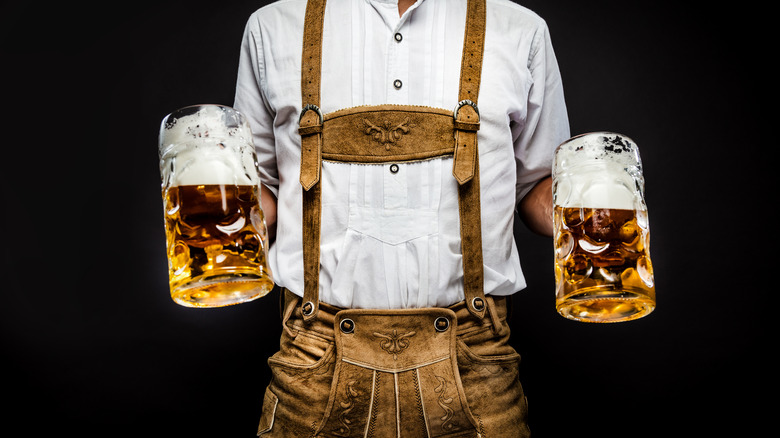 Shutterstock
The promotion is in tandem with the release of Sam Adams' seasonal roster of autumnal brews, announced on International Beer Day August 6, which is of course led by its signature OctoberFest. A malt lover's dream, according to RateBeer, the golden amber beer boasts a blend of four roasts of barley, giving it a mildly sweet flavor with hints of caramel and toffee. Eat This, Not That! says OctoberFest has been the top-selling limited-release autumn brew every year since it debuted in 1989.
Also on Sam Adams' fall roster is Jack-O, back by popular demand with the seasonal adult beverage known for delivering the flavors of autumn — like pumpkin pie, cinnamon, nutmeg, and just a hint of citrus. Can't decide on which one to get? Sam Adams has you covered with the introduction of its Sweater Weather Variety Pack this year, a 12-pack of assorted beers including the company's flagship Boston Lager, OctoberFest, Jack-O, and the brand-new Festbier, a medium-body brew with notes of toasted Munich malt. So grab your lederhosen and go.