Costco Has Good News For Hippeas Fans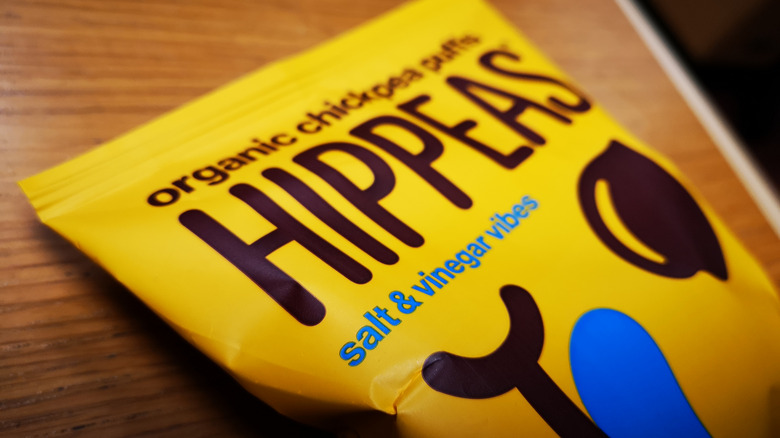 Shutterstock
Hippeas, a brand of puffed chickpea snacks, has caught the national love and attention of the general American public and even counts actor Leonardo DiCaprio as one of its investors (via Yahoo!). After the brand's Vegan White Cheddar Organic Chickpea Puffs disappeared from select Costco stores, a Reddit user has reported that this popular snack has returned to shelves in Temecula, California. Eat This, Not That reports that a different Redditor based in Los Angeles has also recently spotted Hippeas at their local Costco.
Costco, known for selling bulk items at low prices, sells 18-ounce bags of Hippeas for $6.99, and the Reddit post notes that they're $2 off through August 29. Because of the enormous bag they come in, Hippeas are the perfect healthy snack to bring to a summer picnic or to munch on throughout the day.
Many people are relieved that this popular product has been restocked in stores, evidenced by the Reddit thread's title being, "So happy they're back!!" If this is your first time hearing about Hippeas at Costco, here are some reasons why you should run to your nearest wholesale store to grab them before the shelves are fully raided.
A bit more about Hippeas
Hippeas are filled with fiber and protein and are suitable for plant-based diets, according to the company's FAQ page. They resemble a cheese puff in appearance and texture, making them a healthier vegan alternative to what you'd typically find in the chip aisle. They are made out of chickpeas, which are an extremely versatile ingredient.
According to Costco Fan, Hippeas only sell their Vegan White Cheddar flavor at Costco, but the brand has also created a variety of other snacks including a Bohemian Barbecue Chickpea Puff and a Straight Up Sea Salt Chickpea Chip (via Hippeas). Eat This, Not That notes that the wholesale supermarket offers a great value deal for a bag of Hippeas puffs compared to many of its competitors, including Walmart and Target, which both sell a 5-ounce bag for around $3. At Costco, you can get an 18-ounce bag for just a couple bucks more.
Therefore, we recommend that you head to your nearest Costco and stock up on these popular, nutritious chickpea snacks before they're all gone, especially with the $2 discount going on.