Don't Be Surprised If This Happens To Your Takeout Cracker Barrel Gravy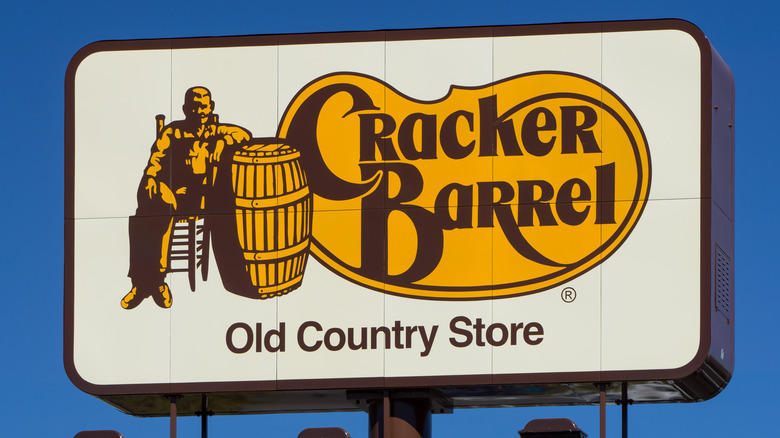 Shutterstock
Going out to a restaurant is always an enjoyable experience – even more so now given the events of the last year - but if we're being honest, grabbing takeout might still be our favorite way to indulge in a meal. We're not alone in those sentiments either. According to Upserve, 60% of consumers in the United States order takeout or delivery at least once every week, and why wouldn't they? Delicious food from your favorite eatery that you can enjoy in the comfort of your own home while wearing cozy clothes and watching your favorite movie or TV show ... does it get any better than that?
One of the only downsides to taking your meal to go is that not all food travels well, even if it's only a short trip back to your home, which Reddit user Kabukimansanjoe found out after getting takeout from Cracker Barrel. The user's order of country fried steak came with a side of the chain's popular sawmill gravy, but upon sitting down to indulge in their meal, they found that the sauce had congealed and taken on the shape of the container it came in. "Finally getting the chance to try Cracker Barrel's gravy disc," the user captioned a photo of their at-home meal from the eatery (via Reddit). "Fingers crossed."
Gravy starts to thicken and congeal once removed from heat
Several people commented on the above snap of Redditor Kabukimansanjoe's takeout Cracker Barrel meal, with one person comparing their unfortunate gravy situation to a bar of oatmeal soap while another admitted that they thought it was cheese. "That's what you get for not ordering the chicken and dumplings," a third user wrote (via Reddit), to which the original poster agreed.
Our Redditor friend's situation wasn't a random occurrence either, and if you're someone that can't get enough of Cracker Barrel's country fried steak, or their fan-favorite Biscuits N' Gravy, you shouldn't be surprised if you end up with a "gravy disc" of your own when ordering these meals to go. As noted by Loaves And Dishes, gravy starts to thicken as it cools down, but it can easily be loosened up by heating it over the stove with a splash of milk, or even in the microwave. The creator of the Reddit thread didn't even have to perform either of these steps, as they found that the gravy was "fine and still warm" after simply smashing it up, presumably with a utensil. While that "gravy disc" will initially look a little unpleasant, it will still be perfectly okay to eat, so don't let it deter you from ordering your favorite meal when getting takeout from Cracker Barrel.