Mountain Dew's New Mystery Flavor Is Coming Soon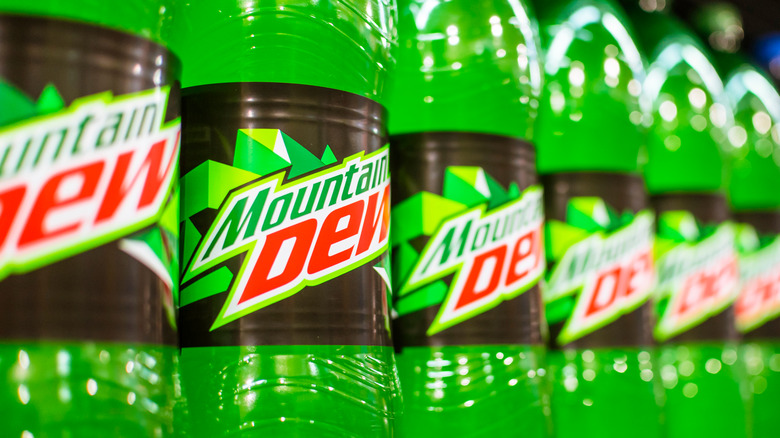 Shutterstock
People who love Mountain Dew tend to really love Mountain Dew. The popular soda brand has grown quite the cult following since it first hit grocery store shelves back in the 1940s, per Pepsico. 
Mountain Dew has a unique flavor that's totally different from Coke, Sprite, or any of the other big names in pop — it tastes citrusy, with hints of lemon and lime. While the OG flavor is what started it all, Mountain Dew has also released a variety of other flavors over the years, like Code Red, Baja Blast, and Major Melon.
Now, another highly coveted flavor is returning — but no one really knows what it is. That's because it's Mountain Dew's mystery flavor. Influencers on social media have started posting about the eagerly awaited VooDew, which is rumored to be available to the general public soon. Here's what you need to know about the Mountain Dew mystery flavor, along with where and how you can get your hands on it.
Mountain Dew VooDew will return on August 30
This is the third year that Mountain Dew is releasing its mystery flavor, VooDew (the first two flavors were later revealed to be Candy Corn and Fruity Candy Explosion). Despite the fact that VooDew gives off serious Halloween vibes — just look at the packaging! — Taste of Home reports that it will actually be released on August 30 in both 20-ounce bottles and 12-ounce cans.
While it's not available in grocery stores yet, some influencers and foodies have gotten the opportunity to try the latest VooDew ahead of the launch. And they aren't 100% sure what the flavor actually is. "To me, it tastes like a cross between red licorice and cherry Starburst," Instagrammer @candyhunting explains. "It seems like artificial cherry with something else going on, possibly tropical fruit." 
If you want to try it for yourself, you'll want to snag it fast, as the limited-edition flavor is expected to sell out.