What Every Five Guys Shake Combined Apparently Tastes Like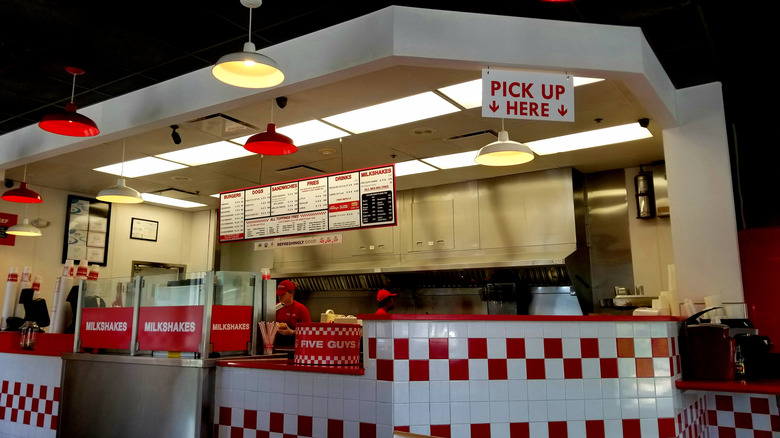 Shutterstock
It's no surprise that Five Guys has a secret menu. And it's not exactly a simple menu, either, consisting of nearly 250,000 options, says the chain, ranging from gooey patty melts, a Frankenstein-ian combination bacon cheeseburger and hot dog called the Artery Annihilator, "Well-Done" fries, and the radical "In-and-Out-Style-Animal Burger," copping the creation of another chain. There's a heck of a lot of options to choose from, and with the never-ending imagination of the fast-food consumer, there's certainly going to be a whole lot more on the way. 
But with expanding culinary horizons, one must always brave themselves to taste the most delicious of flavors or the most vile combinations, all in the name of meal-time mad science. Turns out this time around, at least, this new concoction one genius Reddit user decided to try at Five Guys is quite good. 
The Five Guys Mega Shake
Last month, Reddit user u/External-Tiger-393 decided, on some sort of whim or burst of inspiration, to see what every milkshake flavor from Five Guys would taste like when blended together. It involved combining all 12 milkshake flavors (whipped cream, malted milk, chocolate, strawberry, vanilla, banana, peanut butter, coffee, salted caramel, Oreo cookie, Oreo cream, Double Stuff Oreo) together into one "super shake." Although worried Five Guys wouldn't bother to do it, the user was surprised when they actually honored his request, and delivered it via DoorDash. Apparently, the resulting milkshake resembles an Oreo shake, yet has a flavor distinctly reminiscent of peanut butter and bacon. Although peanut butter is one of the flavors added, where the bacon comes from, is a mystery.
The Reddit poster certainly isn't the first to try out new creative takes on tried-and-true menu items at Five Guys or other restaurant chains. Those who know about the secret menu at McDonald's combined the McDouble and the McChicken to form a provocatively-named sandwich (via HacktheMenu). And at Starbucks, you could order a Strawberries & Creme Frappuccino with a few pumps of caramel, hazelnut, and toffee syrup with some java chips to create a Captain Crunch Berry Frappuccino (also from HacktheMenu). If you're willing to live on the wild side, some jokers at Burger King also created the Suicide Burger, which is four beef patties, four slices of cheese, some bacon, and then slathered with special sauce.
There's tons of different combinations out there, so next time you're bored with your order, get creative.