Why This Chili's Employee Recommends You Stay Away From The Seafood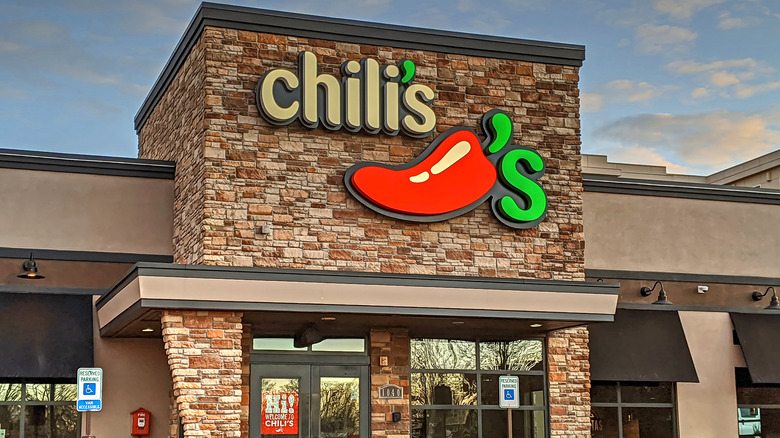 Shutterstock
As a chain restaurant, Chili's has tried to create a niche for itself in a highly competitive market, and arguably it has succeeded. Customers can choose from a large variety of food options such as burgers, salads, soups, tacos, seafood, steaks, ribs, and those notoriously sizzling fajitas. It's important for the company to connect with its customers in more ways than one. As its website reads, "We're in the business of making people feel special." Considering Chili's sells over 100,000 gallons of margaritas every year, it's clearly doing something right.
Some of the food options at Chili's are undeniably better than others. If you ask us, some of the yummiest picks are the bacon avocado grilled chicken sandwich, the loaded boneless wings, the molten chocolate cake, and the honey chipotle ribs. However, if there's one thing that you should stay away from, it's seafood. As a former employee warned on Reddit, it isn't wise to order something like shrimp at the restaurant.
Chili's seafood is not worth it
A former Chili's employee wrote on Reddit that eating seafood at the chain restaurant is simply not worth the trouble. They didn't mince words, writing "I do not recommend the seafood. You're at a chain restaurant, and one that sells themselves as a Tex-Mex grill. Are you really expecting decent seafood in this situation?!"
The employee, who was a Chili's chef for five years, further explained that this holds true at all eateries that don't bill themselves as seafood-focused — you're better off trying other dishes that the place specializes in. They clarified that the seafood dishes at Chili's aren't nasty necessarily, but they're not amazing enough to make anyone feel impressed. 
According to this ex-employee, there is one dish at Chili's that you shouldn't miss out on: the Awesome Blossom, a fried onion appetizer similar to Outback's Bloomin' Onion that's served with a ranch dip. "It's 100% fresh, made on the spot. It's impossible to make in advance," they wrote.