The Sweet Inspiration For This Buddy Vs. Duff Cake Design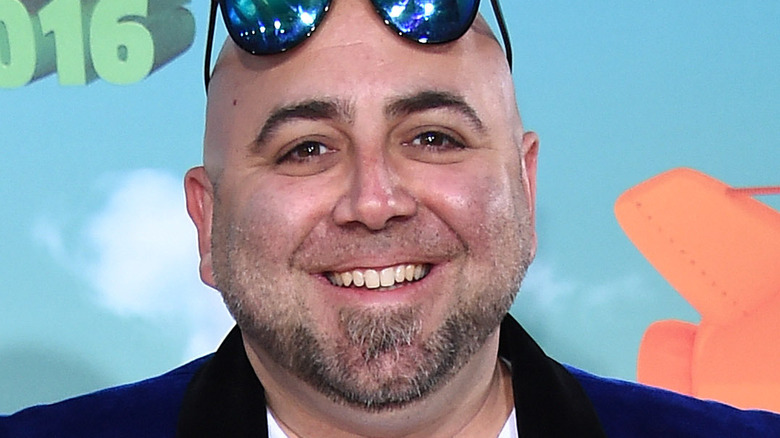 Shutterstock
If you're familiar with Duff Goldman, owner of the Baltimore bakery Charm City Cakes and former host of the Food Network series "Ace of Cakes," then you know that the man (and his team) is capable of making some epic, monumental, and truly impressive cakes. Goldman's cakes are known for being large-scale, colorful, gravity-defying creations ranging from a spinning R2-D2 the baker made (via Twitter) to a representation of actress and comedian Betty White to an epic box of Crayola crayons, per Food Network.
While Goldman and his team most often create confections for celebrities and television series, there's no doubt that cake plays a sweet role in Goldman's personal life, too. At his 2019 wedding to wife Johanna Colbry, five Charm City Cakes creations were served to guests, including a fanciful series of ocean-inspired treats suspended from the ceiling and decorated with sugar sea glass and bubbles (via Martha Stewart).
For a recent episode of the Food Network baking competition "Buddy Vs Duff," which pits Goldman against fellow celebrity baker Buddy Valastro, Goldman created a cake personal to him and his past. 
A sweet farmer's market scene
The Food Network show "Buddy vs. Duff" has been going strong for several seasons, with its Season 3 debut airing on the network in July. In Episode 4 of the season, which aired last night, bakers Duff Goldman and Buddy Valastro squared off in a food feast-themed competition. Valastro, owner of Carlo's Bakery in Hoboken, New Jersey, made a tower of technicolor desserts, while Goldman created an epic farm stand complete with baskets full of fruit, a linen shopping bag, baguettes, a cheese board, and more — all made of cake (via Twitter).
As Goldman explained on his Twitter account, the sprawling scene was inspired by a routine from Goldman's past.
"This cake was an homage to the farmers market under I-83 in the Mount Vernon neighborhood of Baltimore," the baker tweeted. "When I started @Charm_CityCakes in 2002 I used to ride my bike here and get all my produce for the cakes."
The next time we visit our local farmers market, we hope to find cake apples, oranges, and limes among the real produce.