The Worst Meltdown In Restaurant: Impossible History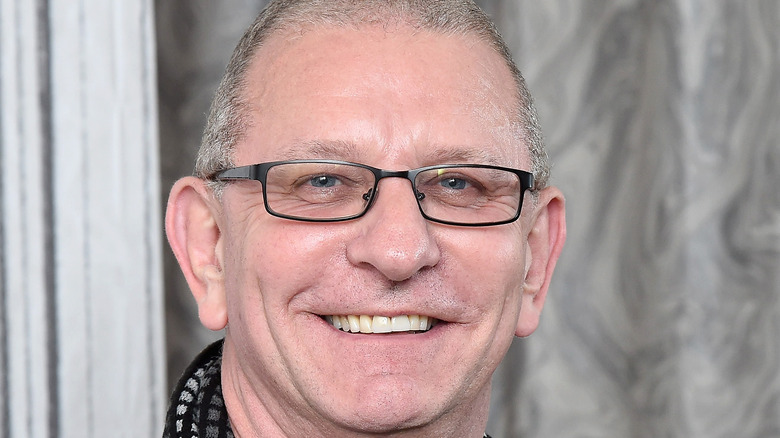 Gary Gershoff/Getty Images
"Restaurant: Impossible" host Robert Irvine is no stranger to restaurateur meltdowns. When he goes into a restaurant in an attempt to save it, he's often met with resistance from the owners who aren't fans of his tough love. But no meltdown has been as great as Nancy Dupre, who was the owner of the Texas-based Nanny Goat's Café and Feed Bin when she appeared on season 5 of "Restaurant Impossible" (via Food Network). During the episode, Dupre stormed off the set on the first day of her restaurant's renovations. 
According to Reality TV Revisited, Dupre had been the owner of four successful restaurants. She, reportedly, sold all four eateries for nearly one million dollars. However, when she moved to Kilgore, Texas, to be closer to her mother, Sissy, she found her restaurant investment wasn't raking in the dough like her other restaurants. Unsure of what she was doing wrong, the blame shifted to her daughter, Jessica, who just happened to be the chef at the restaurant. With no professional culinary training, Jessica's cooking skills were lacking. When it's brought to Dupre's attention that her daughter may be the reason for her restaurant failing, she flips into full-on mama bear mode, and, in all TV drama glory, loses it. "I'm done!" she yelled, storming out of the restaurant and throwing her hands in the air. "Everybody go home! We're shutting this down." You can relive the fiasco in Food Network's recap video of the top five meltdowns in the show's history. 
A regroup, a revamp, and a reinvestment
After Dupre left, Sissy and Jessica agree to continue filming the show. Irvine calls a staff meeting, and the employees agree the restaurant's problems stem from Jessica's cooking deficiencies, per Reality TV Revisited. Dupre, fortunately, returns the following day with a calmer demeanor. She's now committed to improving the restaurant, and Jessica is willing to step up her performance in the kitchen as well. While Irvine and his team were able to transform Nanny Goat's into a profitable restaurant, Dupre, ultimately, decided to sell the property and retire. The new owners share that customers are coming in every day, according to Food Network.
However, after digging around on the Internet, we found that Dupre hasn't retired from the restaurant business, nor did her daughter Jessica, per Dupre's LinkedIn profile. Today, the pair co-owns Rae's Kitchen, a Southern-style lunch destination and catering business in Fairhope, Alabama. The Eat Beat lists Alabama caviar, sweet ham and poppy sliders, hot crab dip, and praline baked brie as signature dishes. The restaurant has five stars on TripAdvisor with one reviewer calling it "a hidden gem." Looks like the mother-daughter duo were meant to be restaurateurs all along.