TikTok Is Loving This Hilarious Great British Baking Show Parody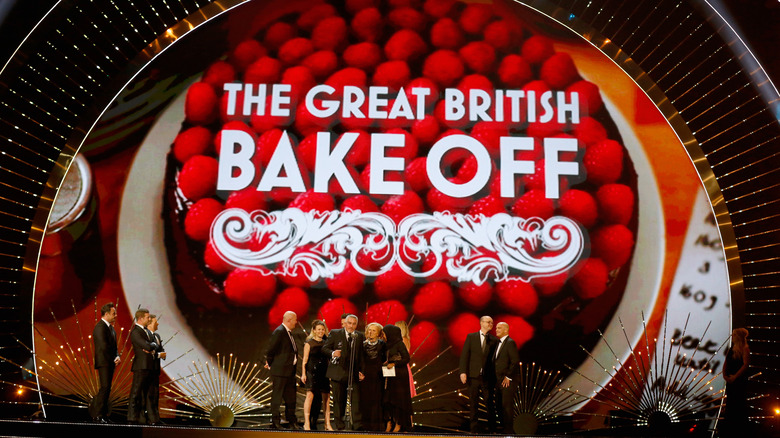 Tristan Fewings/Getty Images
In between Zoom auditions during the COVID-19 pandemic, Los Angeles actor Mary Elizabeth Kelly spent lockdown the way a lot of us did — watching television. Kelly specializes in impressions, and all that time in front of the TV screen helped her refine her favorite impersonations: Drew Barrymore, Winona Ryder and Millie Bobby Brown from "Stranger Things" (she resembles both), and Kristen Wiig from "Saturday Night Live" (which would be her dream gig, by the way). All of this can be found on her popular TikTok account, which has more than half a million followers and attracts millions of views.
In a recent video, which itself has been watched about 550,000 times, Kelly does a clever parody of "The Great British Baking Show," a U.K. import available on Netflix. She leans into the eccentricities of the amateur bakers who are making popular British treats: Rosemary from Cambridgeshire has two grown children at home and is making Jammie Dodgers. A university student is coming up with a savory biscuit with stilton and cheddar cheeses, and caraway seeds. And Glenn, from a secret island off the coast of Scotland, is staying in his comfort zone with shortbread.
At one point, Kelly impersonates a show host telling bakers they have "one hour — also known as the amount of time it takes Paul Hollywood to style his hair."
TikTok thought the 'Great British Baking Show' parody was spot-on
Commenters loved Mary Elizabeth Kelly's TikTok parody of "The Great British Baking Show." "HOW IS THIS SO PERFECT," teenage TikTok star Gabe Escobar said. A lot of other commenters also thought the L.A. actor conveyed the show's feel perfectly. This would make sense, as the video suggested Kelly was on hour six of a binge-watch. "You thought you could put a clip from the show and we wouldn't notice," one admiring commenter said. "The old Scottish man just making shortbread. Too real," another commented. TikTok user @eleni.karelis asked, "Why do I have Netflix when I can watch this for free?"
Many people who viewed Kelly's video said she also nailed the accents. "You sound exactly like the hosts, though, that's crazy," a commenter said. "Thank you for proving not all Americans can't do good UK accents," TikTok user @ol.blue.eyes said. "SHE'S AMERICAN?????" @eskelite replied. "That is IMPRESSIVE." So good, in fact, that Lorne Michaels over at "SNL" might want to get on TikTok already.