What You Never Knew About Antonia Lofaso's Daughter, Xea Myers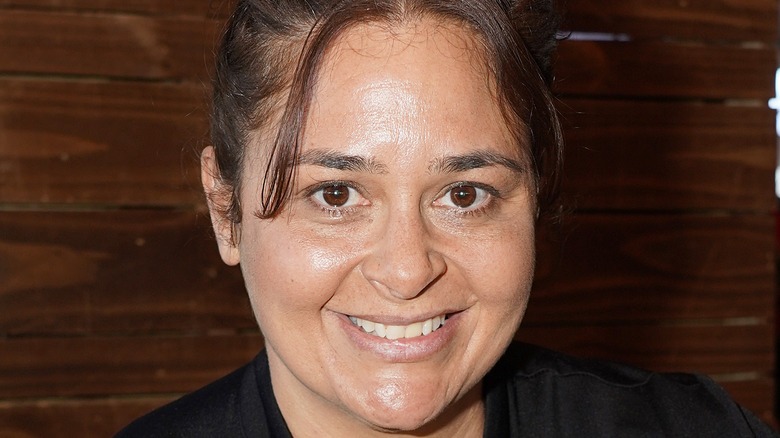 Alexander Tamargo/Getty Images
For celebrity chef Antonia Lofaso, being a mom is something that she is immensely grateful for. Lofaso was sure that she would be a mom someday, something that she looked forward to for a long time before her daughter, Xea Myers, was born in 2000 (via Harry & David). Around that time, the chef had finished studying at the French Culinary Institute in New York City and was balancing her work commitments with motherhood. Myers was 7 years old when her mom was offered an executive chef position at Foxtail in West Hollywood.
Sadly, the family experienced an unexpected tragedy when Lofaso's partner, rapper Heavy D, died unexpectedly in November 2011. Myers and Lofaso were left by themselves. The chef knew that it would be a difficult journey and she had to make plenty of sacrifices, while trying to do justice to her roles as a single mom and a chef. Her daughter didn't take Lofaso's dedication for granted. "I know my mom had me at such a young age," Myers said. "And I see this beautiful life that we live together now, all the things I'm able to have because of the hard work that she's put into it."
Xea Myers is grateful to her parents
Lofaso left no stone unturned to ensure that her daughter was looked after, and enrolled her at Marymount High School in Los Angeles (via Celeb Suburb). When Myers later left to attend college, Lofaso was overwhelmed with emotions. "She's all grown up and leaving me for college," the chef wrote on Instagram. Currently, Myers is making a name for herlself and has already worked as a producer for shows like "Guy's Grocery Games," per her IMDb.
The 21-year-old is also active on Instagram where she shares updates from her life with her fans. On her father's birthday, she posted a series of photos of the rapper and wrote, "You always said, 'Greatness is not a measure of how great you are but how great others came to be because of you.' I am great because of you. Happy Birthday, Papa." She also appears to be following in her father's footsteps, with her mom posting on Instagram that Myers was releasing a song on Spotify that she wrote and produced. Looks like talent runs in the family.