Why This Whole30 Approved Sauce Keeps Selling Out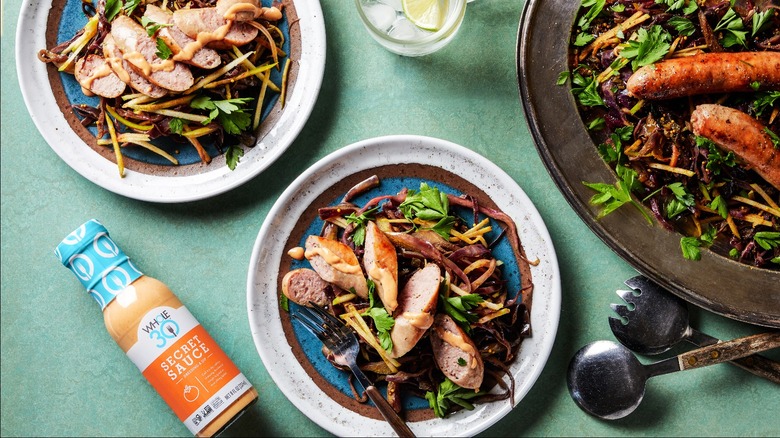 Whole30
You know what they say: Condiments make everything better. (Okay, maybe that's not a saying, but it is absolutely true.) From ketchup on fries to ranch dressing on anything and everything, a good food enhancement can take a meal from good to great. But sometimes, these condiments can pack on the calories (there are about 129 calories in a 2-tablespoon serving of ranch, per Healthline) and sugar (a 20-ounce bottle of ketchup can hold almost 2/3 cup of sugar, per Insider). Condiments may be worth it for your tastebuds but aren't necessarily the best choice for your overall health. 
Cue Whole30 (the brand, not the elimination program). Built around making healthier life easier for people, the brand recently released a line of sauces and condiments that can make a fan out of anyone, even if the program isn't your thing. In the line is Ranch, Elderberry Vinaigrette, Balsamic Vinaigrette, and Buffalo Vinaigrette. But the real crowd-pleaser out of this line is the Whole30 Secret Sauce. How do we know? Because it's almost always sold out. 
What's in the Whole30 Secret Sauce?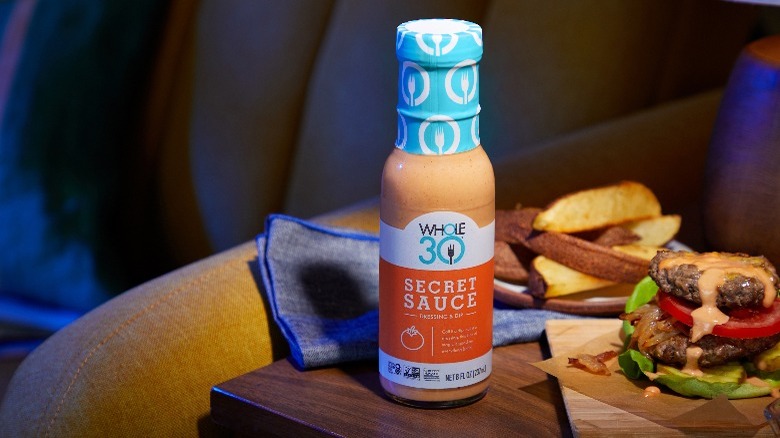 Whole30
Described by the brand as a "kind of magic that's good on everything," the Whole30 secret sauce can be used, virtually, on everything. And it seems that everyone who has been lucky enough to get their hands on this sauce agrees. 
"Everyone in our house loves this sauce, even our 8-year olds! We fight for the last drop," says Terra M. in a product review. "My daughter loves this so much, I am giving her some for her Birthday," added Lisa in a website product review. 
While the brand may not be revealing what's in the Secret Sauce (because, duh!), all this noise has made it hard for people to resist making their own. Now, there are tons of copycat recipes out there — and, these all look like very healthy (and delicious!) versions of that glorious Big Mac sauce. Blogger Whole Kitchen Sink, for instance, makes her secret sauce recipe with Whole30 compliant mayo, no-sugar-added ketchup, and a blend of other spices and ingredients. 
Even better news? The Whole30 secret sauce is gluten-free, dairy-free, and soy-free. Bottles start at $7.99 and are available in bulk, too. So if you don't want to make your own, Whole30 anticipates the magic elixir will be back in stock this September.