Chris Hemsworth Fans Can't Get Over This Adorable Birthday Surprise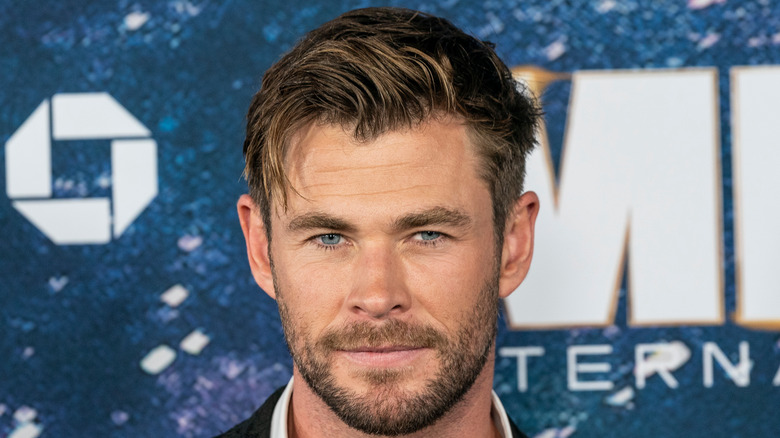 Shutterstock
Did you get your daily dose of an adorable celebrity parenting moment? If not, Chris Hemsworth's birthday surprise will surely help you get you there. The middle Hemsworth brother took to Instagram, posting these photos of the elaborate and colorful cake his kids made him for his 38th birthday. Hemsworth captioned his post, "Thanks for all the birthday messages! Had an epic day with the family and succeeded in devouring 75% of this awesome cake that my kids made before collapsing into a giant sugary heap of joy. Love you all ! Cheers 🎂 🥳"
We know for the most part Hemsworth has a pretty structured diet around protein and nutrient-dense foods like leafy greens, nuts, and fruits (via Eat This, Not That!). But even Thor can take a cheat day every now and then. Hemsworth's normally "clean" eating habits didn't stop him from eating the birthday cake that his kids made with lots of love.
The cake's thoughtful design
You can definitely say that the Hemsworth children — India, age 9; Tristan, age 7; and Sasha, age 7 — went all-out to celebrate their dad's birthday. As seen in the Instagram post, they included a surfer at the top of the cake, because we all know how much the Hemsworth clan loves surfing. These pictures on Republic World are a testament to that. The surfer was perched on top of a candied surfboard, which sat on blue frosting or "ocean waves." Below that was the base of the cake, which seemed to be chocolate flavored with an assortment of colorful sprinkles on its sides. A few candles jutted out from each side of the edible surfer, or what we can assume is Hemsworth himself, and in one of the post's pictures, Chris Hemsworth is seen blowing out the candles. You could definitely say that the Australian actor is already having a sweet start to being a 38-year-old.