Ted Allen Is Searching For The Chopped Mega-Fan Who Sent This Ridiculous Gift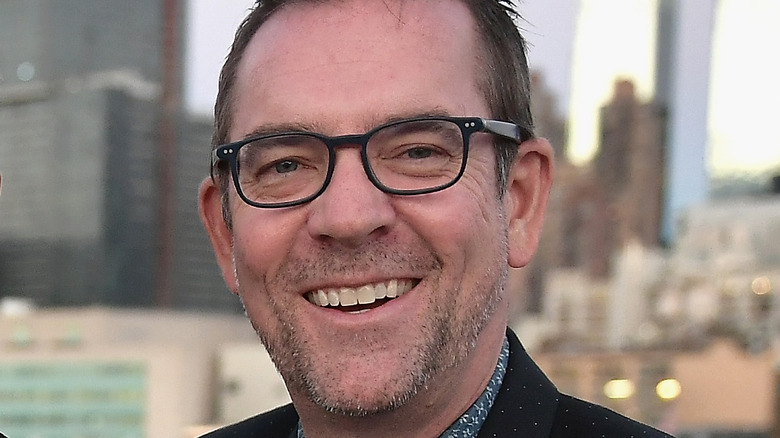 Gustavo Caballero/Getty Images
Fan art is nothing new, but this gift is simply over the top. It's ridiculously awesome, and Ted Allen would like to say "thank you" to the tribute creator. Allen shared a photo of a tier of what can best be described as prayer candles amidst flowers, each depicting a different part of the "Chopped" judging crew as well as Allen himself (via Twitter). "Really wish I knew who made these #Chopped candles—and who sent a complete set to me and all nine of our (then) regular judges. A cherished memento, whoever you are," wrote the Food Network host.
As far as fan gifts go, this very generous share clearly took an immense amount of thought and effort. As one follower describes this over-the-top gift on Twitter, "Saint Ted." Not only is Allen shown as a saint, but so are his fellow "Chopped" cast members, who each depict a different outfit of religious importance.
A gift of trendy prayer candles
Prayer candles are thought to be primarily Roman Catholic in origin, and different candles are brought out in a traditional home for various religious occasions (via Vox). The origin of these candles may date all the way back to German monks, but has also been attributed to the family of Sister Schodts Reed of Reed Candle Company in 1937. Whatever the origin, the creation of prayer candles with modern figures from pop culture is an ever-growing trend that people are using to express reverence, respect, and represent values that are not always acknowledged by the traditional norm.
When it comes to showing respect for the "Chopped" cast of professional chefs and food lovers — we'd have to agree that the whole team is worth a nod.
As for the origins of this creative fan-art, there's still no word as of this publication. We're as excited as you are to solve the mystery!