McDonald's Added A 'Sweet' New Burger That You Currently Won't Find In America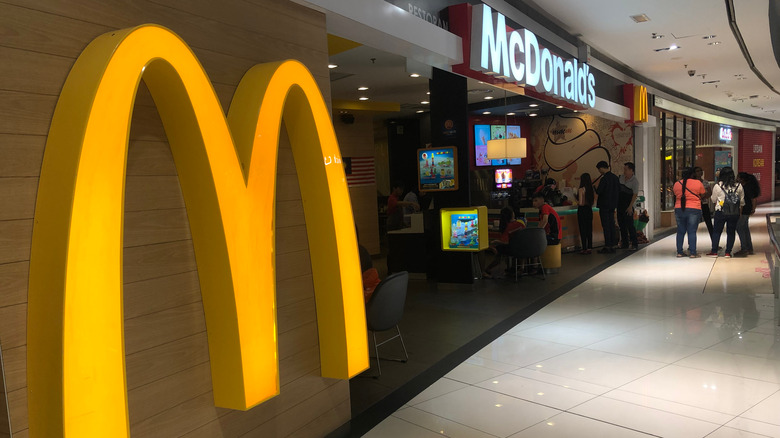 Shutterstock
McDonald's has made many strides in the innovation department, especially when it comes to their international offerings. The chain may be known for their Big Mac, but around the world they have a ton of unexpected riffs on familiar fare, per Spoon University. In Canada, they have a McLobster Roll, which "features 100% Atlantic Lobster meat, diced celery, light salad dressing and lettuce." Visit Greece, and find a Greek Mac, which "can be made with either beef or chicken and comes with tzatziki sauce, lettuce and tomato on pita bread." For something you really won't find in an American McDonald's, look no further than the McCurry Pan in India, which is "a rectangular bread bowl filled with chicken and vegetables in curry sauce" .
Creative McDonald's menu items aren't just found abroad; the chain has also recently teamed up with Beyond Meat for a vegetarian collaboration. So its ability to come up with some funky ideas should come as no surprise. But the latest addition to McDonald's menus may be their most surprising yet: a burger that is sweet instead of savory. We know you're curious, so here are the details you need to know!
Some sweet news for Canadian McDonald's fans
Apparently, Canada gets to have all the fun. Back in 2015, Business Insider reported that the chain would be adding "five dishes to celebrate different regions of Canada." In addition to the McLobster Roll, these included Maple & Bacon Poutine, Cottage Country Chicken, Western BBQ Burger and Chocolate Nanaimo Sundae. But its most recent Canadian export tops all of these.
According to Eat This, Not That, they have decided to add a Maple BBQ Bacon Quarter Pounder to their list of crazy but somehow still seemingly delicious menu options in Canada. The burger isn't in the Big Mac family, but instead riffs on their classic Quarter Pounder, topped with "a creamy maple barbecue sauce, hickory-smoked bacon, crispy onions, pickles, and two slices of cheese." Maple barbecue sauce is certainly a game-changer, especially with fall coming up. 
Fortunately for U.S. residents, they have not yet announced whether this will remain a Canadian staple or expand to McDonald's menus in other countries as well. Here's hoping this sweet and savory delight becomes available for everyone with an adventurous palate and penchant for fast food.