Aldi Fans Are Freaking Out Over These Cheesy Stuffed Nachos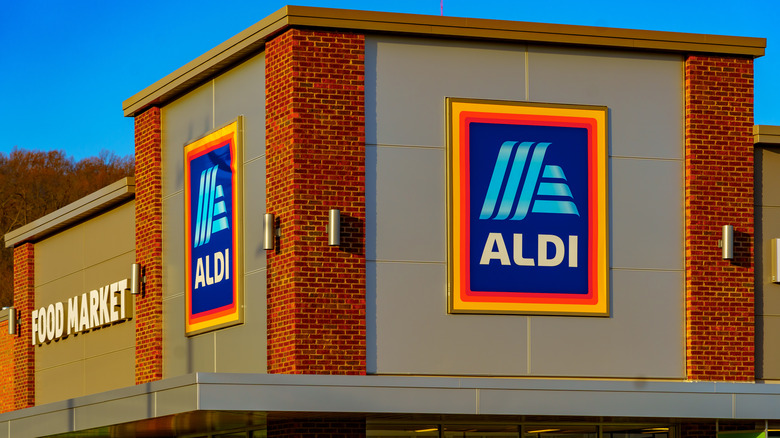 Shutterstock
Football season is just around the corner, meaning it's time to start loading up on snacks to munch on as you cheer on your favorite team. Chicken wings are a definite must-have, as are potato skins and pigs in a blanket. We can't forget about nachos either. Crispy tortilla chips topped with meat, cheese, and maybe a few other fixings like jalapeños and pico de gallo — a towering pile of nachos might just be the perfect meal for football Sunday. Though, we have to admit that putting the appetizer together is a bit of a hassle.
Luckily, Aldi has come through yet again with an excellent alternative to the traditional nacho platter that takes a lot of the fuss out of the dish — stuffed nachos, which come in beef and cheese or queso flavors and are a part of the supermarket chain's Casa Mamita line. Aldi fan Instagram account @aldisbuys shared a snap of the product recently that has since racked up 217 likes, and one look at the product's description will explain why. "Breaded nachos filled with spicy southwestern style queso cheese filling," the box of queso stuffed nachos says, while the beef and cheese version promises a filling made of "spicy seasoned beef & cheese" on its packaging. We're not sure about you, but we're already starting to salivate over here.
Here's what Aldi shoppers are saying about the new stuffed nachos
As you could probably expect, Aldi fans were eager to get their hands on the chain's new cheesy stuffed nachos, and many have already ventured out to their nearest location to pick some up. One follower commented, "Woaahhh I have to try these," while another shared that they had already purchased a box of the queso-filled treats. Meanwhile, a post about the snacks on @theamazingaldi's Instagram page had one user revealing that the queso ones were "so good" that their husband "requested 'as many boxes as possible'" on their next trip to the grocery store.
According to Aldi Reviewer, Aldi's Casa Mamita Stuffed Nachos go for $3.99 a box and are tagged as an "Aldi Find," meaning they're only around for a limited time. Each package contains about 20 individual stuffed nachos and has instructions for how to cook them in both an oven and an air fryer. Per the reviewer, both varieties have a "slight kick" to them, and are similar to toasted ravioli once prepared. Aldi fans on Reddit had similar sentiments, with many on the platform also comparing them to the fried pasta appetizer, which doesn't necessarily sound like a bad thing. One user shared, "Not what I expected, but whatever, I love toasted ravioli. They were pretty good!" Overall, these snacks have received several positive reviews, and certainly, seem worth a try.