Instant Pot Brunswick Stew Recipe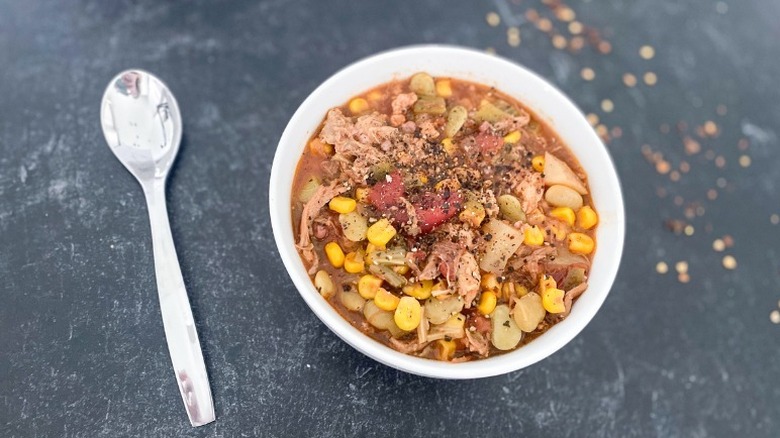 Erin Johnson/Mashed
How does a bowl of old-fashioned comfort food sound? Mmhm, good! Food blogger and recipe developer Erin Johnson added her personal touch to the simple recipe for this soup. You will love it! We know your family and guests will enjoy chowing down on this for sure. 
Brunswick stew is a hearty soup, deemed by some as "hospitality in a bowl." In the 1800s, settlers would cook this dish slowly over a fire to be shared communally. It was common to make as a welcome meal for unexpected visitors. Originally, Brunswick stew was a colonial combo of a tomato base, veggies, and multiple meats. Making this soup was the perfect way to enjoy fresh game and have a filling dinner with one bowl. 
Brunswick stew derives its name from either Brunswick, Georgia or Brunswick County, Virginia. The origin is still in the air, but one thing is for sure: this is a delicious choice that's easy to throw together! So break out your Instant Pot. Johnson tells us, "This is a very hearty stew and is a meal in itself. I serve it with a hunk of cornbread. It's also delicious on top of a baked potato." You can finish dinner in less than 30 minutes. Set aside about 5 minutes to prep, and 20 minutes or so to cook. Our method serves up to 8 people.
Gather your ingredients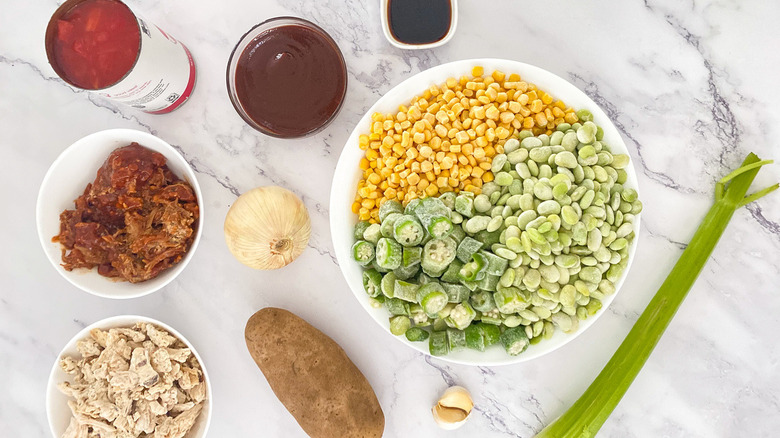 Erin Johnson/Mashed
To get started, grab some oil, a russet potato, a medium yellow onion, garlic, celery, frozen corn, and lima beans. Additionally, bring together frozen okra, shredded cooked chicken and pulled pork (or other meats), your favorite barbecue sauce, diced tomatoes, Worcestershire sauce, and water. You can omit or substitute any ingredients you don't prefer.
Johnson says, "I love that this is an easy dish that can be thrown together using most things I always have in the freezer."
Make it a veggie smorgasbord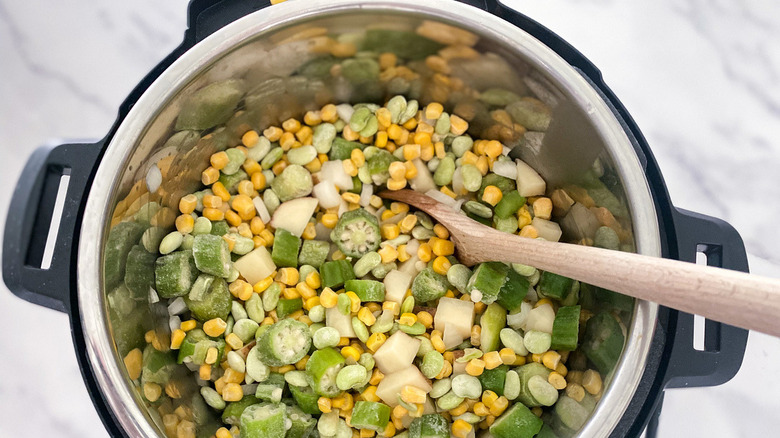 Erin Johnson/Mashed
Once you have all your ingredients ready, set your Instant Pot to Sauté and add 1 tablespoon of oil. Once the oil is well heated, cut and add one russet potato, chop and toss in one yellow onion, and do the same with one stalk of celery. Stir them all together and let the mixture cook for 3 minutes. Mince two cloves of garlic, tossing that into the mix. Pour in 2 cups of frozen corn along with 2 cups of frozen lima beans and 1 cup of frozen okra. Stir them again as they cook.
Sauce it up!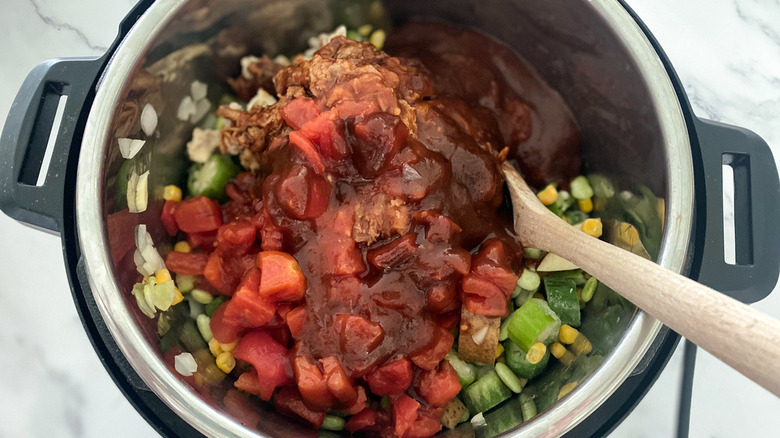 Erin Johnson/Mashed
Next, add in 1 to 2 pounds of precooked shredded chicken and pulled pork, 1 cup of barbecue sauce, one can of diced tomatoes, and 1 tablespoon of Worcestershire. Combine with 2 cups of water and stir well.
If you're not a Worcestershire fan, Johnson recommends a few substitutes such as coconut aminos or soy sauce. You can also toss in any leftover meats at this step. Johnson explains, "It's a fantastic end to roast beef, Thanksgiving turkey, or a rotisserie chicken. I prefer to use pulled pork and chicken but you really are only limited by your imagination." She also mentions that Sweet Baby Ray's is her favorite barbecue sauce.
Cook on high for 15 minutes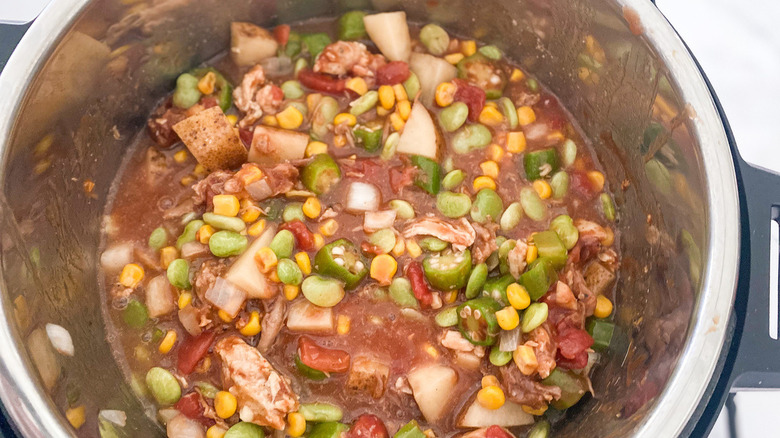 Erin Johnson/Mashed
Now you can double check to see if there's anything extra you'd like to add in. If not, set your Instant Pot to Pressure Cook on high pressure for 15 minutes. This will steam the veggies and allow for the meat flavors to simmer into the tomato juice. 
Anytime is the best time to have this abundant stew. Johnson tells us, "We eat this year-round in our house. It is one of my go-to's for using up leftover pulled pork. I also will use fresh vegetables instead of frozen if I have them on hand."
Serve it hot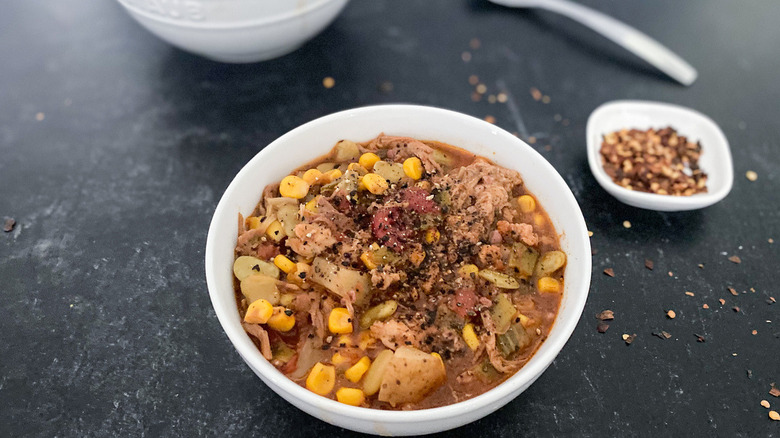 Erin Johnson/Mashed
When your timer dings, quick release the pressure and taste the stew. As needed, amplify the flavor with ground pepper, red pepper flakes, and a few sprinkles of salt. This can be served immediately to your guests or family.
In case you have leftovers, Johnson says, "Brunswick stew reheats well and may be even better on day 2. It's perfect for lunch leftovers." If you like to stick leftovers in the freezer, Johnson advises, "I prefer to use the leftovers within 3 days but it can absolutely be frozen! Just thaw overnight in the fridge and reheat!" Easy peasy.
For the moms of challenging kids, why not take a chance on whether your kids will try it? Our recipe developer knows what it's like. She explains, "Some kids do love Brunswick stew, but if you have a vegetable-averse child, it may not go over well as the corn and beans are highly visible. Flavor-wise, it's mild enough to appeal to anyone." We hope you and your family will enjoy this amazing Brunswick stew this summer and into the fall!
Instant Pot Brunswick Stew Recipe
This quick and easy Instant Pot Brunswick stew is a hearty meat and veggie soup that is sure to please every palate in your household!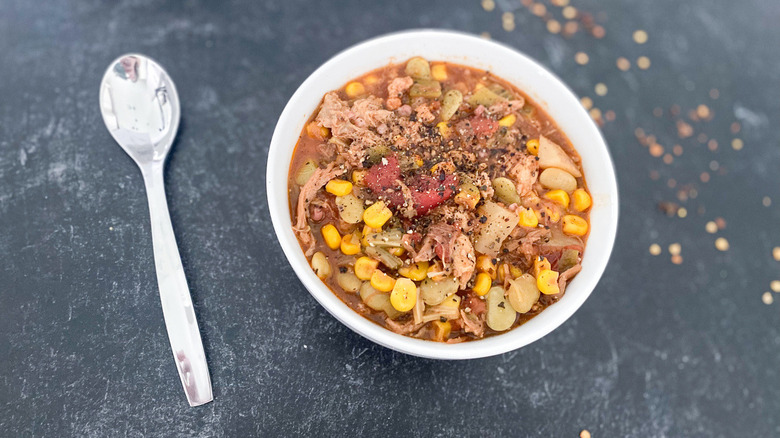 Ingredients
1 tablespoon oil
1 medium russet potato, diced
1 medium yellow onion, chopped
1 stalk of celery, chopped
2 cloves of garlic, minced
2 cups frozen corn
2 cups frozen lima beans
1 cup frozen okra
1 to 2 pounds shredded chicken and pulled pork
1 cup barbecue sauce
1 (14.5-ounce) can diced tomatoes
1 tablespoon Worcestershire sauce
2 cups water
Optional Ingredients
salt, to taste
ground pepper, to taste
red pepper flakes, to taste
Directions
Set your Instant Pot to Sauté and add the oil.
Once hot, add the potato, onion, and celery. Stir and allow to cook for 3 minutes.
Add the garlic and the frozen vegetables. Stir.
Add the meat, barbecue sauce, tomatoes, and Worcestershire. Stir.
Add the water and stir well.
Set the Instant Pot to Pressure Cook on high pressure for 15 minutes.
Quick release the pressure and taste the stew. Add salt, pepper, or red pepper flakes to your taste if desired.
Serve hot in individual bowls.
Nutrition
| | |
| --- | --- |
| Calories per Serving | 545 |
| Total Fat | 26.3 g |
| Saturated Fat | 7.7 g |
| Trans Fat | 0.1 g |
| Cholesterol | 117.4 mg |
| | |
| --- | --- |
| Total Carbohydrates | 39.1 g |
| Dietary Fiber | 5.0 g |
| Total Sugars | 15.8 g |
| Sodium | 508.6 mg |
| Protein | 38.0 g |