Kristen Kish Reveals What Is Was Like To Return To Top Chef As A Judge - Exclusive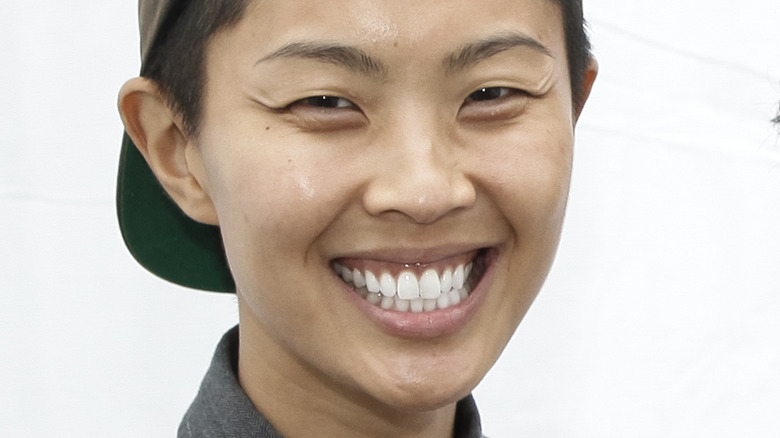 Tibrina Hobson/Getty Images
"Top Chef: Seattle" winner Kristen Kish made a welcome return to the Bravo cooking competition this past season, taking on the role of guest judge for the show's annual highly-anticipated Restaurant Wars battle, per Bravo TV. During an exclusive interview with Mashed, Kish explained that the homecoming instilled in her a mix of both excitement and anxiety.
"I think it's less about being stressed out because of the actual happenings of what was going on," said Kish, who is now a TV veteran whose resume includes co-hosting "36 Hours" on the Travel Channel and TruTv's "Fast Foodies" (via IMDb). "So I remember when I first stepped foot as the guest judge to introduce Restaurant Wars, and I was so nervous, not because, I mean, I've done TV, right? I've stood next to people. I've delivered lines. I know what to do, but there's something about it where it immediately takes you back to being that, my 28-year-old self, and being so unsure of my abilities. Then you just kind of revert back into that space."
Kish explained that while the experience rekindled fond memories of her Season 10 victory, it was the reminder of her life back then which brought out the nerves. "It takes you back to a point in time, personally, not just professionally," she said. "So yes, I had the joy of being able to say, yes, I won. But I will never forget what it felt like to go through the process during that point of time in my life and understanding who I was and not being completely full circle or confident with the direction I wanted to go and who I actually am."
Kristen Kish discusses her on-set exchange with Padma Lakshmi
Kristen Kish also revealed that during the taping of the show, she spilled the beans about her unease to Padma Lakshmi, resulting in an amusing exchange with the "Top Chef" judge.
"So I remember [telling] Padma, I was like, 'I'm so nervous,'" Kish recalled. "She said, 'Do I always make you nervous?' I said, 'No, no, no, no' ... we've hung out personally as friends, several, many, many, many times over the past 10 years or whatever it is. But it was standing with her in that moment, delivering that challenge. I was like, 'No, no, no, no, you don't make me nervous. You just make me nervous right now.'"
As for how her career has played out post "Top Chef," Kish acknowledged that the show will always play an integral role in her journey. "Life has transitioned from Kristen Kish 'Top Chef' being the only thing that was recognizable to my name, to, speed up to now, where I've done several other things," she noted. "That being said, you're always aware of what 'Top Chef' did and the experience that it provided and also how it made you feel."
Kristen Kish will be returning to the small screen soon for Season 2 of "Fast Foodies." In the meantime, head to Austin and grab a reservation at Kristen Kish's restaurant Arlo Grey.