Viral Video Shows Chipotle Employee Throwing Scissors At A Customer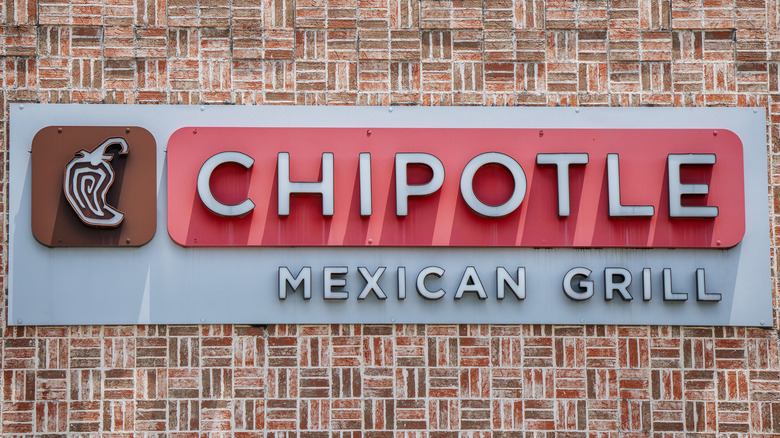 Brandon Bell/Getty Images
If you remember hearing about a major brawl that got way out of hand at a pizzeria in New York not too long ago, then the latest from Chipotle might not surprise you. Apparently, employees at quick service and fast food restaurants have had enough, and they are quite literally fighting back. According to Newsweek, one customer at a Chipotle store in Baltimore, Maryland, had a pair of scissors thrown at them by an employee.
It all started when the 56-year-old customer, Anthony Evans, asked about his meal a few times. Apparently, he had ordered with the app and the entree he placed was 20 to 30 minutes late. Evans can be heard saying in the video he recorded, "You messed up my order, and then I come and I complain and you just get ignorant and start clapping your hands. This is going right on Facebook." That's when things took a more violent turn.
The manager was ultimately fired from Chipotle
A woman named Nicole, the manager of the Chipotle location at the time, yelled, "I'm the manager. You can call whoever you want to b****." She then threw the scissors at him and walked away, according to Newsweek. Evans then called the police that responded to the aggravated assault incident and worked with a district manager of Chipotle to settle the issue (via Fox News).
Laurie Schalow, chief corporate affairs officer for the company, released a statement to Newsweek saying, "At Chipotle, the health and safety of our guests is our greatest priority. We have spoken directly to the guest regarding this matter, and have terminated the employee in question." As customers return to restaurants, it's worth keeping in mind that there is still a staff shortage across the restaurant industry, per Time. Being as patient as possible is helpful and could keep violent incidents from bubbling up. If a complaint is warranted, consider filing it online where the restaurant can still respond.