Salt And Pepper Tofu Recipe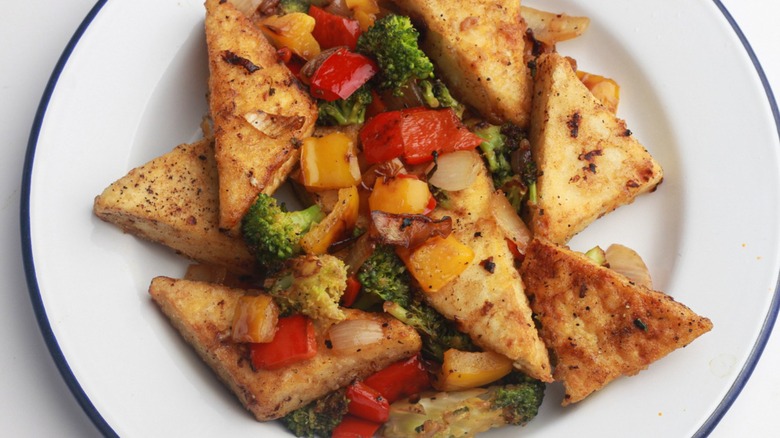 Susan Olayinka/Mashed
Judging by how much Americans embraced tofu in the 1970s (via Love=Food), you might think it was "new" in the U.S. However, there's evidence tofu has been in use here – or at least on the radar –  at least as far back as the 1770s (via Founders.gov). That was when founding father, Benjamin Franklin, while writing from London to his friend, John Bartram in the new world (via Smithsonian), referenced this "curdled" cheese-like soybean preparation that came from China. Franklin spelled it, presumably phonetically, as "Tau-fu." 
Tofu has a much longer history than that would suggest, however. According to the BBC, tofu may go back 2,000 years to a fateful day when someone accidentally added nigari (seaweed) into soy milk, causing it to curdle. And it's as fascinating now as when Franklin saw fit to first write about it. Tofu, which is high in protein, comes in various levels of firmness, from "silken," which is practically a liquid, to "extra-firm," which possesses enough structure to pass as, or at least aptly substitute for, animal-based protein. It's firm tofu on which recipe developer Susan Olayinka bases this toothsome and healthful recipe for salt and pepper tofu.
"Tofu is so versatile," Olayinka tells us. It "takes on any flavor," and anything you can do with meat, you can also do with tofu. Read on to see how Olayinka uses two of the most basic seasonings (and a pinch of Chinese five-spice powder) to give surprising "life" to her tofu. 
Gather your ingredients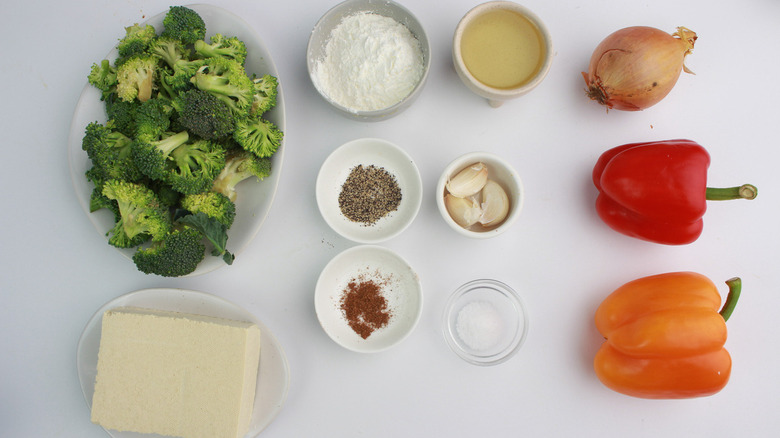 Susan Olayinka/Mashed
Ready for your own tofu to "come to life," as Olayinka says this recipe does for the seemingly miracle meat substitute? You'll need 10 ounces of firm tofu, which you'll be dredging in ¼ cup of cornstarch to give it a perfect crispy exterior. You'll also need a whole armload of vegetables, which will take this salt and pepper tofu recipe into the "multivitamin-packed" zone, namely a yellow onion, a red bell pepper, a yellow bell pepper, three garlic cloves (which you will need to prep, but should be easy since Olayinka explains how below), and ½ cup of broccoli florets (you can purchase these pre-prepped). 
For the salt and pepper stir-fry flavor, you'll also need a ¼ cup of cooking oil (divided into two portions because we're going to be frying the tofu separately from the vegetables), ½ teaspoon salt, ½ teaspoon black pepper, and just a pinch (or ⅛ of a teaspoon, if you want to get precise about it — and there's nothing wrong with using precision in cooking!) of Chinese five-spice powder.
Press out the extra moisture from the tofu and cut it into triangles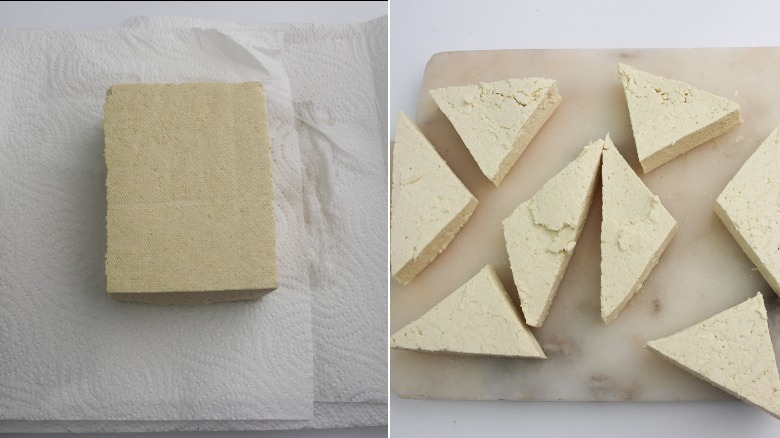 Susan Olayinka/Mashed
To get the best out of your tofu-as-meat-substitute, you'll want it to have a crispy, caramelized outside. That requires the Maillard reaction to occur, which, itself, requires a high heat (above 310 F) and an absence of steam. Therefore, it's important to drain the tofu. First, place it between two paper towels. Then place a plate on top, with something heavy on top of the plate. After 10 minutes of draining, discard the paper towels, and chop the tofu into eight triangles.
Dredge the tofu in cornstarch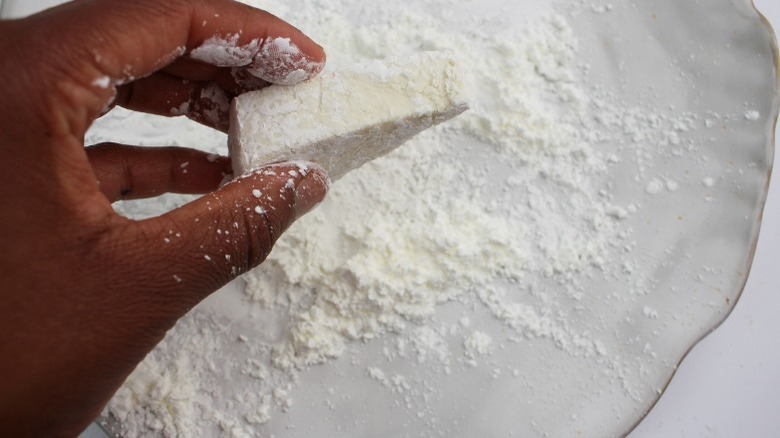 Susan Olayinka/Mashed
Place the cornstarch on a plate (carefully so that it doesn't fly around — it's very light!), and gently spread it around. Using your fingers, pick up the pressed tofu triangles, and dip them in the cornstarch to coat each one thoroughly. You can wear gloves if you don't particularly like the sensation of cornstarch on your fingers. Set the pieces aside and move onto the next step.
Prep the onions, bell peppers, and garlic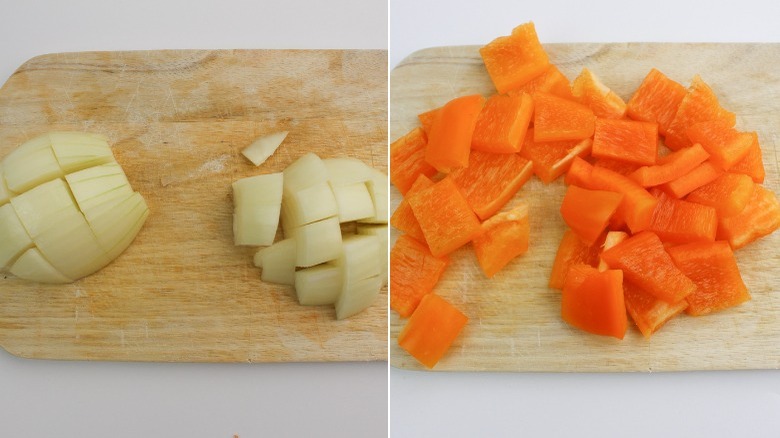 Susan Olayinka/Mashed
The next step is to prep the onions, bell peppers, and garlic for stir-frying (you can also do this while the tofu is draining). Simply chop up the onion and bell peppers into ½-inch squares. To accomplish this with the peppers, you'll want to start by slicing them into lengths, and then lining the lengths up, and chopping them into pieces. For the garlic, Olayinka recommends mincing it by using a garlic press. 
Stir-fry the veggies in this specific order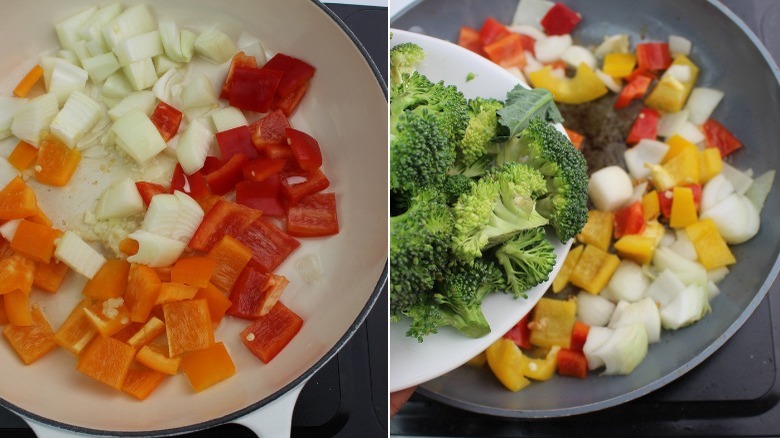 Susan Olayinka/Mashed
Take out a large frying pan — it's going to need to be large because you're going to be cooking quite a lot of vegetables in there. Pour half of the cooking oil into the pan, and turn the burner or flame to medium-high heat. Once the oil is sizzling hot (i.e., if you toss a drop of water onto the surface, the drop of water will dance around before evaporating, rather than evaporating instantly or slowly evaporating), place the onions, bell peppers, and garlic into the pan and cook for 3 minutes. Then add the broccoli florets, and allow the whole thing to cook for 2 more minutes, stirring occasionally. Once you've let all the veggies cook, turn off the heat, and transfer all of the veggies to a serving platter, but keep the frying pan on the stove. 
Next up: stir fry the tofu, assemble, and enjoy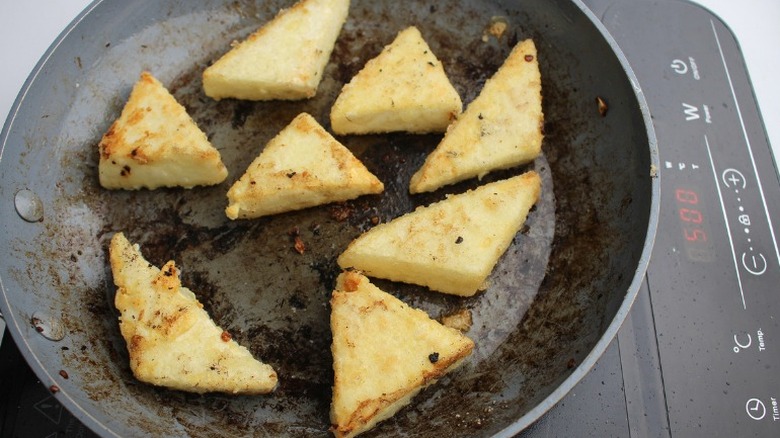 Susan Olayinka/Mashed
Turn the stovetop on once again to medium-high, and pour the remaining cooking oil into the pan. When the oil heats to sizzling hot, place the tofu in the pan in a single layer and with space in between each. Spacing them out prevents them from absorbing any steam the others generate, which would be "anti"-Maillard reaction. After three minutes, flip the pieces over, and fry for another three minutes.
After cooking both sides of the tofu, drain any excess oil, and place all of the vegetables back into the pan. Sprinkle all over with salt, black pepper, and Chinese five-spice powder, and stir gently for one more minute. And that's it! You're ready to serve this stir-fried salt and pepper tofu with vegetables dish. 
Or if you're not quite ready to serve, Olayinka tells us that this dish can keep in the fridge for up to three days before the tofu starts to get soggy. 
Salt And Pepper Tofu Recipe
If you're looking for a vegetarian meal full of protein, vitamins, and nutrients, look no further than this easy and delicious salt and pepper tofu stir-fry.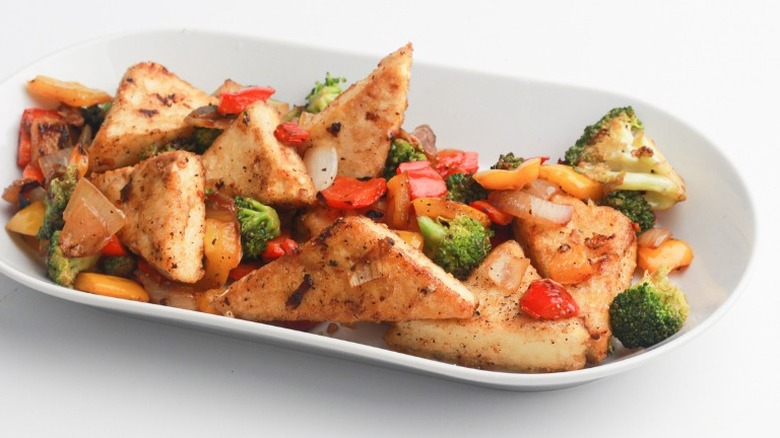 Ingredients
1 (10-ounce) package firm tofu
¼ cup cornstarch
1 yellow onion
1 red bell pepper
1 yellow bell pepper
3 garlic cloves
¼ cup cooking oil, divided
½ cup broccoli florets
½ teaspoon salt
½ teaspoon black pepper
⅛ teaspoon of Chinese five-spice powder
Directions
Drain the tofu for 10 minutes between paper towels, using a weighted plate on top.
Discard paper towels, and chop the tofu into 8 triangles.
Pour the cornstarch onto a plate, and coat the tofu triangles thoroughly. Set aside.
Chop the onion, red bell pepper, and yellow bell pepper into ½-inch squares.
Mince the garlic using a garlic press.
Pour ⅛ cup oil into a large frying pan, and turn heat to medium-high.
When the oil is sizzling, add the onions, bell peppers, and garlic and cook for 3 minutes.
Add the broccoli florets and cook for another 2 minutes.
Transfer all the vegetables to a serving platter and set aside.
Add the remaining oil to the pan and heat over medium-high heat.
When the oil is sizzling, add the tofu, and cook in a single layer, avoiding crowding, for 3 minutes per side.
Drain the excess oil, and transfer the vegetables back to pan.
Sprinkle with the salt, black pepper, and Chinese five-spice powder, stir, and cook for 1 minute over medium-high heat.
Plate and serve hot.
Nutrition
| | |
| --- | --- |
| Calories per Serving | 590 |
| Total Fat | 40.2 g |
| Saturated Fat | 3.9 g |
| Trans Fat | 0.1 g |
| Cholesterol | 0.0 mg |
| | |
| --- | --- |
| Total Carbohydrates | 38.9 g |
| Dietary Fiber | 6.9 g |
| Total Sugars | 5.2 g |
| Sodium | 615.2 mg |
| Protein | 25.5 g |