Instant Pot Coconut Rice Recipe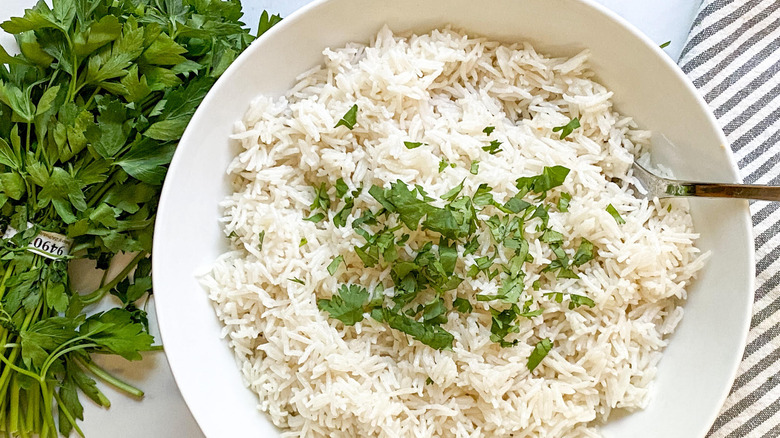 Miriam Hahn/Mashed
Easy Instant Pot recipes that cook while we're preparing the rest of our meal are definitely among our top choices for busy weeknight dinners. Thanks to recipe developer Miriam Hahn of YouCare-SelfCare, we've got a new Instant Pot side dish to share with you. We love Hahn's tasty recipes — especially when they are simple ways to add flavor to a meal. A perfect example is this Instant Pot coconut rice, which Hahn describes as easy and popular. Hahn remarks, "People always want the recipe," and once you get a taste of it, we bet you'll understand why.
Hahn explains, "My favorite thing about this rice is the hint of sweet it takes on because of the coconut milk." She loves to use this rice as a foundation for main meals packed with protein and vegetables. Follow her advice, and sauté some vegetables and tofu with soy sauce for a "salty/sweet combination." Whatever you choose to serve with this coconut rice, note that Hahn says the creamy coconut "[gives it] an upgraded, kind of fancy taste over just plain rice."
Gather the ingredients to prepare this Instant Pot coconut rice recipe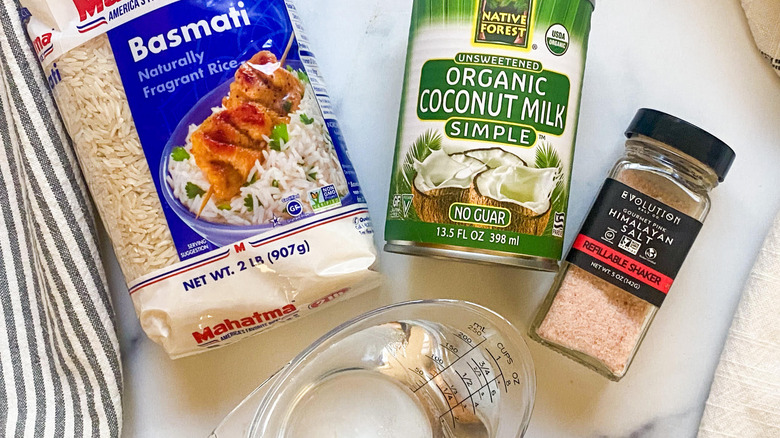 Miriam Hahn/Mashed
Part of the appeal of this delicious Instant Pot coconut rice is the simple ingredient list. First, you'll definitely need some rice! Hahn remarks, "This recipe works best with a long-grain rice like jasmine or basmati." Jasmine and basmati rice are aromatic, contributing to the flavor of this delicious dish. 
Next, you'll need a can of regular unsweetened coconut milk. Stick to full-fat versions, since light coconut milk is generally diluted and won't have as much fat to create the rich creamy texture that Hahn loves. The recipe will require a bit of extra water to allow the rice to fully cook. Finally, a dash of pink Himalayan salt is a key element to enhance any dish.
Start by rinsing and draining the rice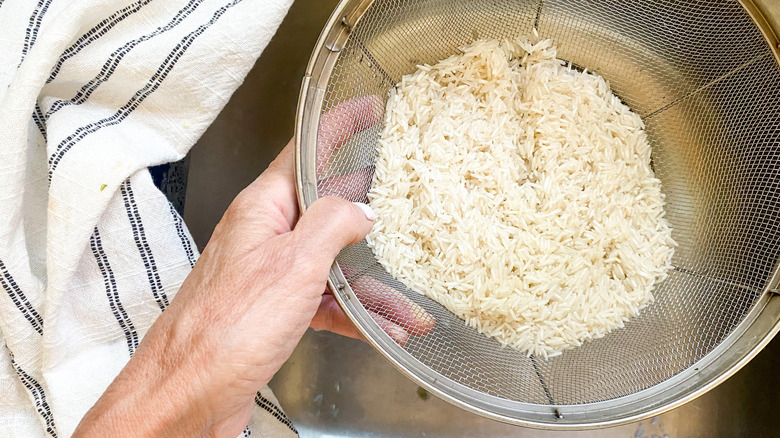 Miriam Hahn/Mashed
Now that it's time to get started with this yummy recipe, first things first. You'll want to rinse the rice with cold water, and then drain it thoroughly. Although many home cooks skip this step, note that it's helpful to use long-grain rice. You'll be able to eliminate some of the starchy residue on the exterior, which will result in individual grains of rice instead of a sticky mass. The easiest way to avoid losing too many grains is to place the rice in a fine mesh strainer, and run cold water over it. 
Add the rice, coconut milk, water, and salt to the Instant Pot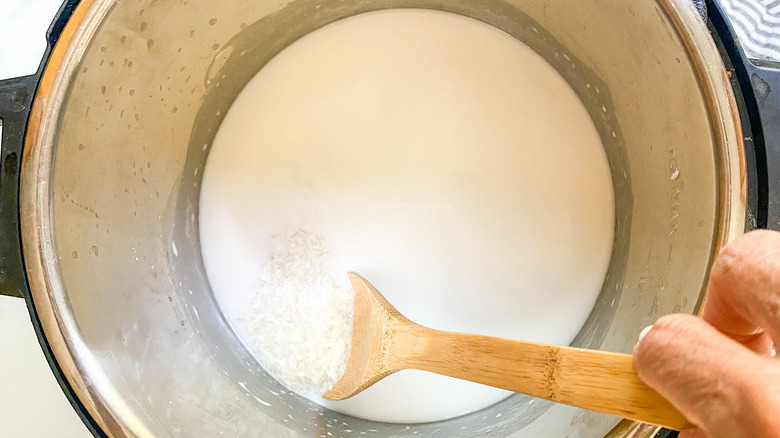 Miriam Hahn/Mashed
Now, you'll transfer the rinsed rice into your Instant Pot, and pour in the unsweetened coconut milk as well as the water. Finally, sprinkle some pink Himalayan salt over the top, and with a wooden spoon or spatula, mix it into the contents of the pot. Next, place the lid back on the Instant Pot to close it, and turn the nozzle to the "Sealing" setting.
Select the "Pressure Cook" function, cook the rice, then let the Instant Pot naturally release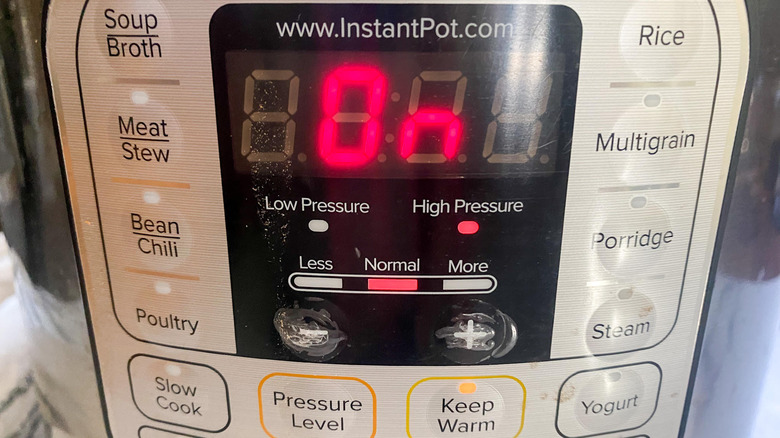 Miriam Hahn/Mashed
Once your Instant Pot lid is properly sealed, select the "Pressure Cook" function on the device. Set the cook time to three minutes, at which point the screen should display "On." Hahn explains that the Instant Pot will then begin to heat up to reach full pressure. She estimates around a 15-minute wait time until it's ready. Then, the front panel will begin to count down the three-minute timer you set.
When the timer goes off after three minutes, allow the Instant Pot to naturally release its pressure. You won't have to do anything besides wait for seven minutes as the device takes care of the rest. Next, change the nozzle setting to the "Venting" function. Since you will be opening the seal on the Instant Pot, there may still be some pressure buildup inside. Be careful to stand away from the lid to avoid any rapid release of steam. Allow the Instant Pot to fully release any remaining pressure before opening up the lid.
Fluff the rice with a fork, and serve it as a side dish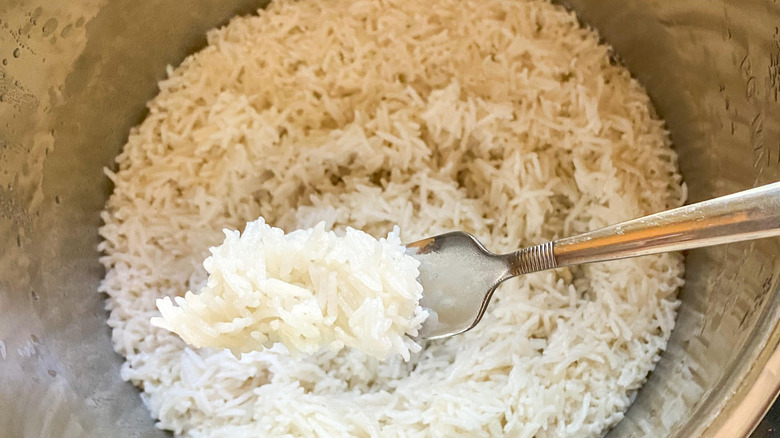 Miriam Hahn/Mashed
Using a fork, fluff the rice inside the Instant Pot to separate the grains. You're now ready to serve a portion of this tasty coconut rice. The coconut flavor is mild, but uniquely distinct, and it makes an excellent pairing with a number of dishes. If you're in need of inspiration, Hahn has plenty of tips. "My favorite thing to do with this rice is add veggies and tofu. I usually just toss tofu cubes in soy sauce and cornstarch, and put [them] in the air fryer for about 15 minutes. Then I sauté broccoli, mushrooms, and red pepper and serve both over the rice." We totally believe her when she says, "It is delicious!"
For a simpler side dish, Hahn is enthusiastic about fresh herbs, and recommends to "use either cilantro or Italian parsley." You'll want to keep some of this rice in your fridge like Hahn does: "I also love having this on hand to add to my Buddha bowls where I include beans, cooked veggies, raw veggies, and an Asian miso dressing — delicious!"
Go ahead and make enough to have leftovers — Hahn says, "You can keep it in a sealed container for up to five days, and it will be fine." When you're ready to serve it, "You can reheat [it] in the oven or microwave." Now how simple is that process to prepare a few meals with one easy recipe? This dish is definitely a keeper.
Instant Pot Coconut Rice Recipe
This Instant Pot coconut rice recipe is an elevated, creamier version of your favorite side dish. It pairs so well with sautéed veggies and tofu.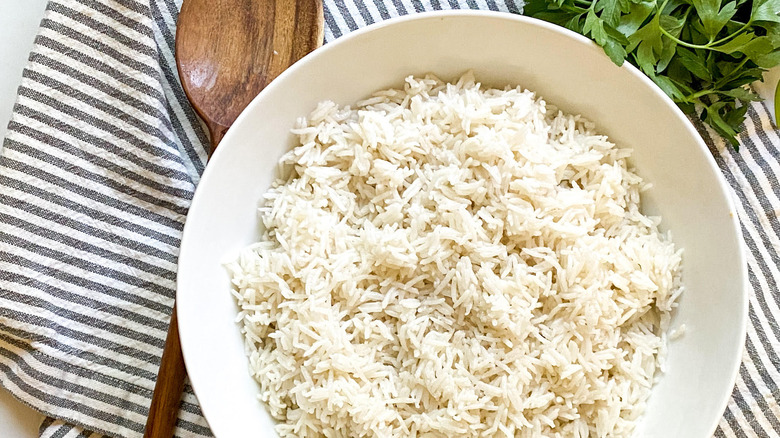 Ingredients
1 ½ cups basmati or jasmine rice
1 (13 ½-ounce) can unsweetened coconut milk
½ cup water
¼ teaspoon pink Himalayan salt
Directions
Rinse the rice under cold water, and drain it well.
Add the rinsed rice to the Instant Pot. Then, add the unsweetened coconut milk, water, and pink Himalayan salt.
Place the lid on the Instant Pot, and make sure the nozzle on the lid is set to "Sealing."
Select the "Pressure Cook" button, and set the time to 3 minutes.
When the timer goes off, let the Instant Pot naturally release for 7 minutes.
Carefully change the nozzle on the lid to "Venting." (Stand back, as there may still be some pressure to release, which could shoot out from the top of the lid.)
Once all the pressure has been released, open the lid, and fluff the rice with a fork.
Serve the rice as a side dish.
Nutrition
| | |
| --- | --- |
| Calories per Serving | 294 |
| Total Fat | 13.9 g |
| Saturated Fat | 12.1 g |
| Trans Fat | 0.0 |
| Cholesterol | 0.0 mg |
| | |
| --- | --- |
| Total Carbohydrates | 38.8 g |
| Dietary Fiber | 0.6 g |
| Total Sugars | 0.1 g |
| Sodium | 108.3 mg |
| Protein | 4.6 g |