Kourtney Kardashian Fans Are Loving This Fun Cooking Pic Of Her Daughter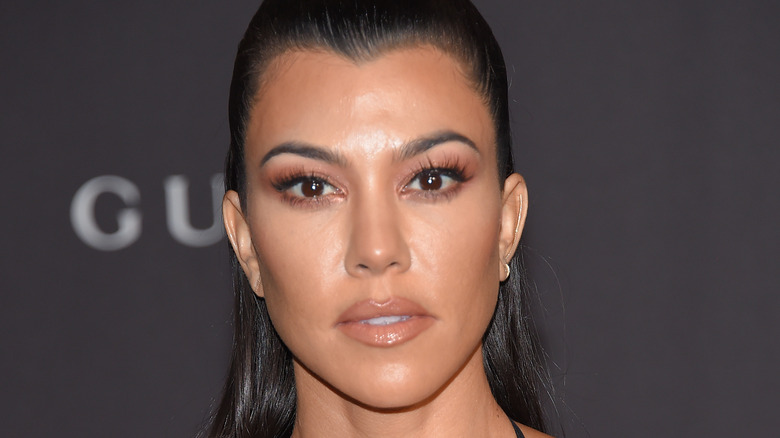 DFree/Shutterstock
It's not unusual at all for a Kardashian to don sunglasses to avoid paparazzi or generally look cool. However, Penelope Disick, the 9-year-old daughter of Kourtney Kardashian and Scott Disick, is using the accessory to further capture the hearts of her parents' fans in a new Instagram post.
Posted by Scott on his Instagram page, the image shows the daughter of the friendly exes wearing oversized shades while chopping up onions. The caption reads, "I wear my sunglasses at night so I can, so I can. CHOP ONIONS." Of course, this is a play on the 1983 Corey Hart song, "Sunglasses at Night." And presumably, the purpose of the shades in this situation is to keep Penelope's eyes from reacting to the onion.
It's safe to say that the image is a big hit, with nearly 150,000 likes in just over 24 hours, plus a shout out by auntie Khloe Kardashian, who commented, "I love her."
Fan reactions to Penelope's pic were heartwarming
It seems that fans are impressed not only by Penelope's style factor, but also her cooking know-how. One commenter calls her "Queen P," while another notes that she's a "smart child." Many others show their adoration of the budding celeb with emojis galore.
Indeed, the cooking hack is something that many experienced chefs have fallen back on. A recent episode of Paris Hilton's Netflix show, "Cooking With Paris" saw the socialite and her guests wear heart-shaped, rhinestone sunglasses to prevent their eyes from tearing up while chopping onions, says Eat This, Not That!
Some of the commenters on Disick's post also noted that there's a less stylish way to keep onions from becoming a bother, however. Says one follower, "You can put a wet paper towel close to it and it will absorb it [the gases]." This is because offensive onion gases rise up to the closest lubricated area, which is usually the eyes. But we still think wearing shades is functional and fashionable — and looks great on little P.