The Best Soup At Olive Garden According To 33% Of People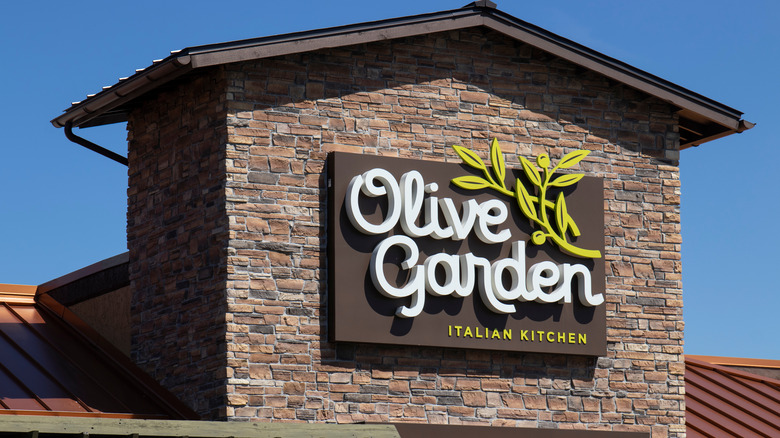 Jonathan Weiss/Shutterstock
Olive Garden is the home of soup, salad, and breadsticks. But while that salad and those oh-so-delicious breadsticks are pretty much a constant, the eatery has a variety of soups to choose from. 
Keeping with its Italian theme, Olive Garden's menu is full of classics soups, including Pasta e Fagioli, Zuppa Toscana, Minestrone, and Chicken and Gnocchi (via the Olive Garden website). Each one is homemade, says the brand. They can be enjoyed as an appetizer, side, or part of the soup, salad, and breadsticks meal trio that Olive Garden has become known for. But while they're all good, is there one that stands out from the crowd?
Mashed decided to find out by conducting a survey of 606 respondents in the U.S. According to the results, 15.68% of people love the Zuppa Toscana the most. Another 22.94% named the Pasta e Fagioli as their soup of choice at Olive Garden Minestrone was favored by 27.89% of respondents. And that leaves one very special soup being named tops with a whopping 33% of voters. 
Which Soup Is Tops?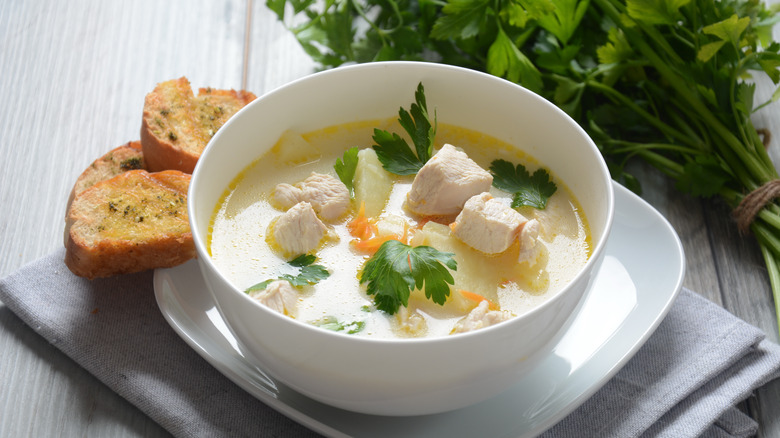 Natalia Hanin/Shutterstock
The top choice among 33.50% of survey respondents for the best soup at Olive Garden: The Chicken and Gnocchi soup. According to Olive Garden, the Chicken and Gnocchi soup is "a creamy soup made with roasted chicken, traditional Italian dumplings and spinach." With that description, it is no wonder that so many people favor this bowl. It literally sounds like a warm hug in a bowl. But what if you want one of those hugs and can't get one?
Maybe you don't have an Olive Garden around you, but after reading the description, you're drooling. Maybe heading out isn't feasible at the moment. But, no worries because this delicious soup has inspired lots of copycat recipes that pop up online, allowing you to make this soup at home whenever you feel the desire. 
Creme de la Crumb's copycat recipe makes it easy with gnocchi and shredded chicken purchased from the store. This saves a bundle of time on prep, allowing for a quick and easy weeknight meal. And, there are even slow cooker directions in case you are making everything from scratch. The blog also provides a copycat recipe for Olive Garden breadsticks to help complete the meal (because who doesn't want to dunk some buttery garlic bread in delicious soup? No one, that's who). 
If you're looking to scale back a little on the heavy ingredients, Skinny Kitchen with Nancy Fox has a recipe. And Mashed has a copycat recipe for you, too.