Trader Joe's Fans Are So Excited For Its New Chocolate Mochi Cake Mix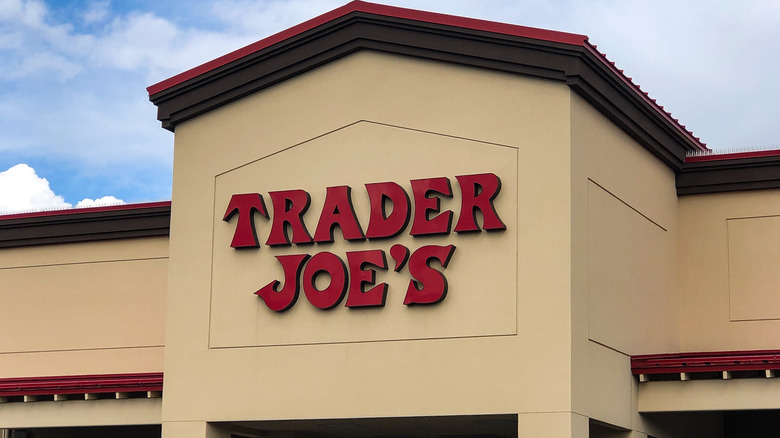 Lori Butcher/Shutterstock
Trader Joe's has a seemingly endless supply of delicious and unique food items. Fans love everything from its Cookie Butter spread to the Cowboy Caviar, which is full of chunky tomato and spicy salsa. However, the chain has recently been really taking things to the next level when it comes to its dessert offerings. In particular, Trader Joe's seems to be focusing on decadent mochi products and we're not complaining. The grocery store just released Thai Tea Mini Mochi and now it's offering up its new Chocolate Mochi Cake Mix that comes with a peanut butter frosting.
Instagrammer @traderjoeslist spotted the new item on store shelves and wrote, "I will for sure be adding this to my #traderjoes list this week! I will have to remake the frosting using almond butter since I have a not so fun peanut allergy! I am so happy this is #glutenfree and I love all things mochi so my tastebuds are betting this will be a 10/10." The post has already garnered nearly 10,000 likes and over 230 comments from excited customers.
Shoppers are eager to try the new Chocolate Mochi Cake Mix
Followers of @traderjoeslist were quick to weigh in with their own reactions to the new sweet treat. One wrote, "This is incredibly dangerous knowledge. Gimme." A different user added, "Peanut butter and chocolate is the best combination need to try this!!" Another Instagrammer suggested that it would be amazing served with peanut butter ice cream and we definitely agree. Many commenters also wondered what the ingredients were, which thankfully has been answered over on Reddit.
To ensure that it's gluten-free the cake mix is made with rice flour and tapioca starch. However, it does contain milk, soy, and peanuts. The Redditor also noted that the product was being sold for $4.49 at their local location and it might not be in all stores just yet. It also appears to be a limited-time offering, so if you're wanting to try this mouthwatering dessert you should hurry over to your closest Trader Joe's. With an item that already has gained this much attention, it's sure to fly off shelves.