Josh Scherer Reveals The Best And Worst Things He's Ever Made - Exclusive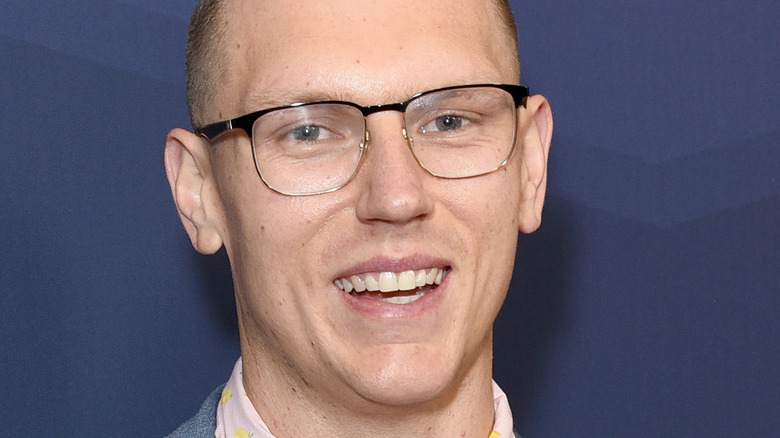 Presley Ann/Getty Images
Josh Scherer is known for cooking up some truly unique food creations on his show "Mythical Kitchen." From Flamin' Hot Frosted Flakes to Goldfish Pizza Rolls, he's not afraid to experiment with some unusual or even downright bizarre ingredients. The results, as you can imagine, can either be an incredible dish loaded with flavor or go horribly wrong. During an exclusive interview with Mashed, Scherer revealed that one meal turned out so awful that his body literally wanted to reject it.
The chef explained that he wanted to see if he could successfully turn beef bile into cheesecake. "It turns out, boy, you sure can't but it's actually cool because a lot of people don't know about beef bile as an ingredient," he said. "It's typically used in a Filipino soup called papaitan and the bile is used as a bittering agent to balance out the funkiness of offal or pig innards." However, things didn't exactly go as planned when Scherer attempted cooking it because when he reduced the bile down, it became 10 times the strength of normal beef bile. "To this day, that is the worst thing I've ever tasted," he admitted.
The most delicious thing the 'Mythical Kitchen' host has ever made on the show
Despite the beef bile dish not turning out as planned, Josh Scherer has created some phenomenal entrees on the series that any foodie would salivate over. One of his segments is called "Fancy Fast Food," where he recreates a favorite fast food item with ultra-premium ingredients. "So, for the Baconator, we took A5 wagyu rib cap and ground that into a burger, and then we infused bacon with Islay Scotch and truffles and then we made our own bacon out of duck breast," Scherer divulged. "But I think the best thing that we've done is the fancy Burger King Croissan'wich."
To reimagine the popular breakfast staple, the cookbook author said he used crépinette sausage wrapped in caul fat poached in butter that had macadamia nuts in it. He then added a Japanese tamagoyaki egg, truffle bacon, and ibérico ham. To finish off his decadent concoction, Scherer put his ingredients between two pieces of a flaky cronut, instead of just using a regular croissant. "I mean, it's something that probably takes 14 hours to cook from start to finish, but I've never had a flavor explosion like that in my mouth," he confessed.
Be sure to catch Josh Scherer cooking up wild food experiments on new episodes of "Mythical Kitchen" and pick up his book "The Culinary Bro-Down."