Caramelized Onion Dip Recipe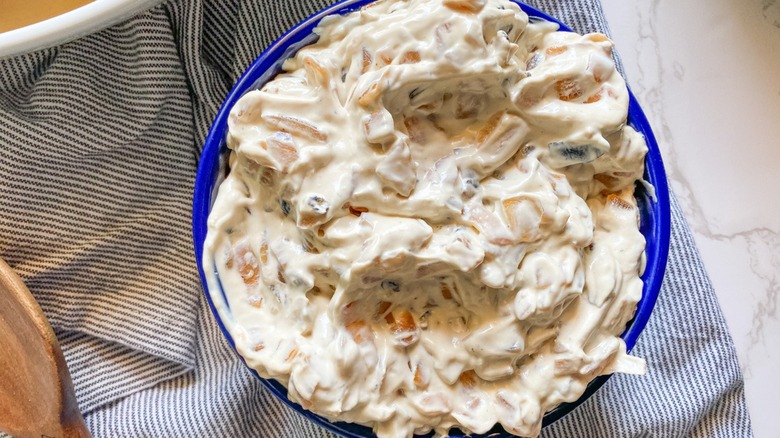 Kristen Carli/Mashed
Once upon a time in mid-century America, some enterprising home cook came up with the idea of mixing a packet of dried onion soup mix with sour cream, and thus was born the 1960s party staple, French onion (or California) soup dip. While onion soup dip may have fallen out of favor in the early 21st century, the TV show "Mad Men" made all things 1960s cool again and sparked a wave of nostalgia among people too young to have ever eaten at a Howard Johnson's, visited a tiki bar, or dipped a ridged potato chip in a giant bowl of onion dip.
No matter how much we loved the original onion dip, there are few dishes so classic that they can't stand a bit of tweaking from time to time. Recipe developer Kristen Carli came up with this onion dip that replaces the dehydrated onions with a version of that veggie that is way more labor-intensive, yet has so much flavor. As she tells us, "This [dip] is loaded with caramelized onions in every bite."
Let's take a look at how you can make this dip at home.
Assemble the ingredients for the onion dip
Kristen Carli/Mashed
The one thing you're not going to need to make this dip is a box of Lipton onion soup mix. Instead, you will start with fresh onions. Carli used yellow ones, but says, "It would be delicious with red onions instead." For cooking, you'll be using olive oil, and you're going to be seasoning the onions with brown sugar as well as salt and pepper.
The dip itself is made with a base of sour cream and mayonnaise, although Carli says, "It can be made with plain full-fat Greek yogurt instead of sour cream." As a final touch, you'll finish off the dip with a little bit of minced fresh garlic.
Start off with the painful part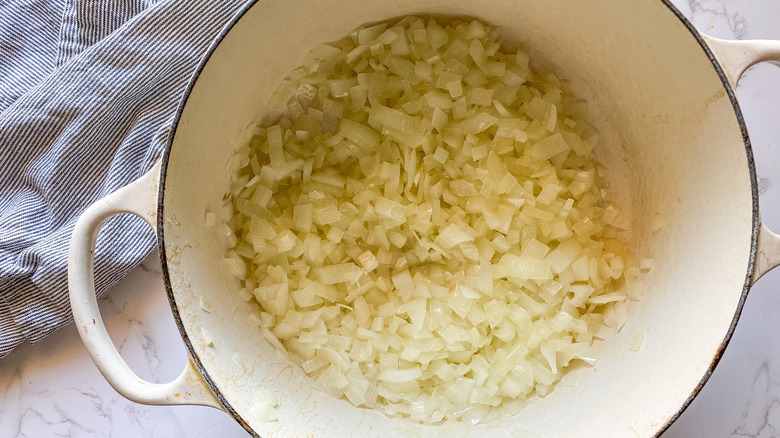 Kristen Carli/Mashed
There's no two ways around it — no matter what the TikTok du jour hack may say, there really is no pain-free way to slice a fresh onion. And yet, in this recipe, the onions are the star of the show, so grit your teeth and get on with it. Slice off the ends of the onions, chop them in half (lengthwise or crosswise — it really won't make much difference), peel them, and dice them up small. Blow your nose, wash your hands, and then (and only then) wipe your tears away. The hard part is over: Now it's time to start cooking.
It will take some time to caramelize the onions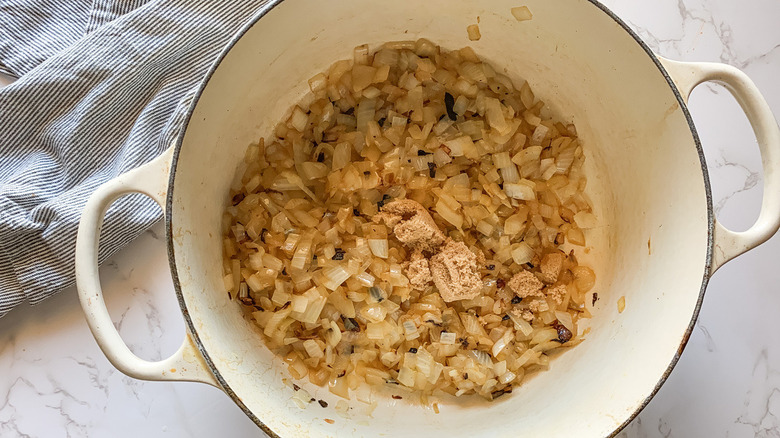 Kristen Carli/Mashed
Caramelizing onions is a long, slow process since they need to be cooked for a good long time over low heat. Begin by sautéing the onions in the olive oil over medium heat for about 10 minutes until they start to soften and look translucent, at which point you'll add the brown sugar along with a teaspoon of salt and half a teaspoon of pepper.
Turn the heat down to low and cook the onions for at least 25 more minutes, although it might take from 45 minutes to an hour of total cooking time for the onions to become properly caramelized. If you lack the patience to stand there and stir for all this time, you can always try using your oven to do most of the work for you. 
Mix the ingredients for the dip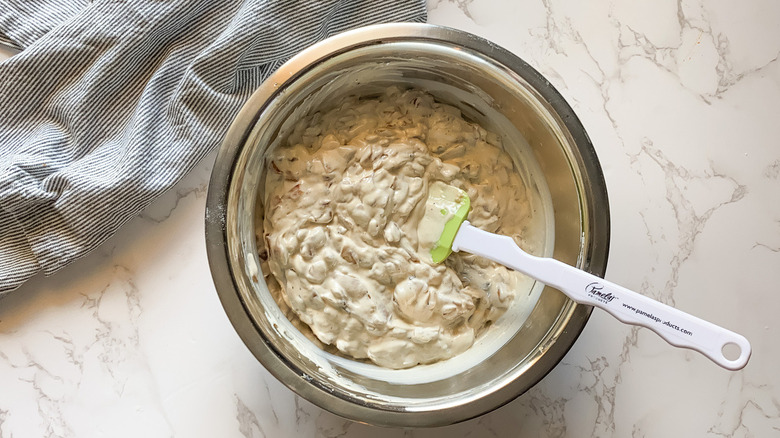 Kristen Carli/Mashed
Once the onions are finally caramelized, set them aside to cool down for a few moments. Mix the sour cream together with the mayo and the garlic. Now check the onions. If they are still hot, go take a short break. If you mix them into the dip before they are cooled down, they may cause the creamy base to separate and look kind of gross. Once they do cool down, though, add them into the rest of the ingredients and stir well so everything is thoroughly combined. Put the bowl of dip in the fridge to chill for at least an hour before you serve it.
Decide how you'll use your delicious onion dip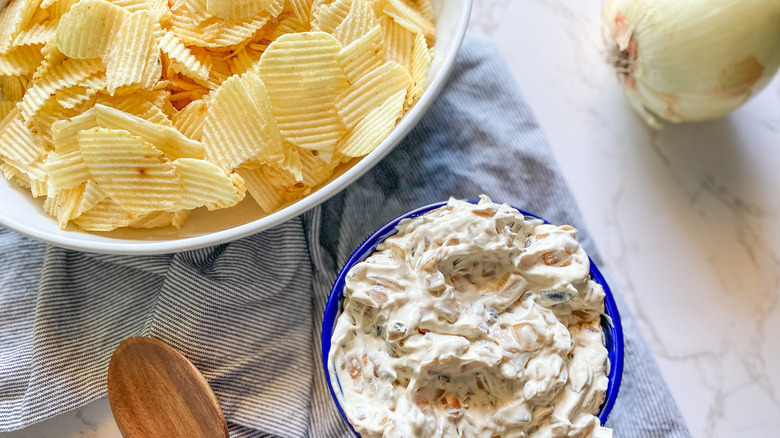 Kristen Carli/Mashed
You now have a fairly generous amount of dip on your hands, as Carli says this recipe makes 10 servings. You could, of course, go old-school retro by serving it up with a big bowl of Ruffles (party optional, but retro drinks encouraged). For a somewhat healthier snack, you could serve the dip with crudites, while Carli also offers, "This is amazing spread on sandwiches or a loaded burger!" You could even get creative by adding some white wine or balsamic vinegar and turning the dip into a creamy, oniony salad dressing.
Caramelized Onion Dip Recipe
We came up with this onion dip that replaces the dehydrated onions with a version of that veggie that is way more labor-intensive, yet has so much flavor.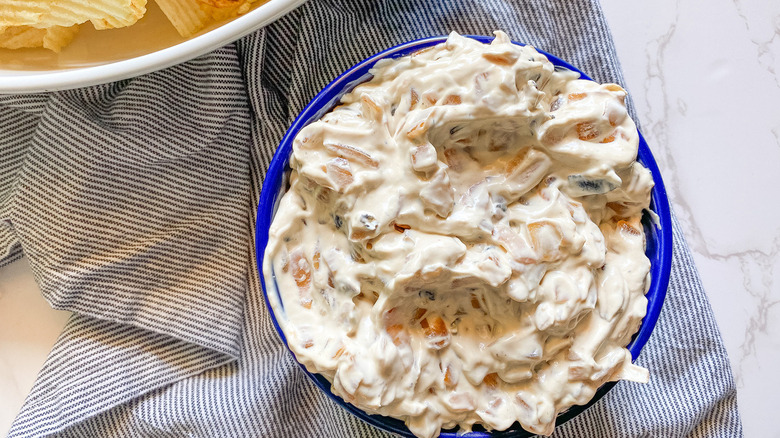 Ingredients
3 onions, diced (about 4 cups)
2 tablespoons olive oil
1 teaspoon brown sugar
1 teaspoon salt
½ teaspoon pepper
1 cup sour cream
½ cup mayonnaise
1 teaspoon minced garlic
Directions
Cook onions in olive oil until translucent, about 10 minutes.
Add brown sugar along with 1 teaspoon salt and ½ teaspoon pepper, and stir to combine. Cook for at least 25 more minutes until onions are caramelized. Let onions cool before adding to dip.
Mix sour cream, mayonnaise, garlic, and onions in a small bowl.
Refrigerate dip for at least one hour before serving.
Nutrition
| | |
| --- | --- |
| Calories per Serving | 173 |
| Total Fat | 16.2 g |
| Saturated Fat | 4.4 g |
| Trans Fat | 0.0 g |
| Cholesterol | 16.5 mg |
| | |
| --- | --- |
| Total Carbohydrates | 6.5 g |
| Dietary Fiber | 1.0 g |
| Total Sugars | 3.4 g |
| Sodium | 237.1 mg |
| Protein | 1.1 g |