You've Been Grilling Burgers All Wrong, According To Chef David Rose - Exclusive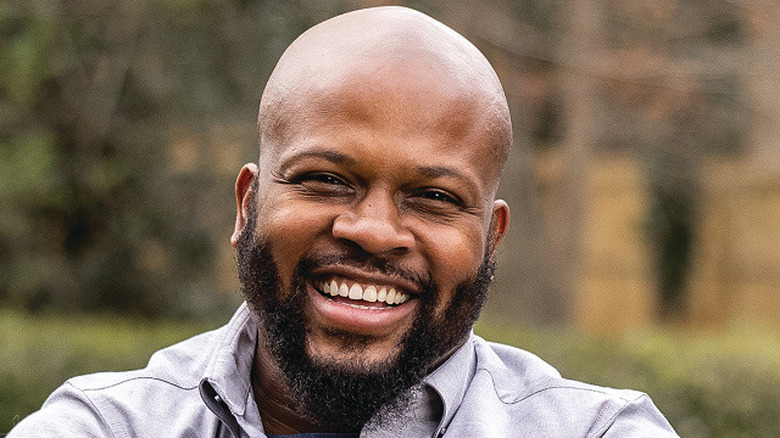 Omaha Steaks
Chef David Rose is the Executive Chef for Omaha Steaks, and he knows a thing or two about grilling. In an exclusive interview with Mashed, Rose told us about his time on "Food Network Star" when he competed against the grill master himself, Bobby Flay. "I was cooking head to head with Bobby Flay and I lost to Bobby. So if I'm going out, I'm going out in a blaze of glory. And I went toe-to-toe with the Iron Chef, so that's pretty cool." But grilling is in Rose's DNA, and he recalled the day when his Jamaican-born dad passed the grill on to him. "I was 6 years old, dad was making grilled jerk chicken, and he said, 'Don't burn the chicken,' handed me the tongs, and walked away." So Rose isn't kidding when he says grilling is his life. 
Rose is a self-admitted steak man, and Omaha Steaks' gargantuan 48-ounce, bone-in ribeye is, bar none, his favorite. But he's equally as passionate about burgers, which he cooks pretty much like a steak. "Just let the burger do its thing," he advises. There's got to be more to it than that, right? After all, we've gnawed on our share of barbecued hockey pucks, and it seems counterintuitive to abandon the burger without flipping it a few times. But before you think about tossing a couple of beef patties on the barbie, follow Rose's rules first, and you'll grill the juiciest, most craveable burger ever.
How David Rose grills the most awesome burger
It all starts with the grill, and David Rose prefers charcoal over gas. "Charcoal runs through my veins," he said. According to Rose, charcoal and smoke infuse meats, poultry, and fish with a special flavor profile that a gas grill can't. If you want to amp up the flavor quotient, toss in a few wood chips, like mesquite, cherry, or apple. About 10 to 15 minutes before the charcoal's ready, take the burgers out of the fridge to let them come to room temperature. But don't let them get exposed to heat, sunlight, or moisture. "You definitely don't want to do that," Rose warned. 
When the charcoal embers are cherry-red, put the burger on the hottest side of the grill. Let the burger sear, then flip it once — and only once. "Too many times you go to a barbecue that's flipping the burger two, three, four, five, six times. Stop doing that, flip it once," he said. This method allows the burger to develop a crispy, crusty exterior and seals in the burger's natural juices and moisture. "Those juices belong in your stomach, not in the bottom of the grill," Rose explained. So resist the temptation to press down on the burger with a spatula. Use a digital thermometer to check doneness, and slide that grilled beauty onto a bun. Follow Rose's tips, and maybe one day, you'll be challenging Bobby Flay to a burger throwdown.
Three perfect burger recipes from David Rose
Once you've mastered Rose's technique, indulge yourself by grilling the three craveable burgers he's created so far in collaboration with Omaha Steaks. If you want to shake up your breakfast routine, grab your cast-iron skillet and fire up the grill for Rose's A.M. Burger (via Omaha Steaks). This mountainous meal on a bun starts by frying up thick-cut bacon, hashed browns, and eggs in the skillet on the grill. The burger's seared on the grill and covered with American cheese. Before toasting the bun, Rose slathers it with mayo mixed with freshly shaved Parmesan. Pile it all up, and dive in. Talk about rise and shine! 
Fusing together the classic flavors of New Orleans, Rose's Fried Lobster Po Boy Cheeseburger is a Mardi Gras party for your taste buds, according to the company website. Rose breads fresh shelled lobster tails with panko and crushed potato chips — of your choosing, so imagine the umami possibilities — and fries them in the skillet on the grill until crackling-crisp and golden brown. You can't call it N'awlins without a remoulade, and Rose makes a quick whisk of mayo, pimentos, pickles, pepperoncini, and a few seasonings. Spread the remoulade on a grilled brioche bun, nestle in the grilled cheeseburger, topped with the fried lobster, and grab napkins. This burger's gonna ooze down your chin.
Rose's Philly Cheeseburger Sliders are great for tailgating, per Omaha Steaks. Sautéed onions, mushrooms, and provolone top the seared patties, then they're skillet-steamed. Pour on Rose's luscious provolone cream sauce, dollop the buns with sriracha mayo, and touchdown! 
You can find more of David Rose's tricks and tips for grilling over at Omaha Steaks and follow his culinary adventures on his Instagram page.