Godiva's Ties To The Belgian Royal Family, Explained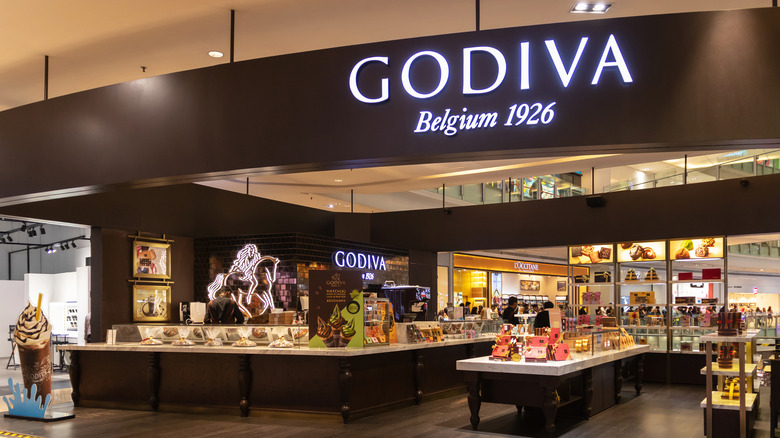 PJjaruwan/Shutterstock
Often times, when it comes to higher-end food products marketed as luxuries, we admit to a wee bit of skepticism regarding the provenance. It seems that so many foods adopt these European-sounding names, but when you look into their background it turns out they were actually born in places like the Bronx. We're looking at you Haagen-Dazs. However, Godiva is the real deal. 
Alright, so the chocolate they sell in America is actually made in Pennsylvania and the brand's world headquarters is now located in Manhattan, but they were born in Brussels 95 years ago. In fact, even today the Godiva chocolate sold in all of their non-U.S. stores is still produced in a Belgian plant. Godiva's distinctive gold boxes and their delicious contents are by now one of Belgian's best-known imports. In 1968, in their 42 years of operation, the company received one of the highest honors any Belgian company can achieve when they were recognized for their excellence by the Royal Court of Belgium.
Godiva isn't the only chocolatier to hold a royal warrant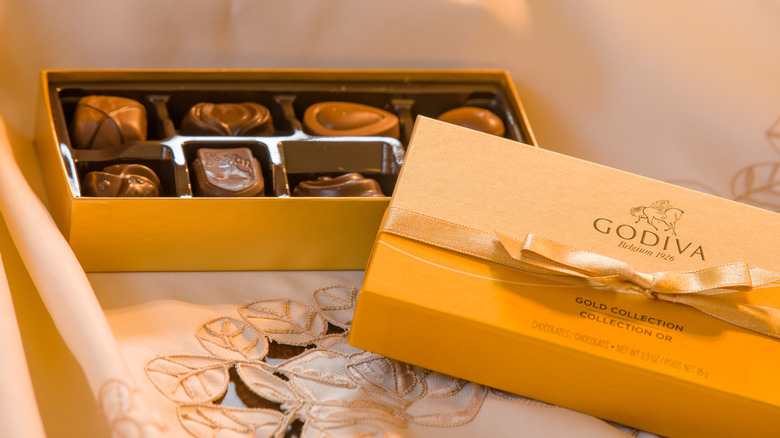 RYO Alexandre/Shutterstock
According to Godiva's website, this year would mark 53 years of their being appointed one of the official chocolatiers to Belgium's Royal Court. They acknowledge this royal warrant as being quite the distinction, of course, and explain that it means they have been tasked with upholding the honor of  Belgian's chocolate-making excellence on a worldwide stage. But Godiva is not the only Belgian chocolate maker to have been so honored by that country's royals. 
Gourmet chocolatiers Galler were recognized by the Royal Court in 1995, while Niehaus, inventors of the Belgian praline and the ballotin-style chocolate box (both later adopted by Godiva), also hold a royal warrant. According to Rocco Forte Hotels, bakery-turned-chocolatier Wittamer earned a royal warrant after baking a chocolate wedding cake for the 1999 wedding of the King and Queen of Belgium, while chocolate maker Mary, named for its founder Mary Delluc, was named a Certified Royal Warrant Holder of Belgium three times — in 1942, in 1990, and yet again in 1994. While all of these chocolatiers are no doubt excellent, Godiva's products are nonetheless the ones easiest to source here in the U.S., so in that sense they could be said to be Belgian's top food ambassador to this country.