Everything We Know About Mariah Carey's New Irish Cream Brand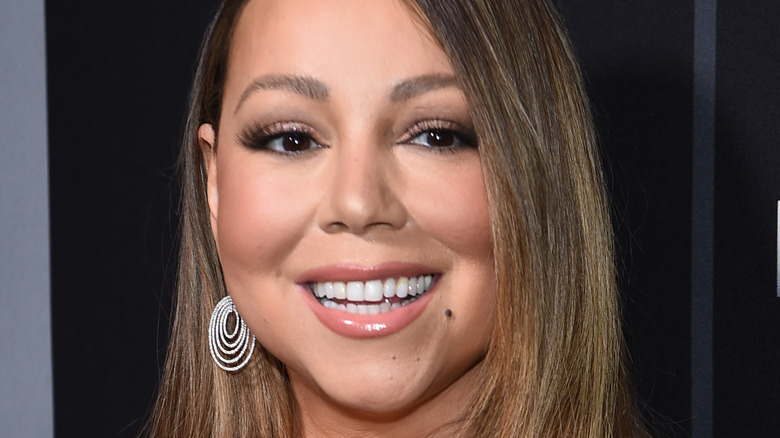 Jamie Mccarthy/Getty Images
It's becoming increasingly common for celebrities to try their hand at the adult beverage game. Dwayne "The Rock" Johnson frequently references his tequila company, Teremana, on his Instagram page, and actress Kate Hudson often takes to her own social media platform to highlight King St. Vodka, her craft vodka company, per Instagram. Some even reference their characters in their entrepreneurial ventures. For example, Ian Somerhalder and Paul Wesley, who played brothers on the teen drama "The Vampire Diaries," recently came out with Brother's Bond Bourbon (via Delish). And, that's not even taking into account the many celebrities who have gotten involved in the wine world, in some form or another.
It seems the latest celebrity to get into the beverage world is none other than pop star Mariah Carey, who took to Twitter to announce a project two years in the making: Black Irish. She accompanied the news on social media with a picture in which she was looking her glamorous best in a sequin-covered maxi dress while lounging in the sand on a gorgeous beach. She had just one bottle artfully positioned in front of her on the sand, making the announcement in her signature diva way.
What Black Irish is bringing to the beverage market
According to Food and Wine, bottles of Black Irish products started hitting shelves nationwide on August 16, the day that Carey took to social media to release the news. Rather than starting with just one product and slowly expanding the brand's offerings, Black Irish opted to come out of the gate with three different flavors of Irish cream liqueur, offering something for all tastebuds — Original, White Chocolate, and Salted Caramel. All the liqueur flavors are 17% ABV, and feature dairy sourced from Irish farms as well as a blend of Irish whiskey. Not one to skimp on premium ingredients, Carey also ensured the White Chocolate flavor featured Belgian chocolate for a truly rich and decadent experience.
Carey's influence is all over the branding for the product. The brand name itself centers around Carey's heritage, paying tribute to her father and mother's roots, respectively. Her short lyric from "It's Like That" serves as a tagline on the website and on the bottles. Though each flavor has a different colored cap, they all feature a metallic "MC" on the neck, as well as a small illustrated butterfly as part of the logo, referencing Carey's album, "Butterfly" (via Black Irish). Finally, as a tribute to one of Carey's most beloved songs, the seasonal hit "All I Want For Christmas Is You," the Black Irish team is quick to point out that the adult beverage would pair perfectly with some holiday festivities.