Costco Shoppers Won't Want To Miss This Summer Wine Sampler Discount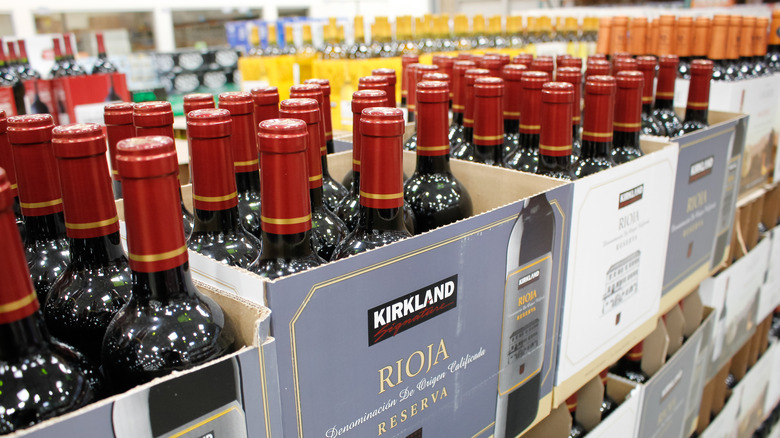 Tonelson Productions/Shutterstock
Costco shoppers are likely well aware that the big box warehouse chain offers some excellent deals on wines and liquors – from the Kirkland vodka (that's rumored to be the same as a premium vodka brand!) to 12-year blended Scotch whiskey, frozen cocktails, and everything in between.
Now, according to one thrifty eagle-eyed Redditor, the bulk retailer may be offering their best boozy deal ever on a seasonal wine sampler perfect for summer sipping. In a photo posted to the Subreddit r/Costco, the user shared a photo of a 12-bottle "Hello Summer" wine sampler, which was originally priced at $49.99 and now retails for a majorly discounted price of $19.97.
The Reddit user, who found the deal at the retailer's Lincoln Park location in Chicago, Illinois, showed a large pile of wine sampler boxes still available for purchase. They also noted that the new price equated to a minuscule $1.66 for a half-sized bottle of wine. While this low price may make some wine snobs pause over the quality, the "Hello Summer" sampler may just be the best wine deal the chain has ever offered. 
Costco's 'Hello Summer' wine sampler is worth the trip to the store
The "Hello Summer" pack featured in the Reddit post contains 12 mixed 375-ml half-bottles of wine from around the world, including five bottles of white, four bottles of red, and three bottles of rosé. These bottles include varietals from France, Italy, Spain, and Portugal.
According to the Costco Wine Blog, who reviewed the quality and value of the pack, overall the wines "clearly hit the mark for 'summer wines.' They were light, crisp and refreshing, even the reds that in their youth were inviting in the ... heat." The wine reviewer also noted that the half-sized bottles made them convenient for easy transportation.
While the original price of $49.99 (which equates to about $4 per half-bottle of wine) was already a great deal, Costco has just sweetened their offer even further at some locations. Although we can't yet confirm if this reduced price is available at all Costcos nationwide, for those lucky shoppers who come across this steal, we'd recommend stocking up for future imbibing.