The Canned Tomatoes Giada De Laurentiis Swears By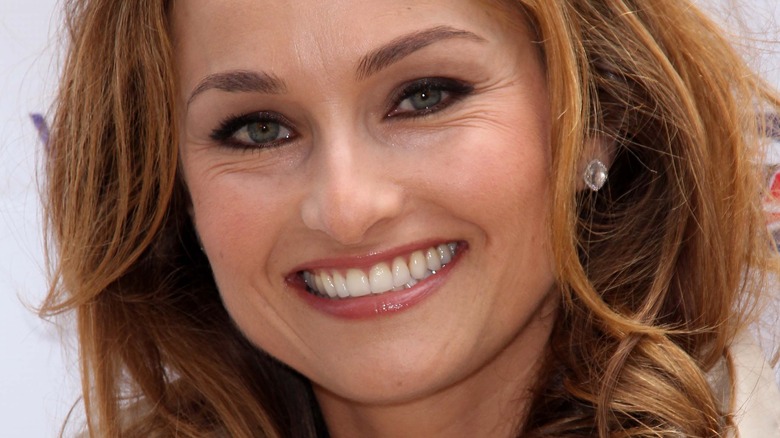 s_bukley/Shutterstock
One quick look at Giadzy will give you a clue as to how often Giada De Laurentiis uses tomatoes in her cooking. The celebrity chef's lifestyle platform features a number of recipes featuring the nightshade fruit, including Tomato Tart, Asparagus and Tomato Frittata, and Giada's Spicy Tomato Sauce, just to name a few. She has also been on the Food Network since 2002, so if you're a fan, chances are you have seen her cook up a 'mater or two.
One tweet from Giadzy revealed a specific kind of tomatoes that De Laurentiis uses. In the tweet, there's a picture of the chef smiling as she directs her gaze at a stack of canned tomatoes. The caption says, "It's no doubt that @GDeLaurentiis' pantry is stuffed with the best Italian goods on the market, but these special tomatoes are her absolute favorite!" It turns out the blue cans of tomatoes are Corbara Pomodorini from i Sopari di Corbara, and, of course, you can purchase them on Giadzy. But, what exactly are Corbara Pomodorini?
Corbara Pomodorini are sweet, tiny tomatoes
First off, Corbara is a mountainside town in southern Italy, according to Giadzy. The website also explains that "pomodorini " means "tiny tomatoes." So, as you might have guessed, Corbara Pomodorini are small tomatoes that grow near Corbara. The bell-shaped, cherry tomatoes are only grown in the Campania region and are "more highly prized than the famous San Marzano" (via Giadzy).
The little tomatoes are supposed to pack a pleasant punch, due in part, according to Giadzy, to the rich, volcanic land in which they are grown because of their proximity to Mount Vesuvius. Giadzy also claims that the Corbara Pomodorini from i Sopari di Corbara are briskly canned and packed in a tomato puree helping to enhance their vibrant flavor. The site even makes the bold claim that the tomatoes are "sweeter than any other variety you'll ever try." 
Another website, Cooking Congress, describes the Corbarino tomato as having a "particular sweet-sour taste." If you are looking for an excuse to try these cherry bombs out for yourself, then you might want to try out Giada De Laurentiis' Basic Parmesan Pomodoro recipe. We are pretty sure it's a good one, because its finishing touch is: "Serve topped with more cheese if desired." Consider it desired!