Why Giada De Laurentiis Almost Always Uses The Same Nail Polish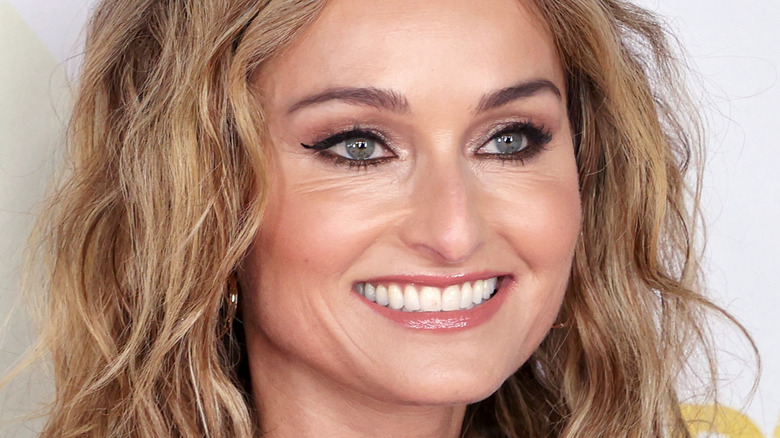 Kevin Winter/Getty Images
We may receive a commission on purchases made from links.
Chef, restaurateur, and cookbook author Giada De Laurentiis is known for her Italian culinary creations. She rose to celebrity status via her appearances on television, including Food Network shows and as a contributor on NBC's "Today Show." De Laurentiis' passion for cooking was inspired by her grandfather, an Italian man who sold pasta door-to-door as a child and as an adult opened his own Italian restaurant and grocery store (via Giadzy). De Laurentiis eventually went on to Le Cordon Bleu in Paris, where she received her formal culinary training (via her personal website).
De Laurentiis is certainly a talented chef and television personality, however, she is also without a doubt personable and beautiful. She embraces her femininity. She told Redbook she has grown comfortable with being "cooking's sex symbol," partly because she wants to show her daughter, Jade, that her mother is proud of who she is.
Given her status as a beauty icon, women everywhere are looking to cash in on De Laurentiis' secrets. A simple Google search will result in numerous articles on her DIY face scrub (spoiler alert: it contains a lot of olive oil), what kind of floss she uses to keep her pearly whites shining, and even a TikTok video on her skincare routine.
Giada De Laurentiis almost exclusively wears this on 'pointe' color
Giada De Laurentiis' favorite beauty products include perfume — she wears Fracas by Robert Piguet because, she says, "My grandmother used to wear it and I absolutely love it" — and nail polish (via Sweet Paul Magazine). In fact, she told Sweet Paul Magazine that manicures are her necessary luxury. "With all the cooking I do and all the close-ups of my hands that go along with that, maintenance is key," she said.
She almost always wears Essie's Ballet Slippers nail polish, a neutral, light pink shade that is also apparently worn by Queen Elizabeth. De Laurentiis told Allure she applies three coats, which she said makes them appear white, a color she believes to complement her olive skin tone and is "clean yet glamorous." "I'm known for my nails," she said. "When I was in Rome, all of the women had fire engine red nails, so I got a red manicure and my fans freaked out on Twitter, saying, 'You can't cook with those!'"
Essie's Ballet Slippers has become super popular, perhaps partially from De Laurentiis' endorsement. The Zoe Report states Essie sells 34 bottles of the color every single hour and, in addition, it has nearly 6,000 five-star reviews on Amazon. Sounds classy, classic, and beautiful — just like De Laurentiis herself.