Rebel Wilson Just Shared This Honest Food Confession With Fans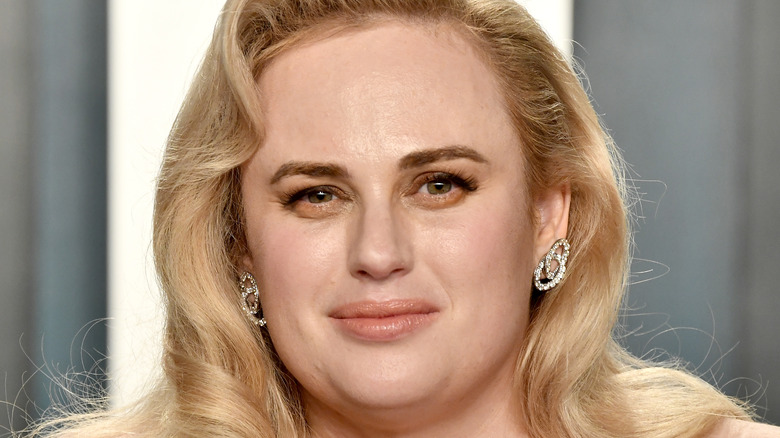 Frazer Harrison/Getty Images
"Pitch Perfect" actress Rebel Wilson posted a photo on Instagram that reflects upon her weight loss journey with grace, humility, and a message of inspiration for others who are also trying to get healthier and live a more active lifestyle. She thinks back about the older photo in the caption, saying it was taken at her "most unhealthiest" when she was eating lots of junk food to deal with her emotions regarding the loss of her father due to a heart attack.
Embarking on her self-described "Year of Health" in 2020, Wilson set out to lose 65 pounds (via Us Weekly). Wilson was beyond successful, in fact. Eat This, Not That! reported she has lost about 75 pounds and Us Weekly said she has reached her goal weight of 165 pounds.
Wilson's four secret weapons for getting healthier make an easy toolbox for her fans that might be looking to her for inspiration. According to Hello!, these four items are "adequate sleep, walking, hydrating, drinking water. You'll always see me with a FIJI [water] in my hand, and balance it with nutrition."
Rebel Wilson embarked on a health-improving transformation
An insider told Us Weekly that Rebel Wilson lost the weight partly due to her renewed commitment to exercise, saying, "Rebel flew past her goal weight and continued to work out after hitting that magic number ... She feels stronger, more confident."
And it's this image of strong confidence Wilson gives off in this Instagram post, hoping to inspire others who may be on their own journeys to become healthier through eating well and exercising.
"[I] just wanted to send out some encouragement to everyone out there struggling with weight or body issues or emotional eating. I feel you. I know what it's like. But it's never too late to start improving yourself and trying to be the best version of YOU possible," she wrote.
Wilson's caption wrapped up with more motivational words for her followers. "So if you're out there and reading this today, I just wanted to say: keep smiling and keep trying to be active! Love you guys."